Campus ventilation systems are being assessed and upgraded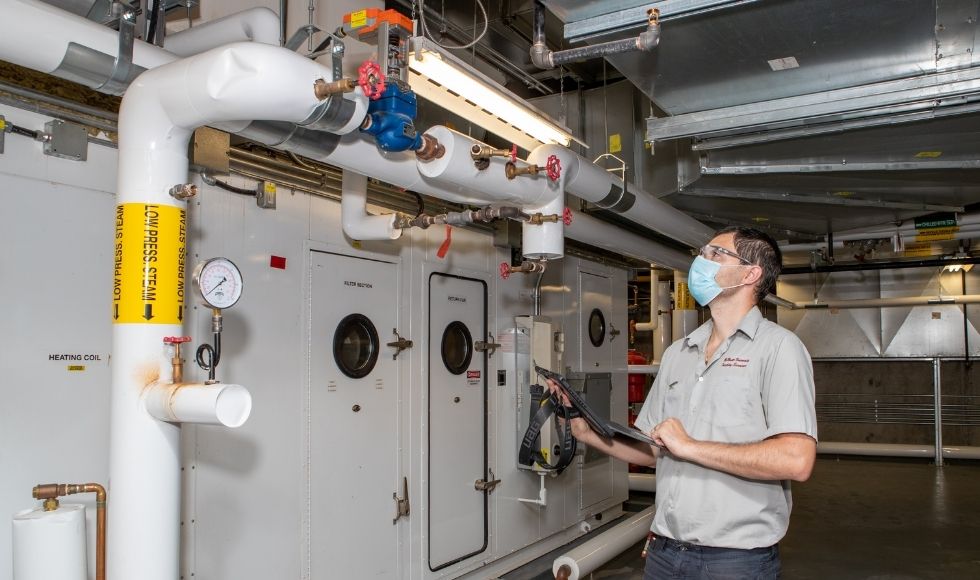 Nathaniel Pirocchi, HVAC controls mechanic, assesses part of the ventilation system in the Peter George Centre for Living and Learning.
---
For more on McMaster's campus cleaning plan, please read this Back to Mac update.
As McMaster's Facility Services prepares campus for the return of more students, staff and faculty members in the Fall of 2021, safety measures are guided by Public Health and the latest scientific research. 
Evidence indicates that COVID-19 is primarily transmitted by droplets and aerosols in the air, and this information is top of mind when it comes to the university's indoor ventilation plans. 
"We have all heard of COVID-19 transmission occurring at choir practice or the gym, where people are in close contact without masks breathing heavily. When people spend time together indoors without masks, in areas without proper ventilation, the risk of transmission is higher," says Dr. Zain Chagla, infectious disease physician and associate professor at McMaster University. "Assessing indoor ventilation, increasing fresh air and updating filters, plays an important role in preventing the spread of COVID-19 indoors." 
McMaster is assessing and making any required updates to the ventilation systems in buildings on campus.
Maximizing fresh air and keeping air recirculation at a minimum in all buildings.
Inspecting lecture halls and classrooms to ensure these spaces meet ASHRAE design standards for ventilation requirements.ASHRAE is the recognized society in North America that provides a standards and guidelines for ventilation and indoor air quality. 




 

Installing high standard air filters (called MERV-13 air filters) in all buildings where air is recirculated before in-person learning begins. A MERV 13 filter has a higher capture efficiency than a normal filter and can help remove finer particles from the air that recirculates through the system. Filters will also be replaced more frequently. 
 In residence buildings, most student areas are operating with 100 per cent fresh air, and where air recirculation exists, they will be fitted with MERV-13 filters.
"The health and safety of our students, faculty members and staff are our top priority as we prepare to welcome more of our community members back to campus in the Fall," says Debbie Martin, assistant vice-president and chief facilities officer. "Our Utilities team is collaborating with Environmental & Occupational Health Support Services (EOHSS) to continually monitor for any further ventilation guidelines from Public Health and we will ensure that our main HVAC systems are functioning as designed."  
However, proper ventilation is not sufficient on its own to control the risk of transmission. Public Health Ontario has advised that we can reduce the risk of transmission of COVID-19 by maximizing fresh air indoors, improving filtration and ventilation systems in our buildings, as well as staying home when sick, wearing a mask, washing hands frequently, practicing physical distancing and getting both doses of vaccine when available. 
"The fastest way we can all get back to enjoying a more normal campus experience at universities in Ontario is by as many students, staff and faculty as possible getting both doses of COVID-19 vaccine, as soon as possible," says Chagla.