Campus Store unveils new accessible entrance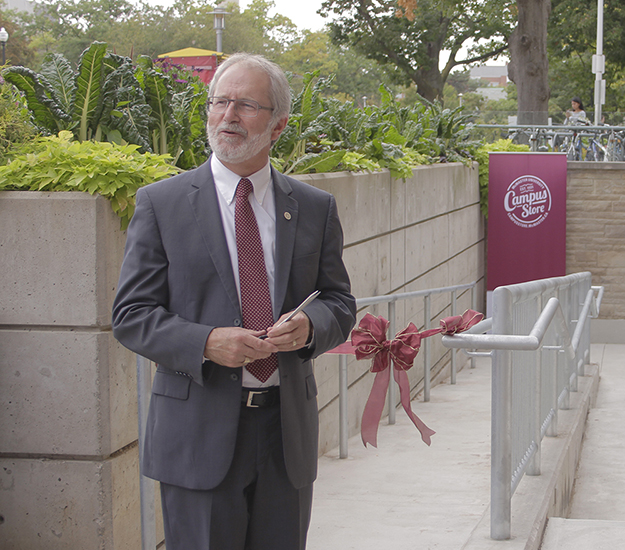 With students and staff gathered in the south plaza outside the Campus Store, McMaster President Patrick Deane delivered a speech and snipped the ribbon on the facility's new access ramp.
---
On Tuesday afternoon, McMaster President Patrick Deane cut the ribbon at the brand new Campus Store access ramp, located at the south entrance to the store across from the McMaster Museum of Art.
"Accessibility was not an important factor when Gilmour Hall was built in 1959," said Deane. "This is the result of a two-year, multi-stage renovation to improve accessibility to and within the Campus Store."
Construction of the new access ramp began earlier this year, as part of an extensive renovation to the central McMaster bookstore.
In 2013, the space formerly known as Titles was rebranded as the Campus Store — a one-stop shop where customers can find many of the products and services they require for campus life. Along with the new name, an expansion and renovation of the central Gilmour Hall location was completed last year.
A new north entrance, located in the area behind University Hall, was also recently completed as part of the renovation project.
"We wanted to have an entrance that could easily accommodate the north residence buildings on campus," said project manager Diana Parker. "Both of these projects were completed in an effort to better serve the McMaster community."
Customers are encouraged to email comments, questions and input to campusstore@mcmaster.ca.