Business grad made a tough call — and the right one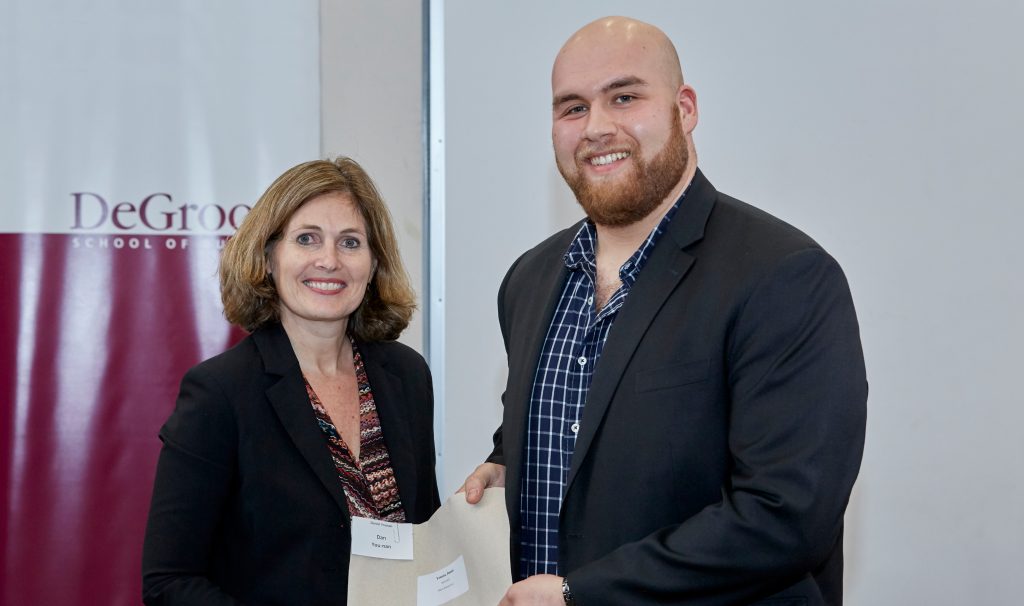 Dan Younan, seen here with DeGroote School of Business associate dean of academics Sue McCracken, gave up football to focus on school. He's graduating with distinction this fall. Photo courtesy of Dan Younan
---
When Dan Younan started university, he was a highly recruited high school football star who wanted to study commerce, but couldn't get into a business program because his grades weren't — yet — good enough.
Four years later, he's graduating with distinction from the DeGroote School of Business and doing his master's at the University of Windsor. He's about to start a job at an accounting firm and he wants to be a professor some day.
And he's retired from football, because a lot can change in four years.
As a first-year student, Younan gave Social Sciences a whirl, but his heart was always in the business courses he was taking.
"I got permission to take professor Emad Mohammad's first-year accounting class," Younan says. "I worked really hard and by the end of it I had an 80. He knew I wanted to study commerce, and he helped me change programs. I was lucky to have him to help me get where I needed to be."
With each new class he took, Younan became more determined to stick with the program and study accounting, even as his commitment to football took over more and more of his time. His first two years, he played in every game.
"I had 6 a.m. lifts for football, and an 8:30 lecture every morning," he says. "So I'd go work out at 6 a.m. and then go right to class. It was … demanding."
But he stayed the course in both for as long as he could, and he forged relationships in both: Most of his roommates and close friends were on the football team with him, and he grew closer to many of his fellow commerce students.
"I'd thought it would be a bit adversarial, but in higher years, with smaller classes, it really starts to feel like a community," he says. "Everyone's competitive but we all wanted everyone else to succeed and would do whatever we could for each other. It was really nice to have that sense of community with everybody."
Finally, as he was going into his third training camp, in 2016, Younan made the call: He gave up football.
"It was not an easy decision, but I had to look at my situation and see what I really love and what was best for me in the long run," he says.
"I realized I could do this or I could do school, but I couldn't do both as well as I wanted, and it wasn't fair to me or the other guys to do a half-hearted effort in either.
"I remember calling my dad — I was upset, obviously. And he told me not to be. 'It's an adult decision, it's not easy and I'm proud of you.' he said."
Any regrets? "Nope, no regrets. I made the right choice, and I'm still in touch with my friends from the football team — five of them just came to visit over the weekend."
Besides, the more classes he took, the more he realized he had a new interest: teaching.
"I'm really hoping to get into teaching some day," he says. "In my fourth year I got to work for professor Aadil Merali Juma as a TA, and I was lucky — he put a lot of faith in an undergrad who had never taught before, and I got to lead a tutorial. I really enjoyed it.
"I have a new job coming up, and I'm going to work in accounting, but I hope one day I can become a professor," he says.
"I had such great profs at Mac, and I want to do what they did for me, for other students."