Bruce Wainman named 3M National Teaching Fellow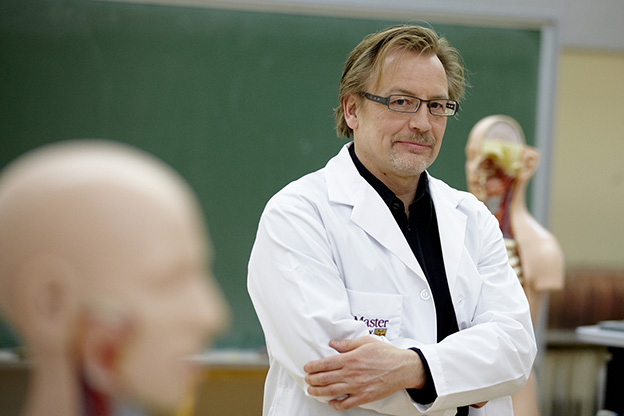 ---
Bruce Wainman believes that if you bring 600 students into a room, you better have something special to say.
His experience in providing that enthusiasm has made the director of the anatomy education program at McMaster University the winner of a prestigious 3M National Teaching Fellowship.
Wainman, an associate professor of pathology and molecular medicine for the Michael G. DeGroote School of Medicine, is one of 10 winners across Canada announced this week by the Society for Teaching and Learning in Higher Education in recognition of excellence in university teaching and educational leadership.
Besides being renowned for his active and effective lectures, Wainman has developed anatomy teaching materials that can be reviewed on any electronic device; written several electronic texts; created a popular extracurricular interprofessional course in anatomy; remodeled the anatomy lab into a learning commons and created a surgical skills lab.
He has won several McMaster prizes for his educational innovation – he has taken the McMaster Students Union Teaching Award four times, and he has received the McMaster President's Award for Outstanding Contributions to Teaching and Learning. Wainman also won the Canadian Association for Medical Education certificate of merit last year.
Wainman believes that preparation, insight and enthusiasm are essential to teaching.
"When I want to present to present a very engaging talk I have to spend what seems like a ridiculous amount of time preparing. But that's not enough, there has to be insight from research, life experience or a metaphor — like you would do while talking to friends at a coffee shop. Then, there has to be genuine enthusiasm. That's the pièce de résistance to teaching."
An alumnus who received his master's degree in medical science from McMaster, Wainman has been a faculty member since 1994 and director of anatomy since 2004.
About the award, McMaster President Patrick Deane said: "Bruce is a highly decorated and influential teacher, one who has committed himself to more than just excelling during his time in front of his students. He is making a difference in learning resource development, in the scholarship of learning and in enriching learning networks. He is the complete package."
Dr. John Kelton, dean & vice-president of the Faculty of Health Sciences said the award was not a surprise. "Bruce Wainman is the epitome of teaching excellence, as he is passionate on his subject, innovative in his teaching style, and warm and engaging to everyone he meets. This national fellowship is well-deserved recognition."