Brewing sustainable water solutions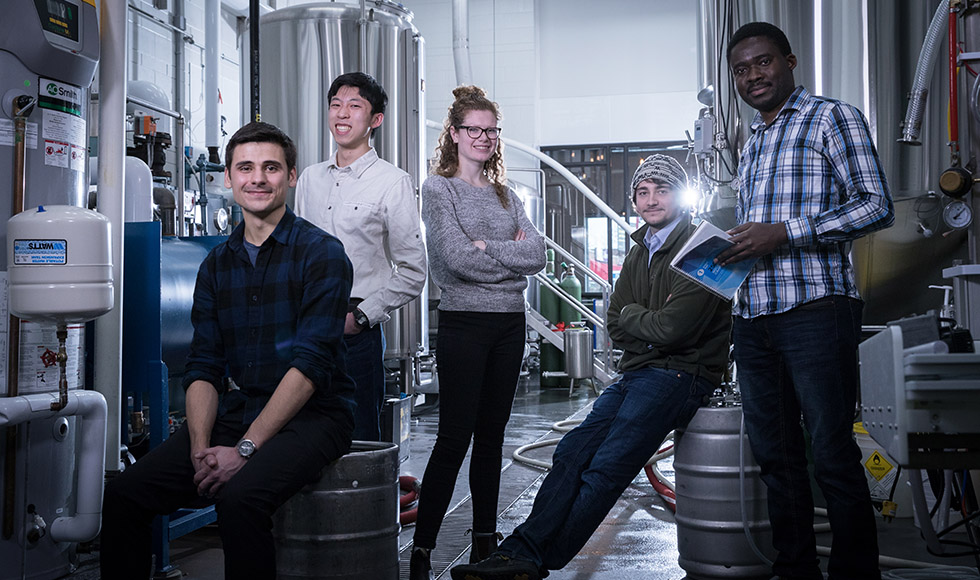 ---
It takes approximately four litres of water to produce one litre of beer.
Aside from malted barley, yeast, and science, beer-making depends on water. Lots of it.
Which begs the question: How does the brewing industry become more responsible with its water use?
PhD candidate in biology and vice-chair of the McMaster Water Network Student Chapter Oliver Wearing says it's a no-brainer that water is imperative for biodiversity and health, globally.
His passion and knowledge led to receiving a Community-Campus Catalyst Grant Fund from the Office of Community Engagement to research how a large-scale brewing company can implement strategies into their day-to-day practices to be efficient water consumers.
The purpose of the fund is to support McMaster's Community Engagement strategy through the building of new community partnerships with the goal of mutual benefit.
The project involves MERIT Brewing Company in Hamilton and McMaster students who are studying in the areas of Global Health and Engineering.
"There's power in bringing students from different disciplines together in order to solve questions," says Wearing.
"This way we also maximize the student experience by bringing them into industries and giving them opportunities to explore career paths."
Since the project began the students collected data to see where and how water is consumed in order to help guide their recommended optimization protocols in the brewery.
By the end of the project the goal is to develop and put in place practical procedures to maximize water consumption, minimize introduction of biosolids into the sewer system, and reduce brewery operating costs.
Aaron Spinney, MERIT Co-Founder, says the collaborative work with students is an untapped resource for them.
"They bring their innovative ideas and fresh perspective," says Spinney. "Water is a crucial element to our business and it's critical for us to find sustainable ways of using it, not just for us but for future generations."