Bondar talks leadership, space and Gravity with students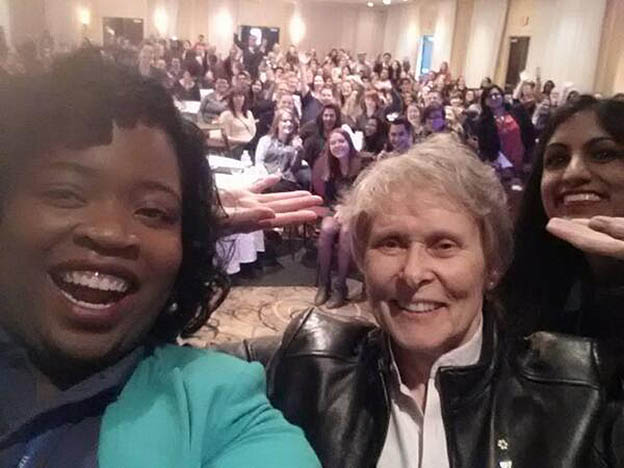 Students took a 'selfie' with Canada's first female astronaut Roberta Bondar at the Canadian Conference on Student Leadership, hosted by McMaster earlier this month.
---
Leaders need to know when to speak up and take action, but they also need to know when to clam up and follow.
That was one of Roberta Bondar's messages at the Canadian Conference on Student Leadership, hosted at McMaster earlier this month.
The first female Canadian astronaut in space was the conference's keynote speaker. She talked to students about a wide range of topics, including growing up in Sault Ste. Marie, being a part of the 1992 Discovery mission and meeting recently meeting Sandra Bullock at the Toronto International Film Festival.
"She asked me how she did [in the movie Gravity] but I was asked not to tell her the truth – that she would have been dead," Bondar told the more than 230 delegates from 23 post-secondary institutions.
Themed Change is the Only Constant, this year's conference challenged student leaders from across the country to be dynamic, responsive and intentional and to listen and ask questions of people around them in order to lead and make positive social change.
Delegates attended sessions at McMaster on topics ranging from sustainability and inclusivity to expanding comfort zones, mentorship and leadership through athletics.
Twitter's Kirstine Stewart spoke to students about the opportunities social media provides to catalyze wide-spread change.
The conference wrapped up at Hamilton's Liuna Station.