Biology has a new project for undergrads – and it stinks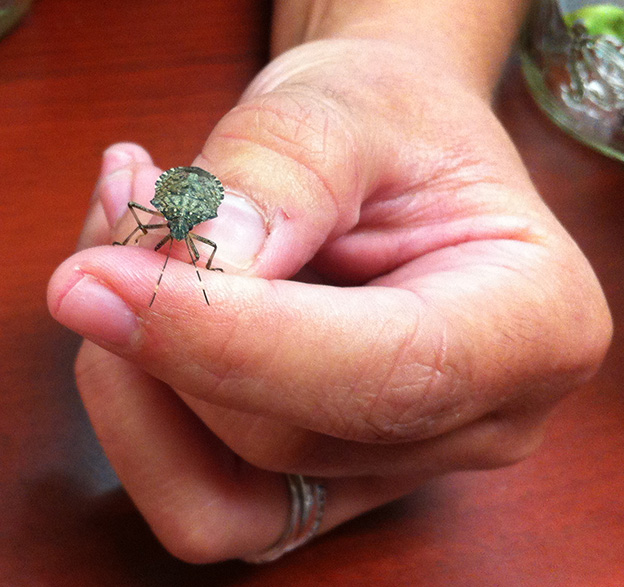 The invasive brown marmorated stink bug is the focus of a Biology initiative aimed at helping undergraduates get hands-on science skills. The project will also help scientists learn about the little-known agricultural pest, which can feed on more than 100 types of plants.
---
Rosa da Silva has a unique opportunity for McMaster undergrads – if they can stomach the smell.
The assistant professor of biology has been collecting the invasive brown marmorated stink bugs – so-named for their ability to produce an unpleasant scent similar to that of the herb cilantro – since early May.
Her goal isn't to limit visitors to her Life Sciences Building office, but to build a colony of the shield-shaped invasive pests for students and researchers to study.
The project is part of a Department of Biology initiative aimed at giving undergraduates more hands-on experience, while at the same time helping scientists study the poorly-understood stink bug.
"It's about giving undergrads real, transferable skills they can take out into the world when they're finished their studies," says da Silva. "We chose to study stink bugs because we really don't know much about them, and we need to."
Native to China, Japan, Taiwan and Korea, the brown marmorated stink bug was first found in the US in the late nineties. The first official detection in Ontario was by a Hamilton homeowner in 2010.
The insect feeds by piercing the skin of fruits and vegetables – such as pear, peach, tomato, sweet corn and soy bean – and sucking out the juices.
The result is a shriveled, brown and dimpled fruit that while not harmful to humans, is unpleasant in appearance.
Da Silva says the Hamilton area is a hotbed for stinkbugs, likely for the same reasons local farmers can grow the crops the bugs love: a temperate climate and the moderating effect of the Niagara Escarpment.
"We're starting to hear from people who are discovering them in their homes, as the stink bugs come in for the winter," says da Silva. "We also think they may be overwintering in places near Cootes Paradise, where there could now be a permanent colony."
Da Silva is working to increase the numbers in her colony through natural reproduction. She'll also take specimens captured by community members.
When the colony is large enough, it will provide researchers with invaluable information about the bug's physiology.
"We're going to be looking at everything: what they like to eat, what they don't like to eat, how they digest their food and reproduce. We want to know as much as we can."
The bugs haven't been studied in-depth because they aren't considered a pest in their native Asia, where predatory wasps and other species keep their numbers in check.
Ultimately, da Silva hopes the work students do translates into techniques and biological pest management strategies that farmers can use to protect crops.
"These are the sorts of locally-important, globally-connected projects that undergrads can take on and learn something from," says da Silva. "And in this case, they'll be performing groundbreaking research that will have a real impact on their community."