Big ideas, healthier communities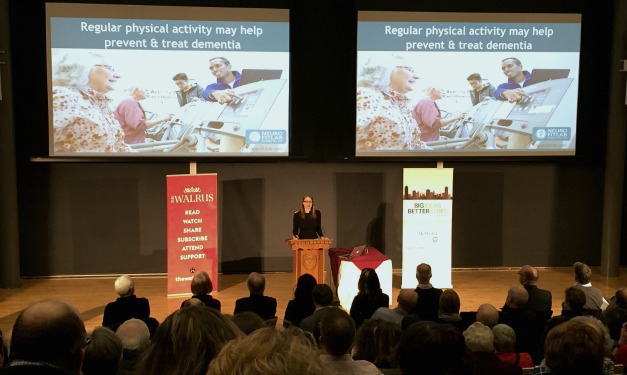 To build healthier, stronger communities, we need to face the mental health challenges of our aging population,' says McMaster expert Jennifer Heisz (pictured above). This was just one of the big ideas discussed at McMaster presents the Walrus Talks Healthy Cities, part of the Big Ideas, Better Cities series.
---
How can we reduce the stigma of Alzheimer's in our aging populations? How can art and culture help build vibrant cities? How can we care for our most isolated and vulnerable?
These were just some of the many questions raised at McMaster presents the Walrus Talks Healthy Cities, part of Building Healthy Communities, the most recent set of events in the Big Ideas, Better Cities series.
Walrus Talks, held at the David Braley Health Sciences Centre in downtown Hamilton, featured a unique line-up of creative, cultural, civic, community and academic leaders who spoke to an audience of more than 200 members of the Hamilton community about some of the critical factors in building healthy cities.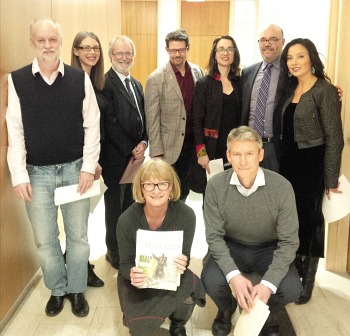 Speakers included McMaster experts Jennifer Heisz, associate director (seniors) of the Physical Activity Centre of Excellence (PACE) who discussed mental health challenges associated with aging, and Gerry Wright, Director of the Michael G. DeGroote Institute for Infectious Disease Research who spoke about how infection has shaped, and is shaping, our cities.
Speakers also included Miranda Hill from Project Bookmark, André Picard, health reporter at the Globe and Mail, Tim Potocic, founder of Hamilton's Supercrawl, Nick Saul from Community Food Centres Canada and Santee Smith of the Kahnyen'kehaka Nation, Turtle Clan, Six Nations of Grand River, and founder of the Kaha:wi Dance Theatre.
Walrus Talks was part of Building Healthy Communities, four days of events showcasing how McMaster researchers are helping to build healthy cities in Hamilton and around the world.
Between February 6-10, more than 800 faculty, staff, students and community members attended the events which, in addition to the Walrus Talks, included a half-day conference, a public talk and workshops organized by McMaster Children and Youth University, a health fair featuring the work of McMaster researchers, and a "health crawl" made up of tours and demonstrations in six different research facilities on campus.
Jim Dunn, chair of McMaster's Department of Health, Aging & Society and Nick Kates, chair and professor in the Department of Psychiatry and Behavioural Neurosciences, co-led the Building Healthy Communities events. McMaster's Susan Searls Giroux, Associate Vice-President, Faculty, is spearheading the Big Ideas, Better Cities initiative.
The fifth and final event in the Big Ideas, Better Cities series, Climate Change and Environment: Navigating from Risk to Resilience, will take place from April 18-22, 2016. Details and registration information will be available in the coming weeks.
Big Ideas, Better Cities is a year-long series of public and community-based events featuring renowned McMaster and international experts from a wide range of disciplines coming together to explore ways to build smart, healthy, creative cities.