Beyond academia: Science graduate students explore diverse career paths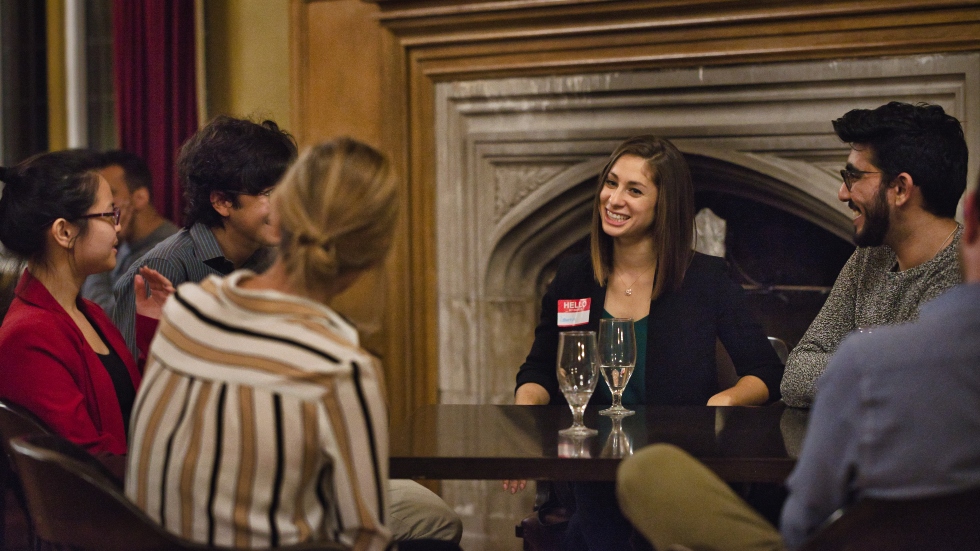 McMaster alumna, Lauren Salci (second from the left), was one of ten McMaster Science alumni – all with graduate degrees – were recently on campus to take part in a special event aimed helping current graduate students explore careers in industry and other non-academic fields. Tynan Pringle (https://azimuthimagery.smugmug.com/)
---
A year ago, McMaster alumna Melanie Demers was completing her master's degree in Astrophysics, working with large data sets related to galaxies.
Now she's been able to translate this expertise into the private sector as a data analyst, using her knowledge to develop custom software aimed at addressing company reporting needs.
Demers is one of 10 Science alumni, all with graduate degrees, who were recently on campus to take part in "Search Outside Academia," an event organized by the Science Graduate Student Association (SciGSA) with support from the Faculty of Science, which was aimed at providing current graduate students with an opportunity to learn more about careers in industry and how to position themselves for roles in non-academic fields.
"I think more and more students are looking for careers outside academia, but don't really know what kinds of jobs are out there," says Hillary Caldwell, the communications officer for SciGSA and co-organizer of the event. "It's really important as a student to get exposure to the different careers that are possible and to connect with people who are working in those positions, so you can start preparing and make sure you're gaining the sills needed for those types of jobs."
About 50 graduate students, faculty and alumni representing a range of scientific disciplines attended the event. Speakers – all recent alumni now working in diverse fields, from pharmaceutical and healthcare marketing, to new product development and data analysis – talked about their career paths, sharing their experiences, strategies and insights with students and faculty.
A number of alumni spoke about the critical role of networking and stressed the importance of developing strong science communication skills. Speakers also encouraged students to think critically and creatively about how their lab skills and research training could be applied to a variety of positions in industry.
Alumnus, Paul Fowler, spoke about entrepreneurship as a possible career path, explaining how he was able to translate his graduate work into the start-up, MesoMat, which he co-founded with his former supervisor McMaster researcher Kari Dalnoki-Veress.
Associate Dean of Graduate Studies in the Faculty of Science, Bhagwati Gupta, worked with SciGSA to organize the event. He says that with fewer positions available within academia, it's important that both students and faculty are aware of the wide range of career pathways available.
"As faculty, we need to recognize that we're not necessarily training these students to produce a PhD who then goes on to get a post doc," says Gupta. "Faculty also have a responsibility to train these students to go out and find jobs in a variety of other sectors. That's why we're having this dialogue – we're hoping that faculty will learn from this, that students will gain connections and learn more about what areas might hold potential for them, and that our alumni will feel that they're welcome back to McMaster."
Now in its third year, this gathering of students, faculty and alumni has become an annual event – one that McMaster's Dean of Science, Maureen MacDonald, hopes will be helpful to graduate students as they consider their future goals.
"It's wonderful to connect with our science alumni who have gone on to diverse careers and wonderful that they are willing to come back and share their experiences and their decision making with you at this time when you're looking to find out what might be possible," says MacDonald, who gave remarks during the event.
"At all stages we have to be open to what is possible and know that there are many different pathways," she adds. "We know you're going to go on to great things and we want to make sure you're aware of the diversity of what those great things could be."
The Science Career & Cooperative Education (SCCE) office in the Faculty of Science has developed a number of resources to help graduate students explore their postgraduate options and future career opportunities. Learn more