Be Smart, Stay Safe: Workshops help protect international students from scams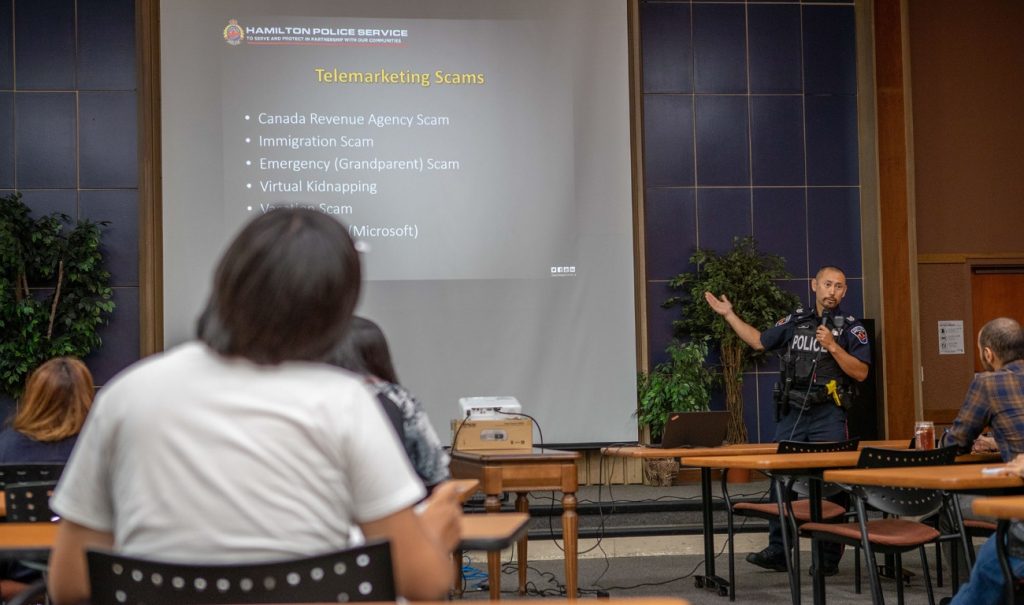 A Hamilton Police Services officer shows international students examples of telemarketing scams and offers advice on how to stay safe. McMaster's Student Success Centre organizes Be Smart and Stay Safe workshops for international students every term. (Photo by Georgia Kirkos, McMaster University)
---
"We promise, we never arrest anyone over the phone."
"You never, ever have to 'act now or face arrest'."
"If a transaction looks suspicious, check with your family or the police first."
If you own a cellphone, you've probably answered a call from a stern voice announcing that you're in trouble with the police or the Canada Revenue Agency, warning that you need to address the problem immediately or face dire consequences. Oh, and please key in your date of birth, Social Insurance Number or banking information.
Many people know that this kind of call, while it may sound and look legitimate, is a scam.
And many don't.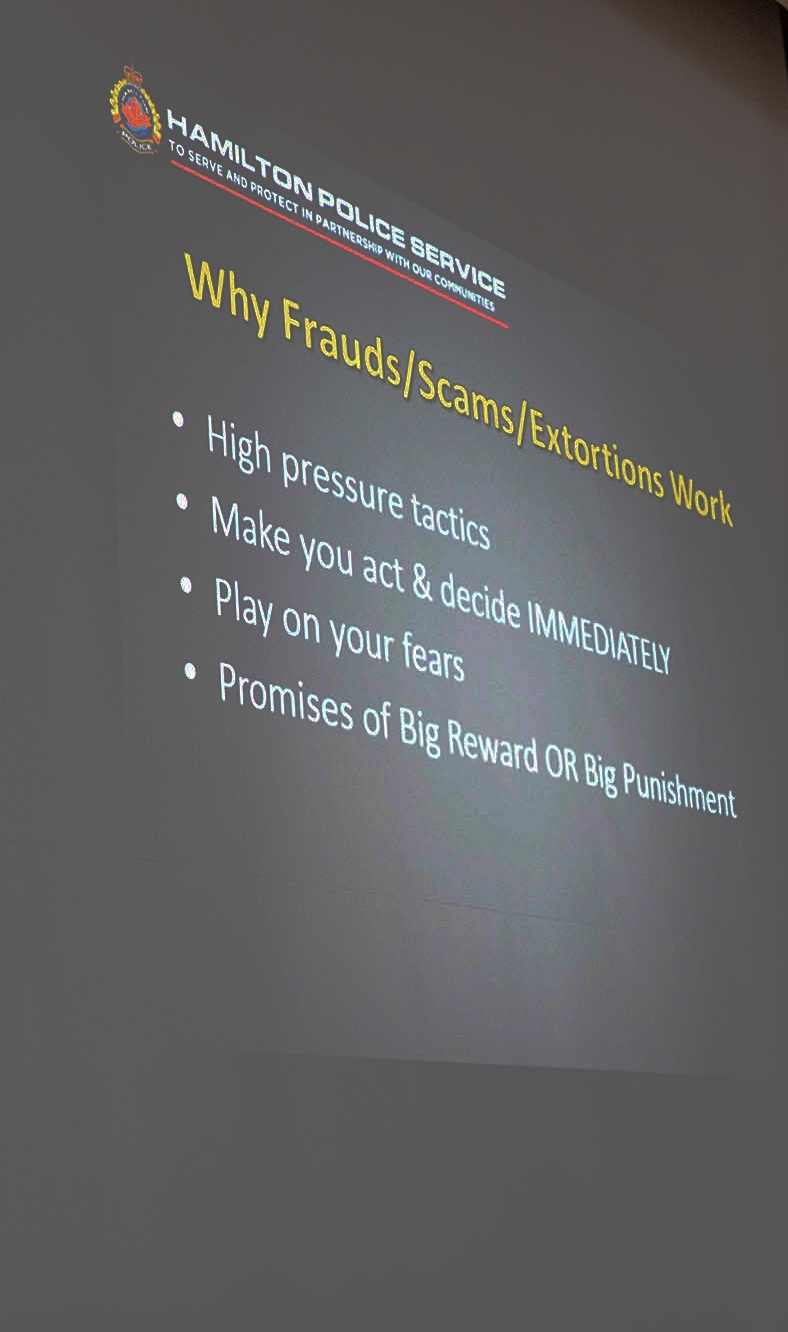 For international students — newly arrived, jet lagged, unfamiliar with local laws, banking rules and social customs — such an experience can be terrifying. Those who fall prey to smooth-talking, credible-sounding scammers are left feeling humiliated, and more vulnerable than ever.
That's why McMaster's Student Success Centre runs workshop every term to help international students detect and avoid scams, and to make them aware of the supports the university, community and law enforcement offer to keep them safe. Organizer Ana Pereira, International Undergraduate Program co-ordinator, explains more about the Be Smart and Stay Safe workshop:
Why it's needed
Unfortunately, many students are the targets of scams. They come here to learn, and people try to take advantage of their vulnerability. So we bring in the Hamilton Police Services and McMaster Security to teach them how to detect and avoid scams.
How it works
Hamilon Police Services officers explain the kind of frauds students might face, and the supports and systems we have in place to keep them safe.
They tell them about Canadian laws they might not be aware of.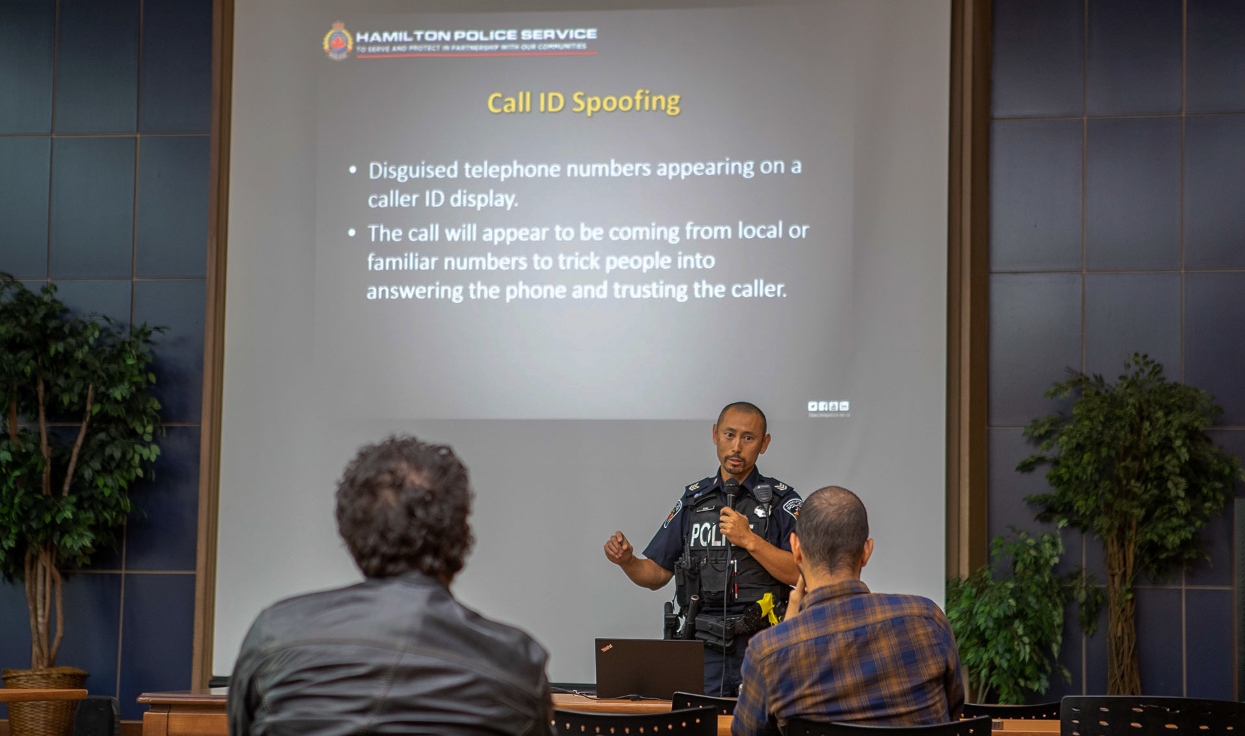 They play voice recordings of some of the calls students might receive, saying a friend's bank account has been locked and they need money, or pretending to be from a government agency that will send police to the door if they don't immediately key in their personal information or send money.
The police show the students examples of email scams. They warn them about people who go door to door, who try to come into your house to talk about a new water heater or a new roof. They talk about virtual kidnapping.
Campus security explains all the programs we have to keep students safe on campus, like SWHAT (Student Walk Home Attendant Team), McMaster's Emergency First Response Team, the red emergency boxes around campus, and the McMaster safety app. They also tell them who to talk to if they feel unsafe or need support.
And Crime Stoppers offers them a safe, anonymous way to report suspicious activities without fear of reprisal.
Why it matters
Our students are here for a good experience and to learn. It's so important to protect them, and to help them protect themselves. We've heard from a lot of students that they found this workshop so useful, because they've fielded calls like this and now they know how to respond. Unfortunately, scammers often target international students and take advantage of them.
The workshop is also a safe space to talk to police and security — in some countries, there's a genuine fear of the police. So much so that people aren't comfortable reporting suspected fraud in case they are genuinely in trouble and this will lead to them getting arrested. The workshops allow students to see that you don't have to be afraid of people in uniform — you can trust them to support you and protect you.
The next Be Smart and Stay Safe session is in January. Students can register on OSCARPlus. For more information, contact International Student Services.