Banting and Vanier scholars recognized for innovative, impactful research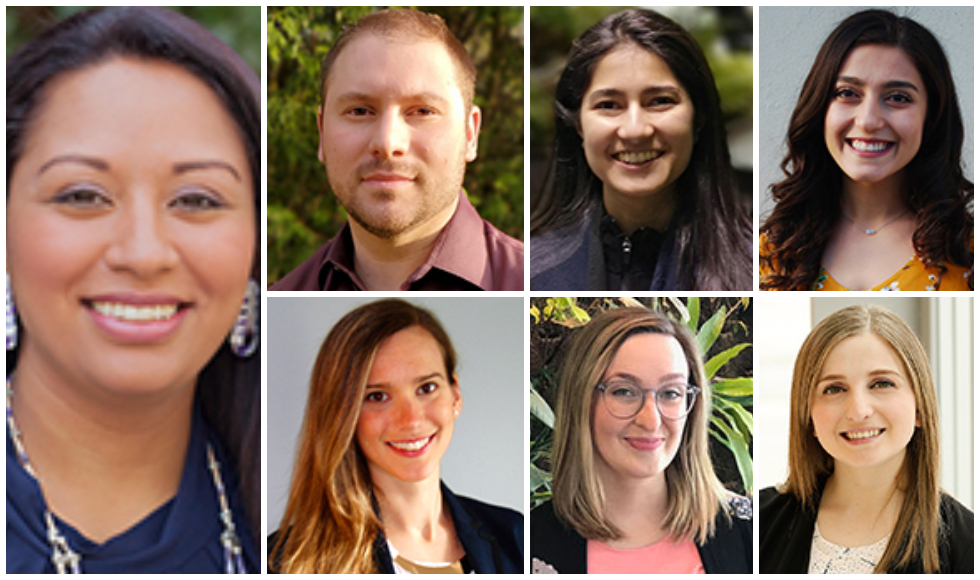 Kelsey Leonard, at left, has been awarded a Banting postdoctoral fellowship. From left to right, starting at the top second-left, are McMaster's six new Vanier scholars: Eric Desjardins, Sawayra Owais, Raha Hassan, Sophie Poznanski, Carly Whitmore and Liza-Anastasia DiCecco.
---
Seven McMaster graduate and postdoctoral researchers have received Canada's most prestigious awards for their work in medicine, science, engineering, social sciences and humanities.
Political Science PhD candidate Kelsey Leonard has been awarded the Banting Postdoctoral Fellowship, worth $70,000 a year for up to two years. Leonard  will build on her doctoral research by looking at defining water justice for Indigenous peoples in the face of climate change.
Six doctoral students have been awarded the Vanier Canada Graduate Scholarship. Each will receive $50,000 a year, for up to three years.
McMaster's newest Vanier Scholars are
Eric Desjardins, from medical sciences. He is looking at mechanisms and strategies to treat metabolic disease.
Sawayra Owais, from medicine and neuroscience, will focus on recovery from postpartum depression in Indigenous and non-Indigenous women, and how it affects children.
Raha Hassan, from psychology, neuroscience and behaviour, will examine behavioural and self-regulatory processes in young children.
Sophie Poznanski, from medical sciences, will study cancer immunotherapies that use a patient's own immune cells to fight the disease.
Carly Whitmore, from nursing, is examining the factors that impact self-reported health by older adults who live in the community.
Liza-Anastasia DiCecco, from materials science and engineering, will focus on developing custom additive manufactured titanium implants for people with osteoporosis.
"We are thrilled, once again, by the recognition of the extraordinary achievements of McMaster graduate students and postdocs," says Vice-Provost and Dean of Graduate Studies Doug Welch.
"These Vanier and Banting recipients exemplify the innovative and impactful research conducted across the McMaster community."
The Vanier and Banting awards programs are offered by Canada's three federal granting agencies.