Back to Mac: Employee Guide to September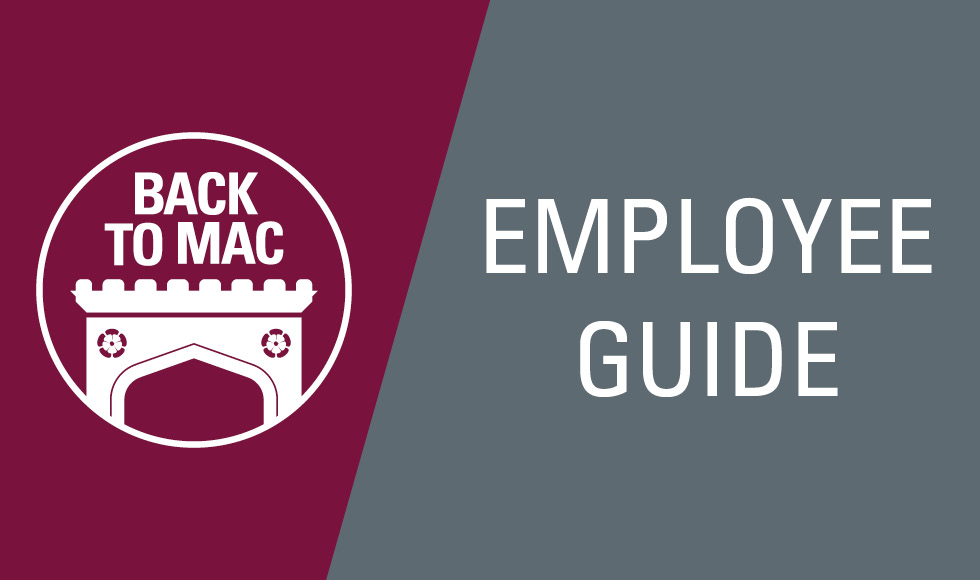 ---
With days to go before the start of the fall semester, employees have questions about what to expect. This guide is intended to provide key information and resources you will need for the first few weeks of term. We each have a role to play in keeping ourselves and our community safe. 
In this guide:
— 
Employee checklist
Before coming to campus 
While on campus 
Working together to keep you and campus safe
Requiring vaccination:

 

The scientific evidence in support of vaccination as the best defense against new COVID-19 infections is overwhelmingly compelling and McMaster's own infectious disease experts agree.

 

 

Ventilation assessment and upgrades: 

McMaster's 

ventilation plan

 involves assessing and making any required updates to the ventilation systems.

 

Enhanced cleaning: 

McMaster has a 

comprehensive cleaning and disinfecting plan

 that includes increased cleaning of high-touch surfaces.

 

Hand sanitizer and disinfecting wipes: 

These are provided in public spaces.

 

Signage: 

Our buildings have been equipped with clear signage providing direction on masking, hand washing, screening requirements including symptoms and staying home when sick, and other health and safety measures.

 

Masks: 

As per provincial regulations, non-medical masks or face coverings continue to be required in all indoor spaces, and in outdoor settings when 2 

metre

 distance cannot be maintained. 

Complete guidelines and protocols here

.

Safety requirements for individuals:

Everything you're required to do, others are too. We expect the whole community to follow health and safety measures set out by the University and the province, including wearing a 

mask, 

doing the daily COVID-19 screening via 

MacCheck

, completing required training,

 uploadi

ng proof of vaccination or exemption, and following good hygiene practices.
Navigating campus spaces
Building hours: Buildings on campus opened on Monday, August 30, Monday to Friday from 8:30 a.m. to 4:30 p.m. Starting September 7th, the schedule for opening and closing of buildings will be adjusted to cover class times. 
COVID-19 testing: Report all positive COVID-19 test results on Mosaic. 
Asymptomatic COVID-19 Testing Centre on campus

:

 If you are not fully vaccinated, you must get tested to come to a McMaster location or off-site affiliate location and receive a negative test result twice a week. Go to the  Asymptomatic COVID-19 Testing Centre on campus (Location: McMaster University Student Centre, Room 311).

 

Student Symptomatic COVID-19 Testing Centre

: Students with symptoms of COVID-19 or have been exposed to COVID-19 can get tested at the Student Symptomatic COVID-19 Testing Centre

 (Location: Les Prince Hall, Room 109)

. Call (905) 525-9140 ext. 27700 to book an appointment. Open Monday to Friday. 

 

Faculty members and staff with symptoms of COVID-19 or exposure can book a test at an assessment centre in the community. In Hamilton, you can 

book a COVID-19 test online

.

 
Composting office plants: Sadly, some of us may return to office spaces to find plants that are no longer alive. Facility Services is offering a more sustainable disposal option, including composting the natural plant material and recycling the container if possible. Please bring any plants you no longer want to the green bin located in the receiving area beside Chester New Hall. 
Where to eat on campus: Many hospitality services locations are open. Details and hours of operation are posted on the Hospitality Services website. Employees need to remain physically distanced while eating. 
Outdoor spaces to gather: In addition to preparing indoor spaces, we have reimagined our outdoor spaces on campus to maximize opportunities for people to safely socialize and collaborate in the fresh air.  
Resources and support
Feeling stressed, anxious or overwhelmed by the transition? There are a number of resources available to employees to support their wellbeing and mental health, including: