Athletics and Recreation creates 21 financial awards for Black student athletes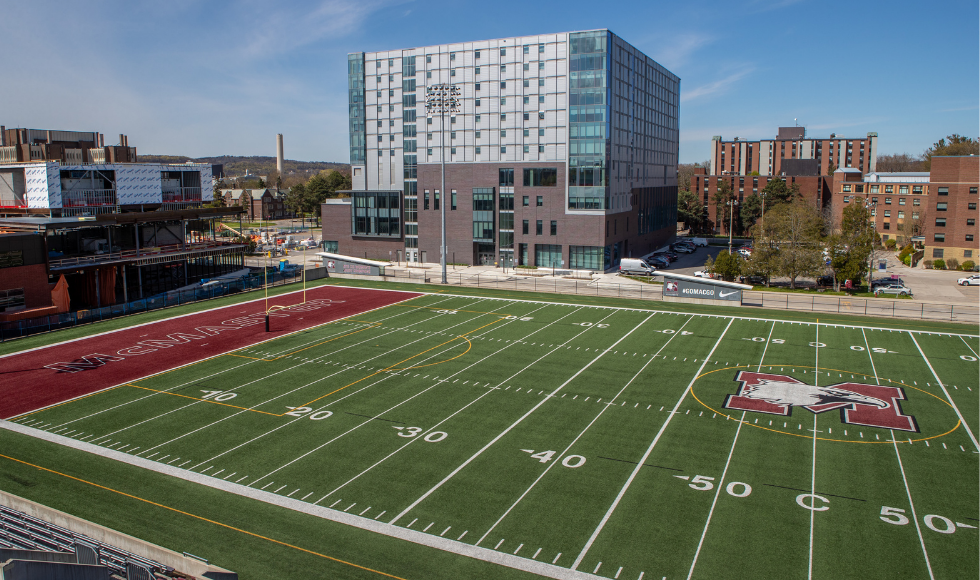 The department of Athletics and Recreation is creating 21 financial awards for black student athletes, and is organizing a symposium focused on antiracism in university sports.
---
As part of its ongoing work to cultivate a more inclusive and anti-racist environment, the Athletics and Recreation department has created 21 financial awards to ease barriers for Black student athletes, and is organizing a symposium focused on anti-racism in university sports.
Both initiatives from the Anti-Racism Advisory Group are part of efforts to meet goals outlined in the action plan, created in response to the Athletics Review of the Black Student-Athlete Experience, which highlighted the need for targeted awards and supports to mitigate specific barriers experienced by Black student athletes.
In addition to targeted mental health support, the department is offering new Black Excellence Athletic Financial Awards, which will be distributed on an annual basis. The application process, designed in consultation with Black student-athletes and coaches, invites applicants to provide short submissions highlighting their leadership skills and excellence through service to school, family, and the wider community. Fifteen Black athletics alumni are on the committee that will assess the submissions.
"The Black Excellence financial awards are a huge step towards ensuring support and recognition is provided for Black student-athletes at McMaster," says committee member and 2017 grad Colleen Irowa.
"As a Black student-athlete alumna who faced race-specific barriers, this program brings on hopefulness for the future of McMaster Athletics. I hope this program is transformative and continues to set the standard for the anti-racism and equity-based work that needs to occur in all universities across Canada."
The department will also host an anti-racism symposium on May 2, 2022. Anti-Racism: Future Directions in Higher Education Athletics and Recreation will bring together student-athletes, staff and sport administrators from across Ontario to focus on sharing anti-racism initiatives and best practices focused on recruitment, education, support, and accountability.
"We're extremely excited to be hosting the Anti-Racism: Future Directions in Higher Education Athletics and Recreation symposium here at McMaster," says Shawn Burt, director of Athletics and Recreation.
"The incredible work that has been undertaken — both as a university and as a department — has been significant, will have long term positive impact, and will ensure we are doing everything we can to enact real change in sport.
The symposium also presents an opportunity to drive change and advance equity, diversity, inclusion and antiracism, Burt says.
"I would like to thank all staff members and our partners across campus for supporting us in this incredibly important event."
Survey seeks feedback
A year into implementing the action plan arising out of the review, the department is launching an engagement survey to gather feedback and determine future priorities. The survey, which will be administered at the end of March, is open to all students and staff in the department and seeks feedback about the department's climate, including team cultures, approaches to conflict management, communication and growth and development opportunities.
Participants will be invited to share their views on what the department is doing well in building a diverse, equitable and inclusive department and what they would like to see the department focus on in continuing to prioritize inclusive excellence.
"It's great to be part of an initiative that will bring the University sporting community together to discuss the work being done on Anti-Racism across U SPORTS," says Corey Grant, Equity, Inclusion, and Anti-Racism Lead for the Athletics and Recreation, and offensive coordinator, football.
"We must continue to have conversations, listen and learn from each other as we work to build an inclusive environment for all in our sporting community."
"Let's come together, work together and build together as we continue our efforts to eliminate all forms of Racism in university sports."
Read the advisory group's new update here.
The Athletics & Recreation action plan is aligned with McMaster's broader Equity, Diversity and Inclusion Strategy, which looks to support Black excellence and build on existing anti-racism education programs.