Artscis past and present come together at the 2019 New World of Work Forum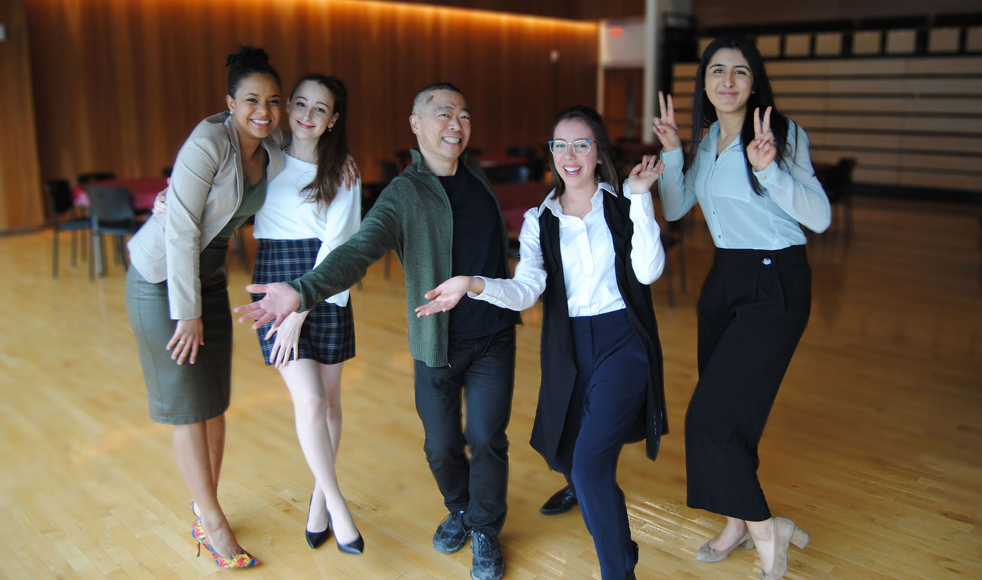 From left to right: Sarah Brooks, Michelle Zilbergerts, Bruce Miyashita '84, Luiza Araujo and Maanvi Dhillon. Photo by Blake Dillon.
---
Scary. Exciting. Unpredictable. Evolving. Rewarding. Those are just some of the words that graduates of McMaster's Arts & Science program used to describe the modern employment landscape at the second annual New World of Work Forum.
Held on Saturday, March 2, 2019 at the David Braley Health Sciences Centre in downtown Hamilton, the forum is designed to help Artsci students gain exposure to the world of work through the perspective of program grads.
Through keynote speeches, workshops, panel sessions and networking opportunities, 17 alumni from more than 30 graduating classes were on hand, using their personal experiences to help prepare current students for their next steps.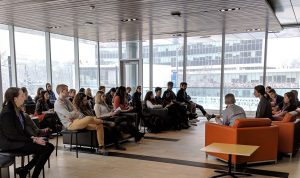 Bruce Miyashita, a 1984 Arts & Science grad whose financial support funded the forum, says events like New World of Work are exactly what he envisioned when he established the Tom & Nancy Miyashita Arts & Science Program Enrichment Fund back in 2017, in honour of his late parents.
"I have been very fortunate in my business career, and I really feel that's almost entirely due to the start I got here in the Arts & Science Program," Miyashita says. "Although I went on to get an MBA, the most important things that I learned about business actually came from being an Artsci student. So I'm very happy that this is how the program has used my gift — I hope the students taking part will learn some of the same things I did all those years ago."
Arts & Science Director Dr. Jean Wilson also appreciates that the gift "provides alumni mentorship opportunities as well as hands-on project management experience for a team of four current Artsci students."
This year's team, which included Luiza Araujo (Level III), Sarah Brooks (Level III), Maanvi Dhillon (Level II), and Michelle Zilbergerts (Level III), was charged with planning and executing the entire event from the ground up.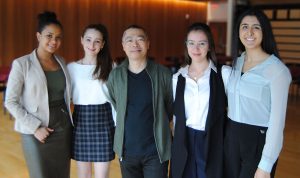 The group surveyed students in the program to see what they wanted to gain from the event and discovered two common denominators: students wanted to develop their professionalism and sharpen their ability to communicate the value of being an Arts & Science graduate.
"Using the feedback from our surveys, we were able to determine the types of speakers we'd like to invite and the types of workshops we'd like to put on," says Zilbergerts. "Prav Pillay and Vass Bednar, our keynotes, are great examples of what it means to be an Artsci. I think the students will have gained a lot from hearing them talk."
Pillay, who graduated from the Program in 1987, travelled more than 4,300 kilometres to take part in the event. Flying into Hamilton from an island off the coast of BC, Pillay says that simply having an opportunity to "pay it forward" was all it took to rouse him into coming.
"I have received excellent mentorship throughout my life, and I felt that coming here was a chance for me to pay that forward by providing similar mentorship to students in the program," says Pillay, who founded and manages Humanitas Capital Management. "On top of that, I remember being an Artsci student all those years ago, truly having no concept of how important it was or how much of an advantage I had. I want to help the current students better grasp how consequential this unique education can be."
Bednar, a 2008 Artsci grad, says that she was more inclined to participate so that current students could have a realistic understanding of the sometimes-harsh realities of the employment world.
Having spent time as a public policy advisor for companies such as Airbnb and Delphia, as well as for Ontario's Ministry of Education, she spoke to the more than 75 Artsci students in attendance about contract work, changing demographics and the importance of 'soft skills,' such as communication, critical thinking and flexibility.
"The Arts and Science education is so unique and broad that students can't rely on traditional job paths when they consider what could be next," Bednar explains. "I wanted to participate in this event to discuss my work chairing a federal panel on the Canadian labour market for young people and apply our findings to the challenges that students are directly experiencing."
As proud as he is to have helped create something as important as the New World of Work Forum, Miyashita, who has held executive positions at BMO Financial Group, Maple Leaf Foods, and Bombardier Inc., says he's even more so in awe of the happenstance of it all.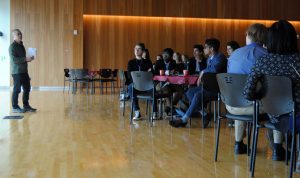 Back in the '80s, unsure of what he wanted to study in school, Miyashita and his mother went to the registrar at Mac for advice. He told the woman working there that day about some of the subjects he liked, some of the subjects he didn't, what he was good at, what he wasn't and what he wanted to get better at. She told him about a brand new program that bridged the arts and the sciences and encouraged him to give it a chance.
"It was a real fluke that I ever stumbled upon Artsci," he says. "I wish I could go back in time and tell that woman at the registrar's office how much she changed my life. That little thing she did, suggesting the Arts & Science program to me, has had such a huge impact on me and is still indirectly impacting McMaster students today, almost 40 years later. In a way, she's the reason we're all here together at the New World of Work Forum."