Artists look to bring memories to life in a guidebook of the city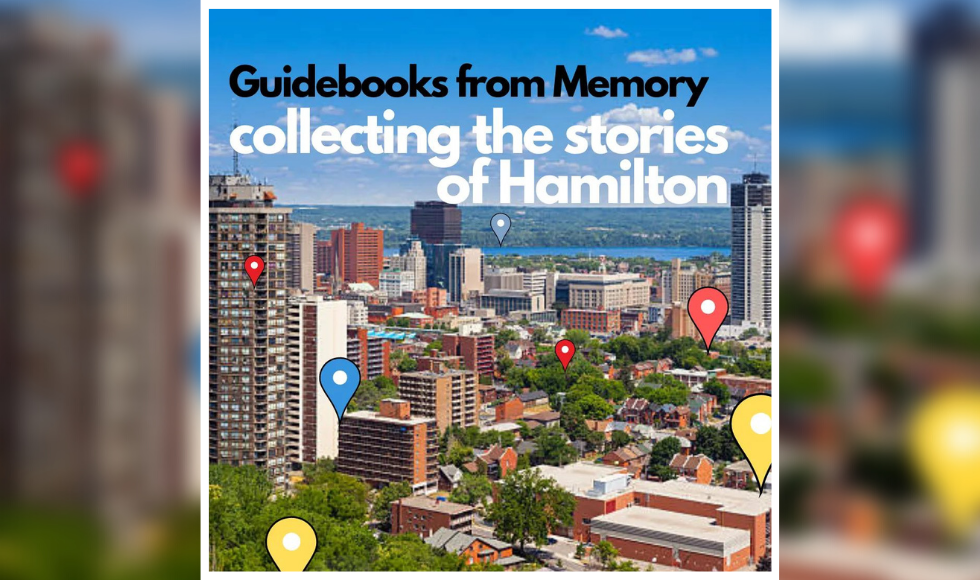 The trio of artists behind Hamilton: a guidebook from memory are looking for community members to share memories that are tied to specific spots in Hamilton. (Image courtesy guidebooks from memory).
---
Have you had any amazing moments in Hamilton or on McMaster campus? Robert Motum would love to hear about them.
The artist is creating Hamilton: a guidebook from memory with two McMaster graduates, Jojo Chooi-Harley and Jonathan Harley. The guidebook will contain a collection of memories, as submitted by Hamilton community members, that all contain an experience tied to a specific spot in the city.
Motum says submissions so far have been wide ranging, from people sharing their daily dog-walking rituals on city trails, to recalling memories of sporting events at Tim Hortons Field.
"There's a story that I keep returning to that's lovely," says Motum. "It's about the bronze turtle that sits on the fountain in Gage Park. And this family with little kids who walk the park every day and pat the bronze turtle."
The project will see those memories turned into art, with Chooi-Harley and Harley creating accompanying illustrations and soundscape or musical compositions to bring those memories to life in a unique way.
Social work and sociology graduate Chooi-Harley say she will create ink and watercolour illustrations to accompany the entries, drawing on the fluidity of memory as inspiration.
"It's not about pinpointing exactly what the memory is, but really just the feeling that comes with it," says the designer and illustrator. "It's really thinking about the fluidity of experience and connecting with community."

The guidebook will be displayed in both a hardcopy and a PDF version.
"The current plan is to provide probably a link to a Spotify playlist, or a scannable QR code that will link you to a Spotify playlist that would accompany you and accompany the book," says Motum.
Composer Jonathan Harley says he will create musical and soundscape compositions based on the nature of the individual submissions.
"Jojo and I will take what comes in as a source of inspiration and determine from there what and how we want that to be presented musically and art-wise," says the McMaster grad, who is now working towards his master's in social work.
The trio says they hope the guidebook will help Hamiltonians find connections through shared spaces.
"I think the project is kind of, in a way, a love letter to Hamilton in a lot of ways because it's very much about sentiment," says Chooi-Harley.
When it comes to the submissions, Motum is looking for highly specific memories and spots around the city and campus. So rather than just using McMaster's campus, a specific example such as 'the second bench behind Edwards archway' will allow the artists to bring to life that exact memory on a detailed map.
"Hamilton's just a great place," says Motum. "It's a lovely place to run this project."
If you are interested in participating, the group is still taking submissions via their website.