Artists-in-residence series celebrates 'Crip Magic and Queer Joy'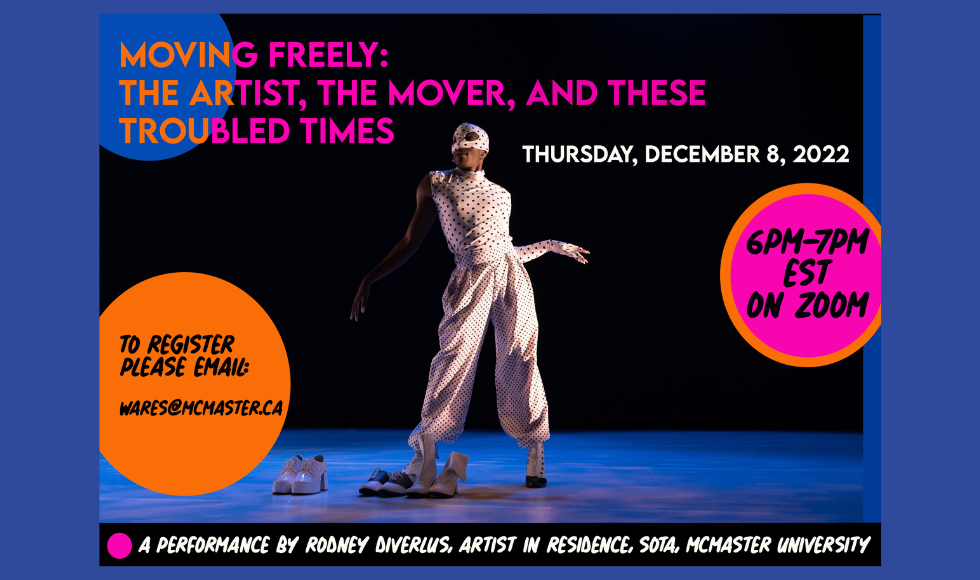 Movement artist Rodney DIverlus' work encapsulates dance, physical theatre, puppetry and diasporic traditions.
---
For the 2022-2023 academic year, McMaster's School of the Arts (SOTA) is hosting five artists in a series of mini residencies called "Crip Magic and Queer Joy," exploring creative practice along with social justice and disability, Black and queer/trans activism.
Each interdisciplinary artist is a Mad, Deaf or disabled queer or trans practitioner based in the GTHA. They will each work with students as well as present at least one public lecture or performance.
"I decided to draw on the 'Cripping' Performance: Deaf, Mad and Disabled Performance in Canada' class that I taught last year and help bring disability justice to SOTA and the new iArts program in new ways," explains SOTA professor Syrus Marcus Ware, who curated the artists-in-residence series.
"They're here to explore their own creative practice, but also be a resource to connect with students and the McMaster community."
The artist-in-residence program, which began last year with Cole Alvis, a Michif two-spirit theatre artist, is funded by a donation from the Pieczonka Family Foundation.
The artists-in-residence are all working artists, and their residencies aim to show students in the School of the Arts — particularly in the school's new interdisciplinary iArts program — what life as a practising artist can look like.
And, of course, there's a particular benefit to students within the disabled, Mad, Deaf and queer/trans communities.
"This is an opportunity for Deaf, Mad or disabled students to see themselves reflected, and for the general student body to get familiar with the beautiful artists coming out of that community," Ware says.
"We'd like to promote a campus-wide immersion in disability justice, as well as encourage a culture of interdependence and care."
This year's artists-in-residence are:
TJ Cuthand (he/him)
TJ Cuthand was born in Regina, Saskatchewan in 1978 and grew up in Saskatoon. Since 1995 he has been making short experimental narrative videos and films about sexuality, madness, Queer identity and love, and Indigeneity, which have screened in festivals internationally. His work has also been exhibited at galleries including the Remai in Saskatoon, the National Gallery in Ottawa, and the Walker Art Center in Minneapolis.
He completed his Bachelor of Fine Arts majoring in Film and Video at Emily Carr University of Art and Design in 2005 and his Master of Arts in Media Production at X University in 2015.
In the summer of 2016 he began working on a 2D video game called A Bipolar Journey based on his experience learning about and dealing with his bipolar disorder. It showed at ImagineNATIVE and was finished in 2020. In 2017 he won the Hnatyshyn Foundation's REVEAL Indigenous Art Award. He is a Whitney Biennial 2019 artist. TJ is of Plains Cree and Scots descent, a member of the Little Pine First Nation, and currently resides in Toronto.
Raven Davis (they/them)
Raven Davis is an Anishinaabe, 2-Spirit, trans, disabled multidisciplinary artist and educator whose mother is from Treaty Four, Manitoba. Davis was born and raised in Michi Saagig Territory (Toronto, Ontario). Davis resides and works as a professional artist and curator fluidly between Michi Saagig Territory and Kjipuktuk (Halifax, Nova Scotia). A parent of three sons, Davis works within the mediums of painting, performance, movement and media. Challenging systemic oppression, Davis fuses narratives of colonization, race, gender, disability, transformative justice and 2-Spirit/Indigiqueer identity in their work. Davis' performance practice bravely embodies their lived experience and their relationship to colonial systems, intergenerational histories, lands, lives, and futures.
Rodney Diverlus (they/he)
Rodney DIverlus is a Haitian-Canadian movement artist whose work encapsulates dance, physical theatre, puppetry and diasporic traditions. Their works have been presented at the Art Gallery of Ontario, Gardiner Museum, SummerWorks Festival, Irie Music Festival, Footsteps Across Canada Showcase, Annual Alberta Dance Festival and Tableau d'Hôte Theatre. Previously, Rodney danced with Decidedly Jazz Danceworks during the 2014-2018 seasons, and has worked with Peter Hinton/Denise Clarke (Canadian Opera Company), Darryl Hoskins (Dietrich Group), Noemi Lafrance (Bentway), Kevin Ormsby (Kashe Dance), Mumi Tindyebwa (IFT Theatre) Eddy Elliott (Red Sky Performance), Charles Smith (Wind in Leaves Collective), Hannah Kiel, Michele Moss and others. Rodney is the recipient of the 2019 Canadian Stage Award for direction.
Central to his work is an obsession with Black moving bodies interacting with anomalous and often public performance spaces: bunker, phone screen, gallery, container and the street as examples. Rodney moonlights as an artivist and community advocate. They are a co-founder of Black Lives Matter – Toronto and Canada and have co-curated a series of large-scale public installations that blur the lines of protest and performance, most notably #BlackPride.
Leah Lakshmi Piepzna-Samarasinha (she/they)
Leah Lakshmi Piepzna-Samarasinha (she/they) is a queer disabled nonbinary femme writer, educator and disability/transformative justice worker of Burgher/Tamil Sri Lankan and Irish/Roma ascent. They are the author or co-editor of nine books, including, most recently, co-edited with Ejeris Dixon, Beyond Survival: Stories and Strategies from the Transformative Justice Movement. They are the 2020 recipient of the Lambda Foundations' Jeanne Córdova Prize in Lesbianh/Queer Nonfiction, recognizing "a lifetime of work documenting the complexity of queer experience" and are also the recipient of the groundbreaking 2020 US Artists Disability Futures Fellowship.
From 200602015 Leah co-founded and co-directed Mangos With Chili, a groundbreaking queer and trans people of colour performance collective and semi-annual national tour. She is also the co-founder of Toronto's Performance/Disability Art collective and Asian Arts Freedom School. She is a VONA Fellow and holds an MFA from Mills College. Proud to be raised in Worcester, MA< they have called Brooklyn, Oakland and most of all Toronto home, but have been living in South Seattle Duwamish territories for the last five years.
Dr. Jenna Reid (she/her)
Jenna Reid (she/her) is the current artistic director at Kickstart Disability Arts & Culture, and the board president of the Contemporary Textile Studio Co-operative. Jenna is a fibre artist who works primarily with the practices of quilting, natural dyes and protest art as a way to engage with activist-based aesthetics. Jenna has completed a residency on Toronto Island with the Feminist Art Conference as well as three residencies at the Banff Centre for Arts and Creativity for both her curatorial and studio-based practice. Jenna has exhibited her work and presented on panels in Canada, the US, the UK and Australia. In 2019, Jenna completed a studio-based PhD in critical disability studies at York University which led her to a year-long faculty contract in disability studies at X University, and a two-year postdoctoral fellowship in the Dalla Lana School of Public Health at the University of Toronto.
Read the artists' complete biographies on the Faculty of Humanities website.