Art purifies the soul, but can it also purify water?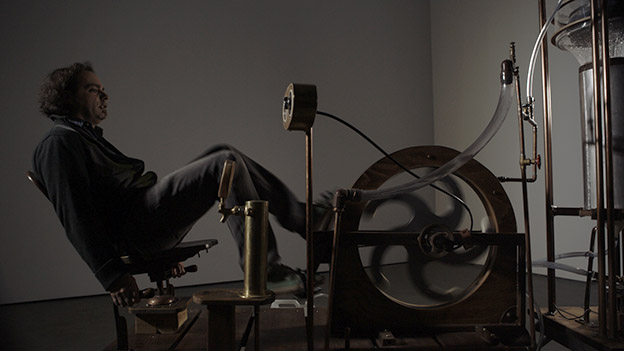 Christopher McLeod demonstrates Aqua Lauta - a water-purifying art installation he built with engineering students - on display at the McMaster Museum of Art.
---
Christopher McLeod's latest art installation is making a big splash at the McMaster Museum of Art.
The Aqua Lauta Project was designed and built by McLeod with help from a group of engineering students. It looks like it was ripped from the pages of a Dr. Seuss book: a reclining bicycle attached to an oversized wheel and a series of pumps, tubes and filters that, when operated, purifies water.
But the contraption isn't a novelty item – in fact, it's meant to convey a very serious message.
"It's about the importance of looking after water," says McLeod, a graduating studio art student. "It's a bit hard to operate, but that's sort of the point: water conservation is hard, but it's incredibly important."
The piece is the result of a two-year collaboration between McLeod and a team of engineering students, who helped turn his idea into a usable machine.
McLeod hopes the piece will be taken to local festivals and events where the public can use it, helping to promote water stewardship.
Aqua Lauta is on display at the Museum of Art's annual graduating student art exhibition known as SUMMA, which runs until April 26.