Original manuscripts, notebooks, photos among treasures in Library's Stuart McLean archive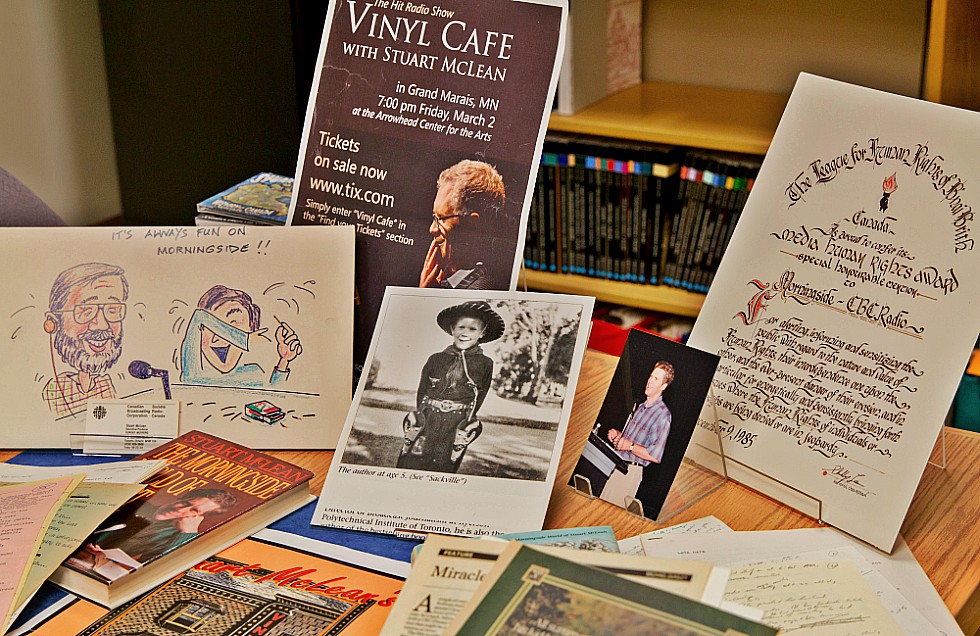 The archives of Stuart McLean – CBC journalist, best-selling author and host of the perennially popular radio program the Vinyl Cafe – are housed in McMaster University Library's William Ready Division of Archives and Research Collections.
---
This summer, CBC is re-running some of Canadian storyteller Stuart McLean's best-loved stories from his perennially popular radio program, the Vinyl Cafe. Listen now.  Read on to learn more about McLean's extensive personal and professional archives which he donated to McMaster University Library back in 2017.
The following story was originally published on November 17, 2017.
He is remembered as one of this country's most beloved storytellers.
Throughout Stuart McLean's 40-year career as a CBC journalist, best-selling author and host of the perennially popular radio program the Vinyl Cafe, his stories – along with his signature warmth and sense of humour – resonated with audiences across the nation and continue to hold an enduring place in the hearts of many Canadians.
Now McLean's extensive personal and literary archive, which offers insight into his life and work and provides a unique behind-the-scenes look at the Vinyl Cafe, has found a new home at McMaster.
From manuscripts of his iconic and award-winning stories and books, to correspondence, photographs, fan mail, sound recordings, and even set pieces from his live Vinyl Cafe performances, the archive –  which McLean donated to McMaster University Library before his death­ earlier this year – includes a wealth of material that provides scholars and the public with the opportunity to explore both aspects of his life and his remarkable body of work.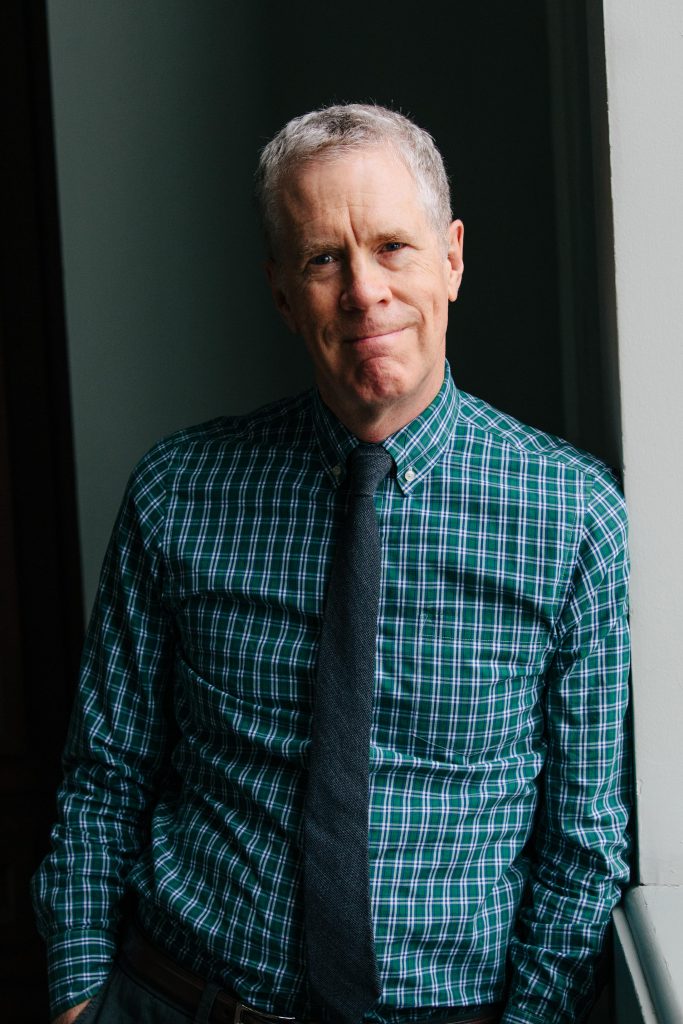 "We are delighted that McMaster University will be the home to Stuart's archives," write McLean's sons Christopher Trowbridge, Robert McLean and Andrew McLean. "This is something that Stuart started working on a few years ago. He loved combing through old letters, manuscripts, photos and scraps of paper. He spent months meticulously collecting and boxing up work and correspondence from the past five decades."
"We know how happy it made Stuart to know that his archive would find a home a McMaster," they add. "We hope others will take as much pleasure in it as he did."
The archive, part of the William Ready Division of Archives and Research Collections, is made up of 100 boxes, or 16 metres, of material. It includes a diverse range of items including boxes filled with notepads used by McLean to scribble down story ideas, as well as personal correspondence with notable figures such as fellow authors Margaret Atwood, Farley Mowat and Timothy Findley, among many others.
It also features hundreds of original manuscripts, such as the much-loved story "Dave Cooks the Turkey," complete with hand-written notes added by McLean and his editors which provide valuable insight into the creative writing process.
Over his prolific and varied career, which included teaching in Ryerson University's School of Journalism, McLean worked on and contributed to some of the biggest shows in radio. He was an award-winning documentary producer on CBC's Sunday Morning and was a regular columnist and guest host on CBC's Morningside with Peter Gzowski which inspired his national bestseller, The Morningside World of Stuart McLean.
But he was best known for the Vinyl Cafe, a weekly radio show that first aired in 1994 and which quickly became a Canadian institution. It featured a mix of stories, essays and musical performances and later evolved into a touring show, allowing McLean to share both his love of performance and passion for storytelling with audiences across Canada.
"Stuart loved sharing his work with the world. He often talked about how lucky he was to be there for the moment of 'giving and receiving' the moment where he was able to share his work with an audience," says McLean's long-time producer, Jess Milton.
"That's why I wasn't surprised when he told me he wanted his archive to be public," she continues. "He wanted to share his work. He always invited others to join in. I'm delighted that, even though Stuart is gone, we will be able to continue to be part of his work and his process, and that future generations will be able to explore the extraordinary contribution that Stuart's work made to the tapestry of Canada."
McLean's archives join those of many other renowned Canadian authors in McMaster University Library's collection including Farley Mowat, Pierre Berton, Margaret Laurence, and Austin Clarke.
"We are honoured that McMaster is the permanent home of Stuart's outstanding body of work," says McMaster University Librarian, Vivian Lewis. "We are proud to be the stewards of this rich legacy, which will be an invaluable resource to those studying or engaged in the creative process, and to those interested in understanding the significant impact Stuart's work had on Canadian culture."
McLean garnered many accolades throughout his career. He was an officer of the Order of Canada, and a three-time winner of the prestigious Stephen Leacock Medal for Humour. He received honourary doctorates from a number of Canadian universities, including from McMaster in 2014.
"Few writers or performers have left so great a mark on this country as Stuart McLean," says McMaster President Patrick Deane. "We are delighted that he chose McMaster to house and preserve this wonderful archive and that scholars and the public alike will have the opportunity to continue to explore his life, his work, and the much-loved stories that connected him so deeply to Canadians."
McMaster will be celebrating the gift of the Stuart McLean Archive at a special event this spring.