Architect selected to design new addition to DeGroote School of Business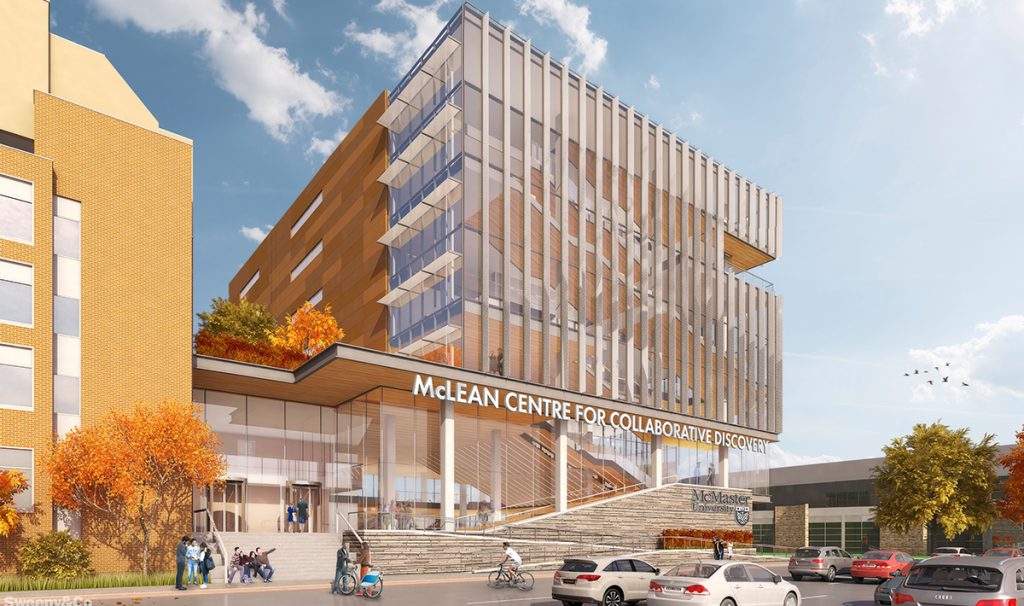 Toronto firm Sweeny&Co Architects will design the McLean Centre for Collaborative Discovery, a nine-storey addition to the DeGroote School of Business.
---
The McLean Centre for Collaborative Discovery is poised to receive a world-class treatment from an award-winning architecture firm.
Toronto-based Sweeny&Co Architects has been selected to design the forthcoming nine-storey addition to the DeGroote School of Business.
The company is known for having strong foundations in architecture, interior design, and urban planning. Their portfolio includes major projects for BMW, Loblaw Companies Ltd., Microsoft, RBC, Telus, Canadian Tire, Home Depot, and Adidas, as well as dozens of commercial office towers.
On the academic side, Sweeny&Co gained valuable experience working with the University of Toronto, Ryerson University, OCAD University, Laurentian University, and UOIT.
According to the firm, modern postsecondary buildings like the McLean Centre are moving beyond chair-and-podium configurations to more closely resemble the collaborative spaces found at today's leading companies.
"The design principles that are informing the physical environments for both work and higher learning are merging rapidly," says Dermot Sweeny, Founding Principal, Sweeny&Co Architects.
The McLean Centre will be a state-of-the-art collaboration, collision, networking, and study space, equipped with interactive tools to help students learn and work together to solve real-world problems.
"Together, the environment that Sweeny&Co Architects and the McMaster team will create will be transparent, welcoming, highly flexible, sustainable, and healthy," Sweeny adds.
The building's namesake is the McLean family, which has a special affinity for McMaster.
Three generations of McLeans have studied a broad range of subjects at the university, including statistics, computer science, business, cultural studies, sociology and gender studies.
A significant gift from the family is being combined with other private, public, and university investments to spearhead the $50-million project.
Once complete, students from all faculties will be able to learn in open, flexible spaces in the McLean Centre, making use of the latest technology. The building will also facilitate connections among faculty, students, and external partners.
"Successful business leaders need to draw from an array of skill sets," says Len Waverman, dean of the DeGroote School of Business.
"Under the new model we're creating, a lab manager, an engineer, and an ethicist could all be joining business students to work on the same business problem, for example."
DeGroote is in the midst of an unprecedented shift in how it thinks about and offers undergraduate education.
According to Waverman, universities will soon dispatch traditional lecture halls, elevated podiums, and classrooms altogether. He recently co-wrote  a column on the subject for Global Focus with Engineering Dean Ishwar Puri.
"Required courses will be cut to a minimum. The old chalk-and-talk approach to learning will become a relic," the pair wrote.
"We are taking steps along this road, knowing if we do not blow-up the university from the inside, the disruption will come from outside."
Ultimately, the McLean family said it hopes their gift will provide further momentum to the university's plans to transform undergraduate business education at DeGroote.
Want to get involved in the redesign process? Visit Transforming Business Education to submit feedback about what you think is important for students, alumni, employers, and society.