Applications open for graduate Wilson Leadership Scholar Award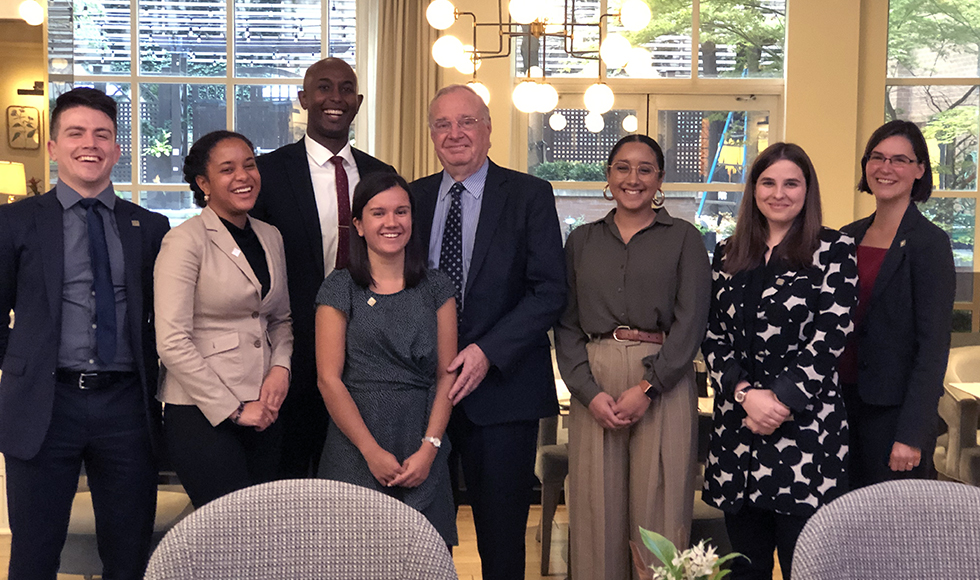 The Right Honourable Paul Martin with the Wilson Leaders
---
Nominations and applications for the graduate Wilson Leadership Scholar Award (WLSA), valued at up to $25,000, are now open. Up to three graduate Wilson Leaders are chosen each year, and can be in any faculty or level of graduate study. Prospective graduate students are also welcome to apply, as they'd hold the award in the 2020-2021 academic year.
Award director, and AVP (Students and Learning) and Dean of Students Sean Van Koughnett points out that the award is more than just money.  "We're grateful that Chancellor Emeritus L.R. Wilson envisioned a development program that will help students become our future leaders. The program helps Wilson Leaders make the impacts that they want to make in the world sooner, with a broader perspective and a deeper professional network. Only McMaster is host to these awards, and the opportunity for students to complement and apply their academic work for social benefit reflects McMaster's culture."
The award is a mix of $20,000 direct funding and up to $5,000 for student-directed experiential learning. Wilson Leaders are connected with mentors, co-lead problem-based learning sessions on a range of current issues, discuss shared readings, and meet with Canadian leaders. They also design and lead a community project, which typically complements their studies and allows them to apply their research in a way that their academic program alone does not.
The current graduate Wilson Leaders encourage interested students to apply – even if they don't see themselves as leaders. Stephanie Hatzifilalithis, a PhD candidate from McMaster's faculty of Social Sciences, says that the WLSA program has shown her that, "a leader doesn't come in one unique shape or size. Talking with a Governor General, Lieutenant Governor and former Prime Minister has shown me that the fabric of leadership is as diverse as it comes. The leaders we've met have had some common traits: collaboration, foresight, compassion, and a sense of service. Other than that, though, leadership doesn't really ever look the same. As an extroverted introvert, I found this a revelation. You can be you, do you, and still be a leader and a WLSA scholar." 
Ahmednur Ali, a Health Sciences PhD candidate, notes that Wilson Leaders needn't come into the program with a string of impressive accomplishments, as long as they're willing to take full advantage of the opportunities the WLSA offers. "The discussions you have and the people you meet force you to explore new mindsets. You get a sense that you can do things you previously didn't think you could. My bar for myself is higher."
MPH student Elise Desjardins echoes Ahmednur: "This program can make such a big difference. Think about how you could use this award over the next year. Why does it makes sense for your right now, and how will it help you move forward?" She note that the program has shown her that there are multiple paths to achieve her goals, and has introduced her to people in related fields, who she might otherwise never have met.
Nominations close on February 25, and applicants are also welcome to apply without a nomination by March 30. Nomination and application instructions, as well as full eligibility requirements, are available at wilsonleader.ca.