Applause and Accolades celebrates McMaster engineering excellence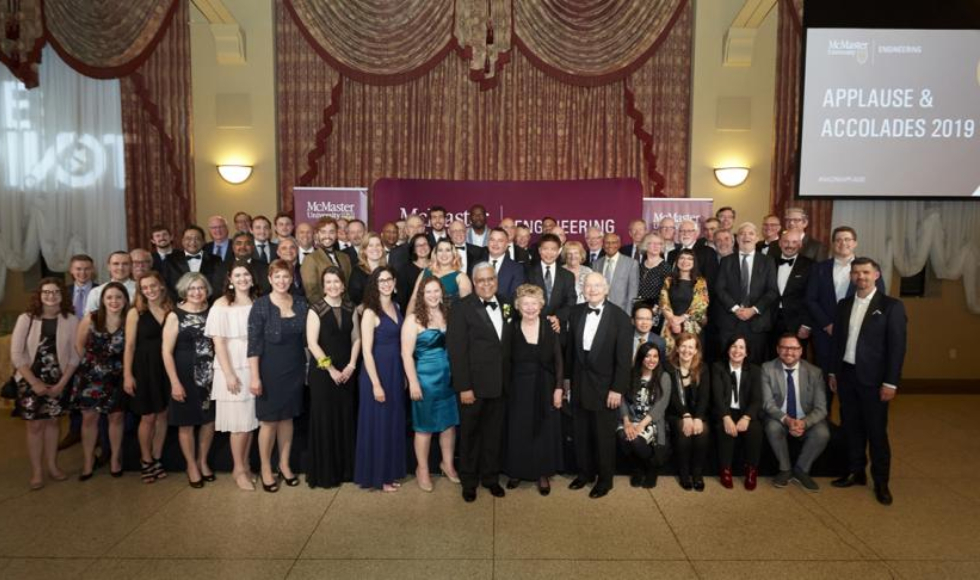 ---
A torrential downpour didn't put a damper on anyone's night at the annual Faculty of Engineering Applause and Accolades Awards Gala.
The May 9 event celebrated and honoured distinguished alumni, faculty, staff and students, as well as influential community and corporate leaders gathered at LIUNA Station where Ishwar K. Puri, dean of engineering, was the host and emcee for the evening.
"I have had the honour of being dean of this outstanding faculty for the past six years, and it's been the highlight of my career," says Ishwar K. Puri. "In recent years, we have been working towards a common vision: Innovation from Excellence. We have diligently improved diversity, fostered our community, enhanced research and innovation, committed ourselves to professional development, attracted top students and enhanced student success."
Puri says this common vision has allowed the McMaster Engineering community to prepare for our biggest challenge yet — The Pivot. The Pivot is a $15-million initiative to transform McMaster's engineering educational experience, ensuring that students are equipped with the ability to pivot and adapt, using a 'hands-on, minds-on learning by experience' approach.
L.W. Shemilt Distinguished Engineering Alumni Award: Faizel Lakhani, CEO, Guavus: A Thales Company, BEng. '93 Electrical Engineering
Lakhani is a serial entrepreneur and expert in enterprise networking and security and the next generation of Mobil networks: going beyond the pipe.
McMaster University Faculty of Engineering Leadership Award: Angela Pappin, vice-president Manufacturing, ArcelorMittal Dofasco, BEng. '88 Mechanical Engineering
Pappin is a person of distinction driving business innovation, competitiveness and employment in Canada and a dynamic community leader recognized for her long-standing and continuing commitment to excellence in STEM and the advancement of women mentorship.
Faculty of Engineering Research Award: Ali Emadi, professor in Mechanical Engineering and Eletrical and Computer Engineering and Canada Excellence Research Chair in Hybrid Powertrain.
Emadi is an academic research leader in transportation electrification and mentor for the EcoCAR 3 student team.
Faculty of Engineering Teaching Excellence Award: Kathryn Grandfield, assistant professor, department of Materials Science and Engineering and McMaster School of Biomedical Engineering and Colin McDonald, director, Engineering 1 and assistant professor, Department of Mechanical Engineering.
This award recognizes a team effort in transforming the engineering education program and for leading the groundwork for The Pivot, our transformational aspirations for our undergraduate curriculum excellence.
EMPLOYER OF EXCELLENCE FOR 2018/19: The 2018/19 Employer of Excellence Awards recognized three large and three SME organizations who have hired the greatest volume of McMaster Engineering Co-op Students over the past five academic years:
Advanced Microdevices, Inc. (AMD)

Callisto Integration

IBM Canada

Lakeside Process Controls

Liburdi Turbines Services

Ontario Power Generation (OPG)