Announcing the Graduate Student Life Initiative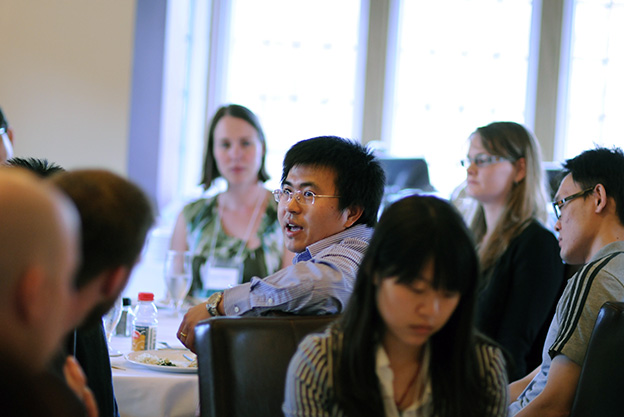 Graduate students and postdoctoral fellows attend a monthly 'Dine with the Dean' event last March, hosted by Allison Sekuler, AVP and Dean of Graduate Studies.
---
Spearheaded by the Graduate Student Services Committee (comprised of individuals from Student Affairs, Graduate Studies and the GSA), the Graduate Student Life Initiative is a plan to reach out to graduate students to determine their needs and develop a framework to meet those needs.
Surveys, social media and a more informative and user-friendly website (to be launched by the end of October) will help committee members identify much-needed  services and develop a fee proposal to support these services.
A recent survey of graduate students conducted by the Student Success Centre indicated time management as a top concern. As for needed services, the majority of students say they want academic support in the areas of writing and research. Employment and career advice is also important, with 60 per cent of students wanting either job search assistance or career advice. As a result of this feedback, the SSC will offer a series of workshops on academics, wellness and career and employment, designed specifically for graduate students.
One of more than 4,000 graduate students at McMaster, Diana Glennie (VP Communications for the Graduate Student Association) says they want more out of their university experience than a degree. "They want professional and personal development. They want social activities and they want opportunities to engage in the McMaster and greater-Hamilton communities."
Rayna Friendly, a psychology, neuroscience and behaviour student working on her PhD, says graduate students also want more exposure and opportunities to connect with employers."Employers need to know why grad students make great employees and graduate students need ways to connect with business and industries for employment," she says. Graduate students who would like to express their opinions about services and resources are invited to email gsvoice@mcmaster.ca.
Gina Robinson, assistant dean, Student Affairs, says the Graduate Student Initiative is about demonstrating fiscal accountability and working together to meet the specific needs of graduate students.
"The support we know our graduate students want in the areas of careers and wellness will require additional resources," she says. Robinson hopes to have a graduate student fee proposal in place by May, 2013. Non-academic support services such as these are funded through ancillary fees, and must be approved by students.
By working together, Glennie believes the three groups can better identify graduate student needs and provide more comprehensive services than each of the groups could do alone. "I believe that having services and opportunities available for students is only part of the job. The rest is communicating these opportunities to students so that those interested can take advantage of them."
"If we listen well, we will be able to deliver what our students need and make their time here at McMaster more valuable," says Peter Self, assistant dean, Graduate Student Life and Research Training, in the School of Graduate Studies.
For information and updates on the Graduate Student Life Initiative, visit the Graduate Studies website.