An Algonquin adventure for incoming students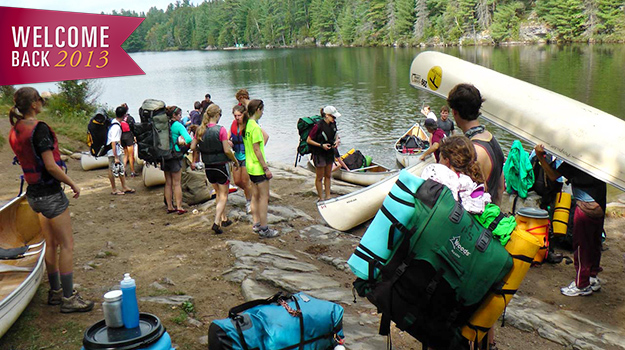 Since 2006, more than 180 U.S. colleges and universities have offered an outdoor orientation program of some kind. McMaster's MOOSE program is one of few such programs north of the border.
---
This week, more than 55 incoming students and a team of campus leaders are trekking into Algonquin Provincial Park to help better prepare for life at McMaster.
Will they emerge from the wilderness as a group of fully-formed, campus-ready student leaders? Possibly. Will they make new friends, test their physical and mental limitations and leave with a newfound sense of self? Definitely.
Now in its second year, MOOSE (also known as the McMaster Outdoor Orientation Student Experience) is an exciting, hands-on learning excursion designed to ease the transition into postsecondary life for new first-year students.
This year's itinerary includes includes a three-night stay at Camp Arowhon, a sprawling backwoods campground in the heart of Algonquin Park, along with a two-night canoe and camping trip along the shores of Littledoe Lake and Burnt Island Lake. Students will also participate in a variety of outdoor activities and team-building exercises, and write a private journal entry that will be reflected upon at the end of the trip.
Even students with little or no experience in the backwoods are encouraged to participate. Each camping group is led by upper-year McMaster undergraduate students who have received training from the Department of Athletics & Recreation and are CPR and First Aid certified. Wilderness Advanced First Aid (WAFA) and Ontario Recreational Canoeing & Kayaking Association (ORCKA) certified leaders are also on hand.
"Although common at institutions in the United States, the MOOSE program is among the first of its kind in Canada," said Patrick Byrne, an instructor in the Arts & Science Program and program coordinator for the Algonquin trip. "Participants have a wide range of past experiences. Some are former lifeguards and canoeing experts, while others are completely new to the idea of outdoor adventure learning."
Since 2006, more than 180 U.S. colleges and universities have offered an outdoor orientation program of some kind, including Ivy League heavyweights such as Harvard, Dartmouth, Princeton and Yale. North of the border, McMaster has emerged as an early adopter and national leader in this growing orientation trend.
"I've been working with the other Canadian universities doing Outdoor Orientation programs (OOPS), and there are only two others doing this kind of thing. Both are smaller than what McMaster is doing," said Wayne Terryberry, an outdoor recreation coordinator in the Department of Athletics & Recreation, and a MOOSE coordinator. "The word is getting out about the wonderful value of these programs, and hopefully more schools will begin similar programs."
This year's MOOSE group has expanded to include students from the Faculties of Social Sciences and Science, along with students from the Arts & Science Program and Integrated Science Program.
The Arts & Science and iSci programs had 40 incoming students sign-up for the pilot MOOSE program, which launched in 2012. The long-term goal, explained Byrne, is to open up the program for all departments and faculties at the University. To help with the overall cost of the trip, funding is also available to interested students  — up to and including the full cost of the program.
"If you're proving something is good and it's really making a difference, you need to make it available to everyone," said Byrne.
Click below to view a highlight reel from last year's inaugural MOOSE trip: