Ameil Joseph to hold Social Sciences' first professorship in equity, diversity, inclusion and Indigenous strategies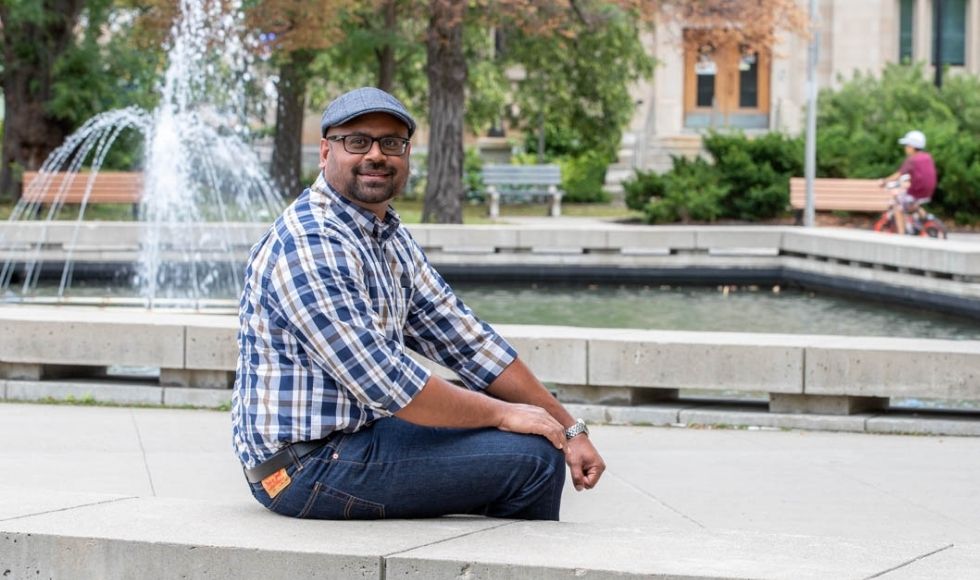 Ameil Joseph is the inaugural holder of the Faculty of Social Sciences' professorship in equity, diversity, inclusion and Indigenous strategies. (Photo by Georgia Kirkos/ McMaster University)
---
Ameil Joseph is the Faculty of Social Sciences' inaugural professor in equity, diversity, inclusion and Indigenous strategies (EDIIS).
The five-year, non-renewable professorship was established to recognize a full-time McMaster faculty member whose research, educational and service contributions have advanced the faculty's understanding about how to build a more inclusive society.
Joseph, an associate professor in the School of Social Work, will focus his professorship on equity, identity and transformation.
The former chair of the President's Advisory Committee on Building an Inclusive Committee, he is widely recognized as a champion of EDIIS work at McMaster and in the broader Hamilton community.
Many of his research projects are embedded in communities and provide practical tools and frameworks on how societal health and well-being can be advanced in equitable and inclusive ways.
"Ameil is dedicated to drawing colleagues and students into the difficult work of building equity and belonging in all spaces of the University," says Chris Sinding, director of the School of Social Work. "He is a thoughtful, generous and effective teacher and mentor and a highly engaged citizen of the University and the wider communities with which his research intersects.
"Ameil is tenacious about furthering public dialogue about some of the most important and contentious issues of our times – racism, police violence, political extremism."
As a researcher, registered social worker and certified grief counselling specialist, Joseph is uniquely equipped to advance to EDIIS initiatives—even in a pandemic.
Most recently, he launched a large, free online collection of resources aimed at helping people navigate grief and loss, freely available and openly accessible to the public.
His research takes on various methods based on what is specifically needed by each group — whether that be group organizing, speaking at community events, panels and for not-for-profit organizations, writing supportive opinion-editorials, or developing policy alternatives. Joseph translates knowledge into meaningful action.
"For many years I have explored issues of injustice and inequity as they are made and remade in policy, practice, and law," Joseph explains. "Through this professorship, I hope to continue to be a support to equity and to challenge injustice in the ways that are required from the people, groups and communities, depending on their needs, when and where it is needed for transformation."
In his new role as the Faculty of Social Science's Professor in Equity, Identity and Transformation, Joseph will be accountable for maintaining an active research program, providing leadership in educational activities, and collaborating with communities internal and external to McMaster to enhance EDIIS.
"A professorship like this one allows me to respectfully engage with these complex issues without having my efforts eclipsed by other agendas that can undermine the goals of transformation," Joseph says. "Systemically dedicating, resourcing and supporting such work is itself a change that signals the importance and necessity of this work."
With his long-standing reputation for initiating community-based organizing and advocating for justice across community groups, including Indigenous-led ones, Joseph is well suited to this recognition and opportunity, says Vanessa Watts, the Paul R. MacPherson Chair in Indigenous Studies.
"The professorship, intended to advance our collective understanding of how to create a more inclusive and just society, is wholly suited to Ameil's impressive record of contributions," Watts says.
"As a leader, Ameil is determined in his conviction for social justice, exemplifying how transformative change is possible beyond the boundaries."
The new professorship is the latest initiative to come out of the Faculty of Social Sciences' strategic priority on EDIIS.
"After broad consultation, the Faculty of Social Sciences community has clearly indicated their desire for tangible, meaningful activities to advance EDIIS at the Faculty-level," says Social Sciences Dean Jeremiah Hurley.
"The professorship is one practical way we can support faculty-led EDIIS research, teaching and leadership. I anticipate that Ameil will set the bar very high for future holders of the professorship."