Alumni Association welcomes Phil Wood with honorary membership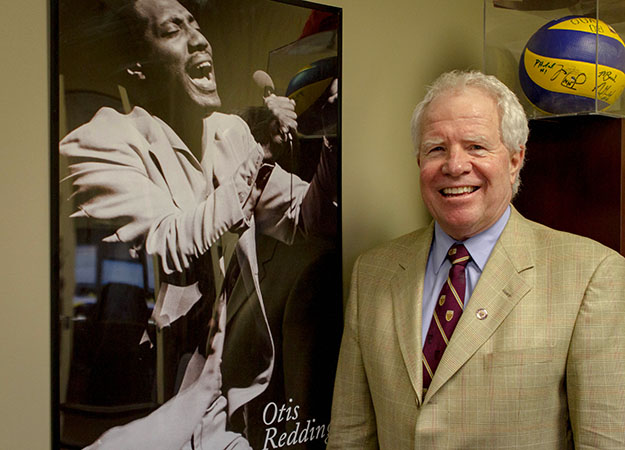 Phil Wood, former AVP student affairs and dean of students, will become only the 22nd person to be granted honorary membership in the McMaster Alumni Association. He's been with the University since 1983.
---
Phil Wood — a longtime professor, former dean of students and beloved member of the McMaster community — will become only the 22nd person to receive honorary membership in the Alumni Association.
The title is reserved for those who are not otherwise a member of the Alumni Association, and is based on outstanding service or unusual contribution to the University.
Past recipients include the likes of Patrick Deane, Michael G. DeGroote, Arthur Bourns, Mary Keyes, Les Prince and Alvin Lee.
Born and raised in Brantford, Ont., Wood completed an engineering degree at the University of Waterloo and later earned a PhD at the prestigious California Institute of Technology.
After beginning his career at Michigan State University, he was lured to McMaster in 1983 by the University's innovative push to balance athletic success with academic development.
Working in the Faculty of Engineering, he quickly earned a reputation as kind, compassionate, student-focused campus leader — an approach that earned him a 3M National Teaching Fellowship in 1993.
READ: Students, sports and 30 years of teaching and learning
Wood's commitment to recruiting and mentoring student-athletes has long been a focus of his career. When the Marauders football team won their first Vanier Cup national title in 2011, he received a championship ring along with each player and coach.
In 2013, he was celebrated for his years of dedication to the McMaster community with honorary membership in the McMaster Students Union — only the 16th time such an award has been given since the mid-1960s.
Over the years, Wood has also been a regular contributor to McMaster's undergraduate student newspaper, The Silhouette, and he's hosted many sports and music segments on the campus radio station, 93.3 CFMU.
More than three decades after joining the University, he's still fully engaged in life on campus, currently serving as director, Engineering Level 1.
Wood will be formally inducted into the Alumni Association at the Alumni Awards ceremony on Wednesday, June 3.