Alumni artists return to their roots in new exhibit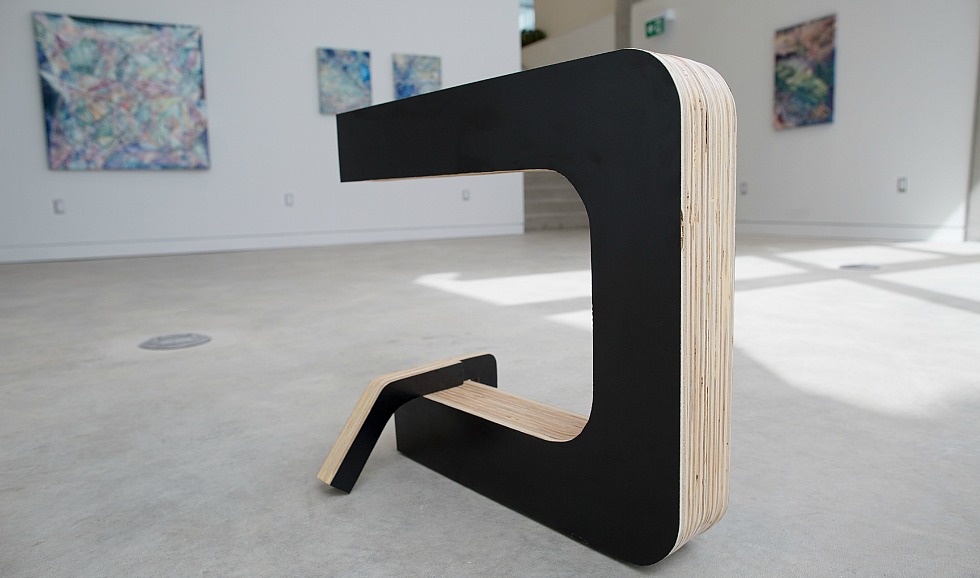 This piece, created by Cassandra Ferguson, is one of a number of works on display in the Fitzhenry Atrium, part of a special art exhibit featuring two McMaster alumnae.
---
Cassandra Ferguson's clean, minimalist forms stand in stark contrast to Heather Vida-Moore's bold, colourful canvases.
"Our work is aesthetically very different, but we share a complex way of examining the world and communicating that information in abstract form," says Vida-Moore.
Ferguson and Vida-Moore, both McMaster alumni, are the featured artists in Objectivity as Illusion, a special exhibit on display until May 31 that showcases the newly renovated display space in the Dr. Robert & Andrée Rhéaume Fitzhenry Studios and Atrium, which officially opened a year ago.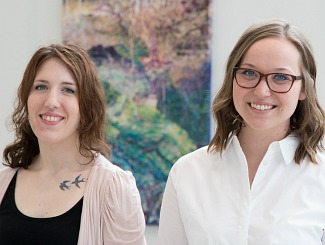 "These are two recent and distinguished alumnae," says Judy Major-Girardin, Associate Professor in the School of the Arts and the organizer of the exhibit. "We really wanted to see what they were doing a year later and invite students, alumni and the public into the space to view their work."
As undergraduates, Ferguson and Vida-Moore, both received the Hamilton Artists Inc. Award of Distinction and had their work displayed in the Hamilton community. A year after graduation, they say this exhibit has provided them with an opportunity to return to their roots.
"It's a very rewarding feeling to return to the community that helped guide your artistic practice and exhibit a new body of work that builds on the foundations you learned as a student," says Ferguson.
I'm appreciative of the show of ongoing support­," adds Vida-Moore. "It's nice to maintain relationships with the McMaster community and to feel supported as we continue developing our art practices post-grad. It's also been exciting to experience the new Fitzhenry Atrium that was being constructed as we completed our final year."
The newly renovated space is the result of a $3M gift from alumnus Robert Fitzhenry in honour of his late wife Andrée, who was an accomplished painter. The gift remains the largest ever donation to the Fine Arts program.
The Fitzhenry Studios and Atrium is now a multipurpose space that has increased classroom, studio and display areas by more than 1,700 square feet, enhancing the student experience and providing a venue for students and alumni to showcase their work.
The exhibit, which launched during May@Mac, invited both future students and alumni to view the collection. Major-Girardin says it was an ideal opportunity showcase the new space.
"We've always wanted to keep our alumni engaged and give them a space where they could show their work and let our undergraduates see that one year, two years out of graduation, people are still working and keep that contact going," says Major Girardin.
"The launch event provided that chance for alumni to come back and see the space and we thought it was very appropriate that they should see the work of fellow alumni on display so they know that we want this connection to continue."
Objectivity as Illusion is open the public and can be viewed in the Fitzhenry Studios and Atrium from 9:00 a.m. to 4:00 p.m., Monday to Friday until May 31. The Atrium is located in the North side of Togo Salmon Hall, facing Stearns Drive.
View Images from the Exhibit:
'In- + definitive,' acrylic on canvas by Heather Vida-Moore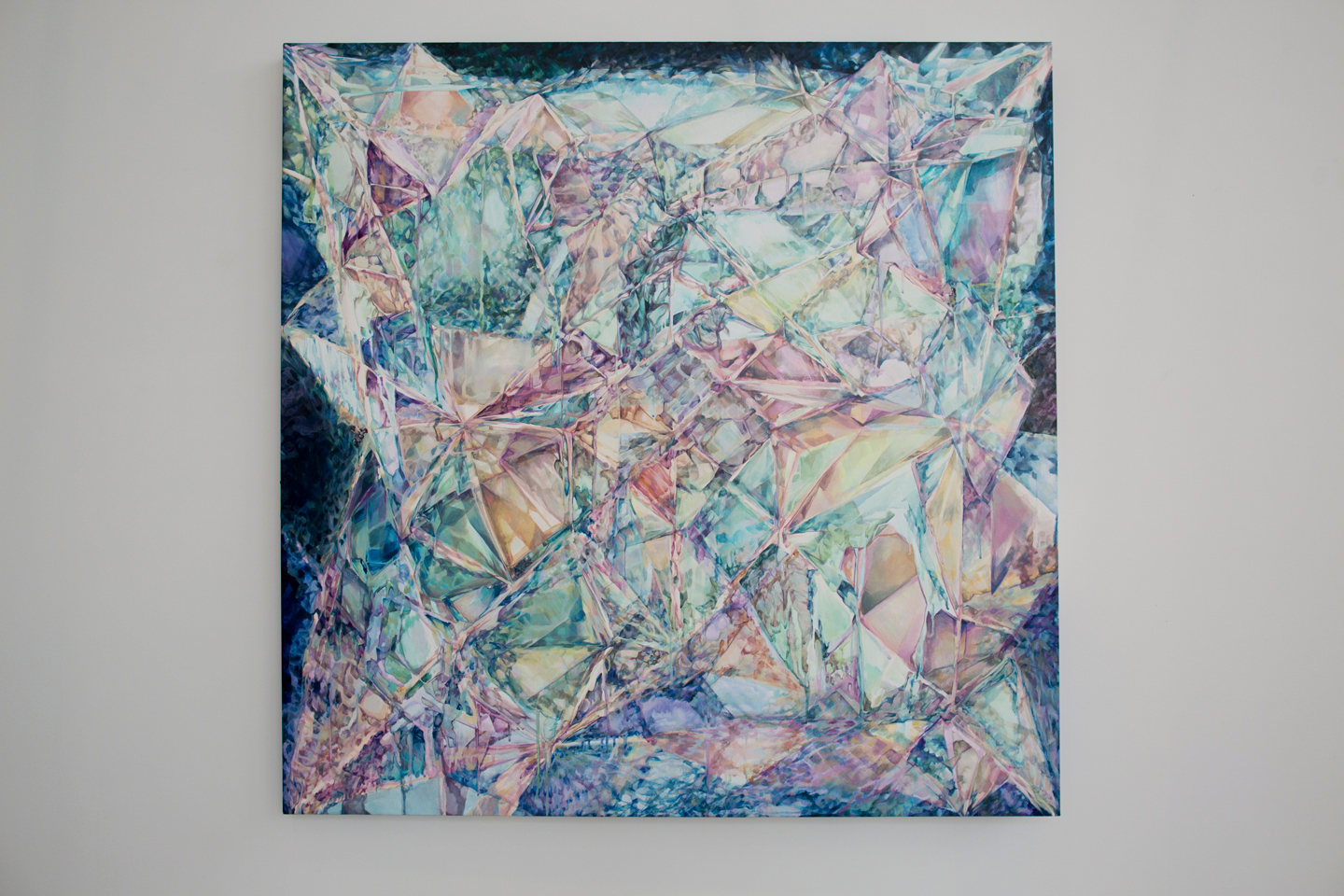 'Distillation Obscured,' acrylic on Canvas by Heather Vida-Moore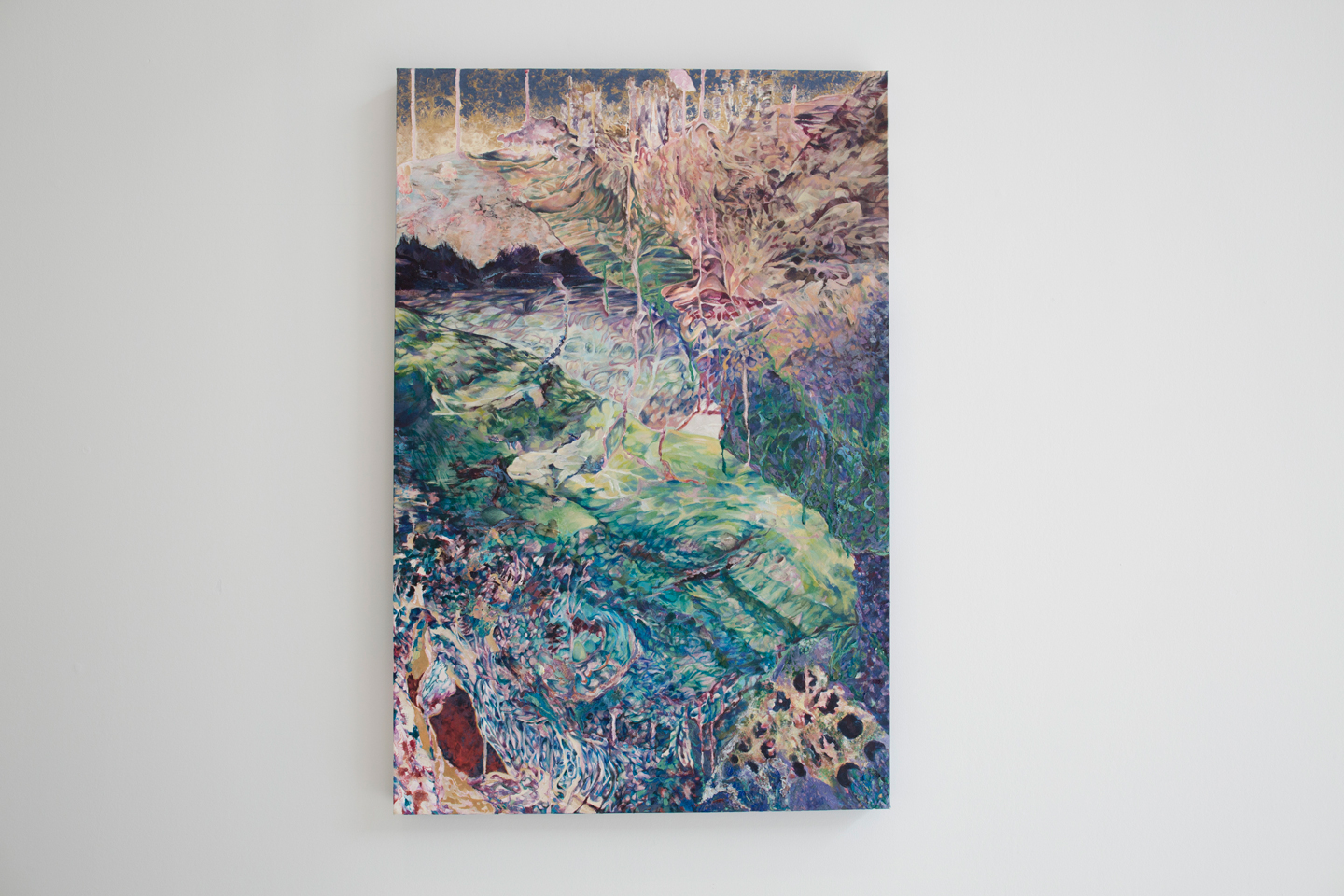 Mixed media works by Cassandra Ferguson