$1M gift from McMaster alumnus helps equity-deserving students access university education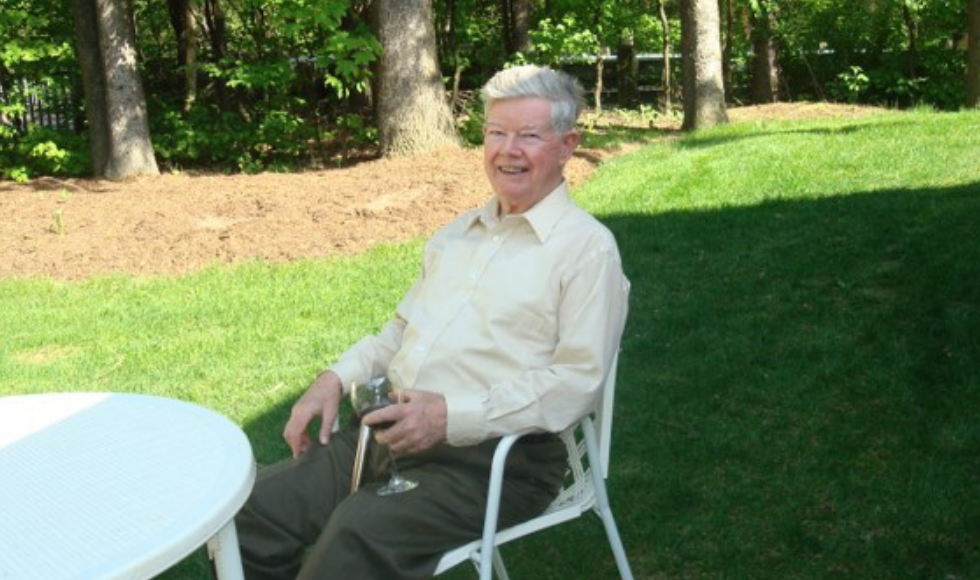 Alan Hitchen '51 established the Alan Hitchen Access Strategy Award through a $1 million gift of securities. The award will help academically qualified students from equity-deserving groups receive an undergraduate education at McMaster University.
---
A helping hand can make a world of difference. Alan Hitchen '51 knows this from personal experience.
"Growing up, I never thought I could afford to attend university," said Hitchen, who turned 98 this past summer. "My life changed forever when I received a bursary and finally had the financial means to enrol at McMaster and pursue my passion for chemistry."
Wanting to pay it forward and help other students in similar financial situations, Hitchen established the Alan Hitchen Access Strategy Award in 2021 through a gift of securities totalling more than $1 million. The award will be granted to equity-deserving undergraduate students entering their first year of any program, who otherwise could not attend university without financial assistance. The funding is renewable for four years at the same value, provided the recipient remains enrolled full time.
Hitchen is no stranger to helping students. In 2006, he established The Janitza Hitchen Bursary in memory of his wife. The bursary is granted to students enrolled in any program who demonstrate financial need.
"My McMaster education is the reason why I am in a position to give back," said Hitchen, who worked as a chemist at the Department of Energy, Mines and Resources in Ottawa for more than 30 years before retiring in 1982.
"I hope my gift will create endless possibilities for students."
The McMaster Access Strategy assists academically qualified students from equity-deserving groups in Hamilton and surrounding communities to access university education at the undergraduate level. The number of McMaster students associated with the program has grown from a handful in 2019 to more than 60 in 2021. Currently, bursaries are available to support up to 20 students per year.
For students like Zaim Khan, receiving an Access Strategy award is life changing.
"This award has really enabled me to reach my true potential," said Khan, a second-year biochemistry student. "I feel like I'm going to be able to do so much with this degree. Thank you, Mr. Hitchen, and all the other funders for helping students like me."
Samantha Giguere, who is studying kinesiology at McMaster, is profoundly grateful for the support received.
"I was overwhelmed with emotion when I found out I was a recipient of an Access Strategy award," said Giguere. "Thank you to all the funders who are helping students attend the school of their dreams."
"Mr. Hitchen's gift will enable a wider range of awards and bursaries for students," explained Celeste Licorish, the Access Strategy program manager. "For example, the Access Strategy Youth in Extended Care tuition waiver launched last year to provide support for students who were in the foster care system. Mr. Hitchen's gift will greatly expand our capacity to assist these and many other deserving students from underserved groups."
Underserved and equity-deserving students include those with disabilities, first-generation students, Indigenous students, racialized students – particularly youth from Afro-Canadian and Latin American communities – students from low-income families or neighbourhoods, adult learners new to postsecondary education, those from rural communities, women (in some Faculties) and students who would not have attended university without additional programs and supports.
"The Access Strategy diversifies and enriches McMaster's community by engaging, recruiting and retaining historically underrepresented and underserved students," said Licorish. "Mr. Hitchen's vision, support and generosity will change the trajectory and outcome for many students by providing financial assistance and support to enable their postsecondary success."
McMaster President David Farrar praised Hitchen for supporting a generation of future leaders through his gift.
"The Alan Hitchen Access Strategy Award will help break down the barriers faced by equity-deserving groups," said Farrar. "By empowering these students to attend McMaster, Mr. Hitchen is changing the course of their lives. He is giving them the opportunity to broaden their horizons and accomplish goals they may never have imagined possible."