After the earthquake: Rebuilding Nepal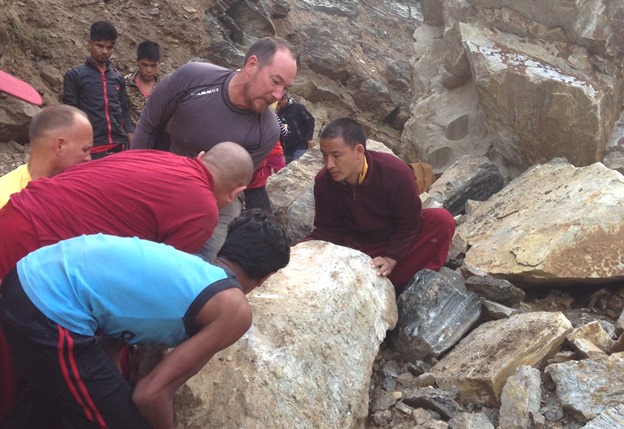 McMaster lecturer Joseph LaRose (top, centre) spent five weeks volunteering in Nepal in the aftermath of the earthquake. He's now raising money to rebuild a school in the remote village where he travelled.
---
This spring, Religious Studies lecturer Joseph LaRose was preparing to return to Kathmandu, where he had taught Sanskrit to international students in the summer of 2014.
Then, on April 25, a massive earthquake struck, followed by the major aftershock of May 12. More than 9,000 died in Nepal and surrounding countries, including at least 22 on Mount Everest.
LaRose decided to return to Nepal, this time to help with rebuilding the shattered country. He spent five weeks this summer volunteering with several groups, spending long days clearing away debris and rubble.
He also joined a group of Buddhist monks on their three-day trek through the Himalayan foothills to transport building supplies to Tipling, a remote village that had been especially hard hit.
"Almost all the villagers had lost their houses and all the schools were damaged beyond use," says LaRose.
Getting the supplies to Tipling was no easy task. The roads were terrible to non-existent, often just dirt tracks up the sides of steep mountains. Huge rocks lay blocking their path. Landslides were a constant threat. And monsoon season was about to beg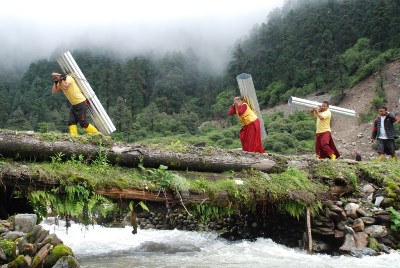 in.
Mostly, though, LaRose was struck by "the beauty of the country and the beauty of the people. We were greeted so warmly everywhere we went and treated with great generosity."
Before he left Nepal, he knew he wanted to raise money to rebuild a school in Tipling.
"Receiving a good education has made a huge difference in my life," says LaRose, who graduated from McMaster in 1991 with his honours BA in English, followed by a master's in English in 1992. He also completed a master's in religious studies from Yale.
Now teaching a full course load in the Department of Religious Studies, he is a PhD candidate at McMaster, delving into Indian Buddhist monasticism.
"It was all because of Sanskrit," says LaRose, when asked what led him on his academic path. While an undergraduate in English, he encountered T.S. Eliot's poem The Wasteland, which contains an allusion to a Sanskrit story.
His interest piqued, he took a Sanskrit course in his fourth year at McMaster, and went on to specialize in the field.
"Now, 25 years later, I'm teaching that course."