Academic leaders earn reappointment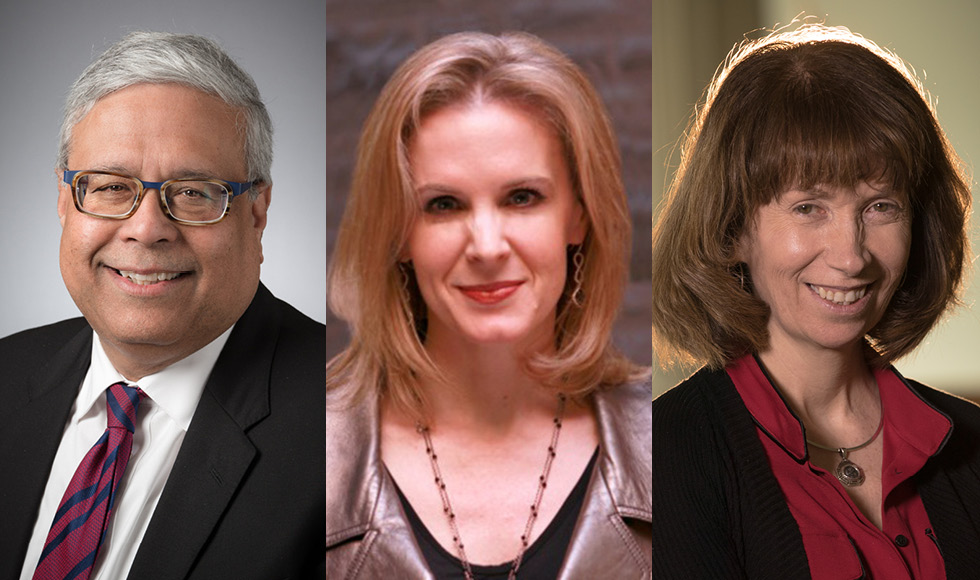 From left to right: Ishwar Puri, Susan Searls Giroux, and Vivian Lewis.
---
Three senior McMaster leaders have been reappointed for new terms.
New five-year terms have been approved for Ishwar Puri, Dean of Engineering, Susan Searls Giroux, Vice Provost (Faculty) and Vivian Lewis, University Librarian.
"McMaster is well-served by these accomplished leaders," says Provost David Farrar. "Each of them has, in their respective areas, demonstrated a deep commitment to research excellence and improvements in the teaching and learning environment. Our students, faculty and staff continue to benefit from their efforts to bring innovation and quality to our programs and services."
Ishwar Puri joined McMaster as Dean of Engineering in 2013,  arriving from Virginia Tech.  Under his leadership, the Faculty of Engineering has risen to be ranked among the top engineering schools in Canada and worldwide. During his time as dean, the Faculty's reputation for innovative programs and cutting-edge research has grown.
"It is an honour to be part of such a high-performing Faculty where the world's leading  researchers, engineers, students and staff are advancing big ideas. It is especially exciting to lead the Faculty as it celebrates its 60th anniversary and help further enhance its dynamic community, research environment and innovative spirit."
For the past five years, Susan Searls Giroux has led the development and implementation of initiatives enhancing the research-focused, student-centred teaching culture at McMaster. She is responsible for curricular development and quality assurance at the undergraduate level, faculty, professional and leadership development, community engagement, the Centre for Continuing Education and educational programs with college and other university partners. She first arrived at McMaster in 2004 as an assistant professor in English and Cultural Studies.
"Together we've accomplished many goals over the past five years," she says. "Together with colleagues across campus, we are advancing McMaster's culture of teaching and learning excellence and community outreach. I look forward to another five years of collaborating with our outstanding faculty members, students and community partners."
University Librarian Vivian Lewis has been a member and leader  of the library for more than 25 years. She arrived on campus in 1991 as a government information specialist, then assumed greater responsibilities in a variety of roles prior to being appointed University Librarian in 2013.
"It's been so rewarding working with the talented team of research librarians, archivists, students and staff over the past five years," she says. "We've worked in collaboration with university colleagues and our partners and  I look forward to continuing our efforts to serve our community."
All three appointments have been approved by the Senate and Board of Governors.