"A treasured colleague, friend and coach who is missed by many."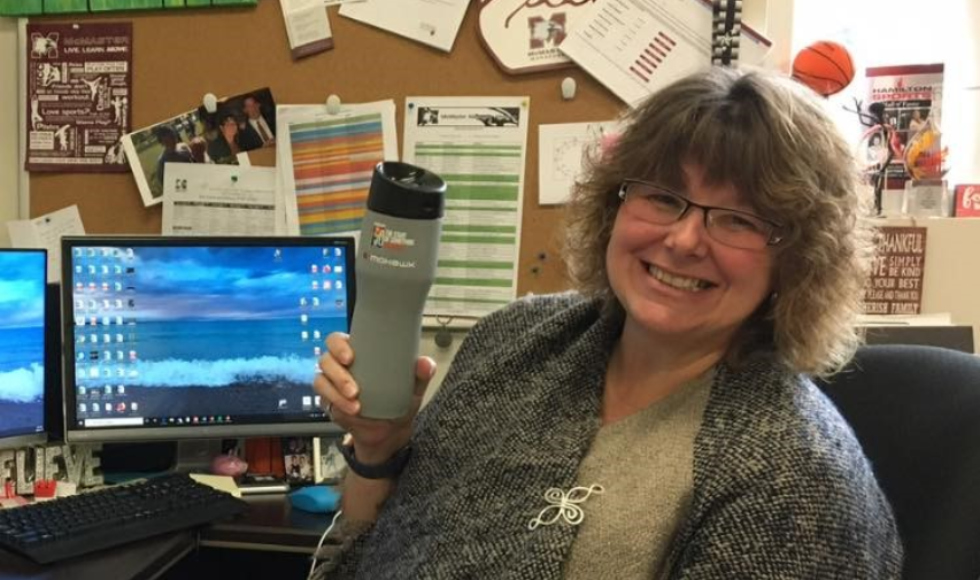 ---
Kelly Dunham coached women's basketball at McMaster University and Mohawk College for many years where she inspired hundreds of young athletes to live their best lives on and off the court.
Faculty, staff and students at both institutions were heartbroken to learn that Kelly passed away on May 24, shortly after receiving a cancer diagnosis. In her memory – and to carry on her passion for supporting varsity athletes – both institutions have created memorial funds in her honour. The funds will support female athletes playing varsity basketball for the McMaster Marauders and Mohawk Mountaineers.
"Kelly was passionate about coaching and mentoring young female athletes and helping them reach their full potential through varsity basketball," said Marauders women's basketball head coach Theresa Burns, who worked closely with Kelly and was a good friend.
"The memorial funds align beautifully with Kelly's commitment to helping players excel. I can't think of a more fitting tribute."
Kelly's husband Doug Dunham, a BSocSc '91 McMaster graduate, reached out to Mac and Mohawk with his vision for establishing memorial funds at both institutions.
"Kelly was an incredible wife and mother to our two teenage children, Mitchell and Ally," said Doug. "She was also a treasured colleague, friend and coach who is missed by many. Everyone who knew Kelly was completely blindsided by this terrible, sudden and completely unexpected loss. My family takes comfort in knowing that these funds will help keep Kelly's memory alive. Through these funds, Kelly can continue having an impact on varsity athletes for years to come."
Just four weeks before passing away, Kelly went to the hospital emergency department with what she thought was a gallstone pain. The diagnosis was far worse. She had advanced cancer, which doctors suspected had started in her esophagus and spread to her liver, pancreas, gallbladder and bile ducts.
"My mom was my rock, my biggest advocate and my best friend," said Ally, 15. "She touched the lives of so many people. We don't get to know why my mom was chosen to get cancer and pass away, but we do know that she fought as hard as she could, just like on the basketball court."
Kelly's diagnosis and death happened so fast that many people didn't find out she had cancer until after she passed away. "Trust me, she wishes she could have told you in person or over the phone," said Ally. "I also want you to know that she loves each and every one of you."
Kelly first worked at McMaster from 1995 to 2001 as an assistant coach for women's basketball and group ticket coordinator. While at Mac she was appointed as head coach of the U19 Team Ontario women's basketball team from 1998 to 2001. She returned to the university in 2019 as the assistant coach for women's basketball and varsity operations coordinator.
Much of Kelly's career was spent at Mohawk, her alma mater. She earned a recreation leadership diploma and office administration certificate, was two-time captain of the Mountaineers women's basketball team, earned three Ontario Colleges Athletic Association (OCAA) League All-Star awards and was a key contributor to her team's undefeated 1990/91 season, eventually winning the OCAA championship.
Kelly was also a three-time OCAA League All-Star and a Canadian Collegiate Athletic Association (CCAA) Tournament All-Star. She played varsity women's softball for Mohawk and served on the Students' Athletics Committee as varsity representative. In her graduating year, Kelly served as president of the Students' Athletics Committee.
On staff at Mohawk, Kelly enjoyed a long and successful career in alumni relations. She was also head coach and assistant coach for the women's basketball team and received numerous awards from the college including being honoured as a Mountaineer Hall of Fame member.
After returning to McMaster in 2019, her contributions extended to sports beyond the basketball court. She helped reintroduce the Nordic skiing team to OUA competition for the first time in over 30 years. She also supported the women's curling team in capturing their first OUA championship in 25 years.
"Kelly touched the lives of countless people," said Shawn Burt, director of athletics and recreation at McMaster. "When she returned to our campus last year her impact was immediate and massive. She was just that special, and these funds will help ensure that her tremendous impact on varsity athletes will carry on."
McMaster is honouring her memory with the Kelly Dunham Athletic Financial Award. This endowed award will financially support members of the university women's basketball team. Donations in Kelly's honour can be made here.