A tale of perseverance: The journey of two sisters from Damascus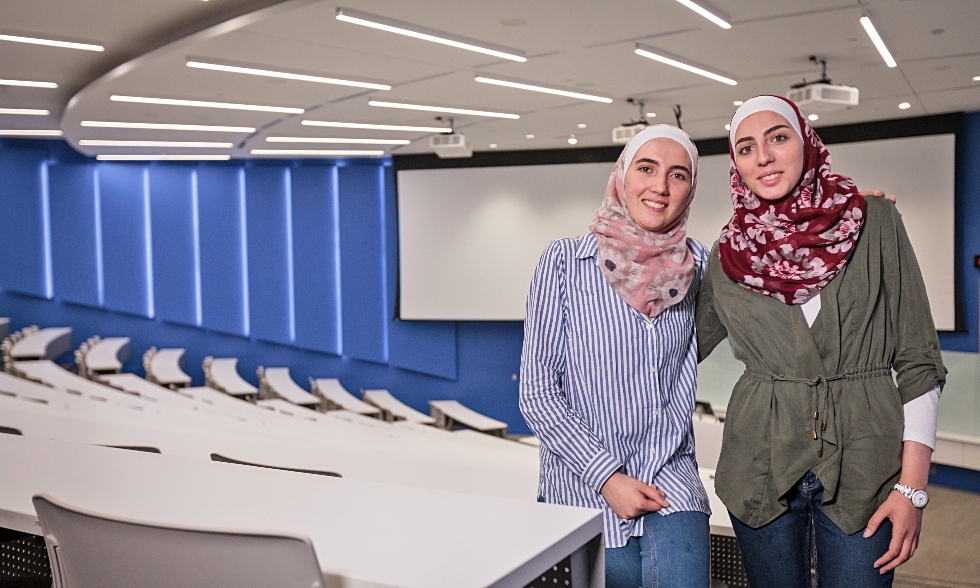 Just 15 months ago, Raghad (pictured left) and Shaza Mahayni (pictured right) arrived with their parents from Syria, hoping to build a new life. This week, they start their first year at McMaster, a significant milestone in their long journey, and the next step toward achieving their goals. Photo by: Sarah Janes
---
Raghad and Shaza Mahayni's early memories of their childhood in Syria are happy ones.
The sisters grew up in Damascus, part of a loving and supportive family. From a young age, Shaza dreamed of studying pharmacy and Raghad was determined to become a dentist – as a child, she would even buy toy dental tools to "practise" on her sister and her dolls.
"Before the war, we had an amazing life," says Shaza. "But in one day, everything can change – all our plans and dreams changed because of the war."
As the conflict wore on, they continued their schooling despite the violence around them. "Sometimes we were not able to go to school at all," Shaza recalls. "Other times, we could go, but you couldn't focus on your studies because of everything happening around you – explosions, bombs, things like that."
"There was no electricity," adds Raghad. "You would have to study under the light of the candles and in winter it was hard because of the cold weather – sometimes we would have to wear our coats inside our home."
It was the spring of 2017 when they learned they would be leaving Syria. By then, Shaza was in Grade 12, preparing for her final exams and Raghad was studying dentistry at university, nearing the end of her third year.
With no time to lose, they and their parents left everything behind – their business, school, friends and family – hoping to rebuild their lives and realize their dreams in Canada.
"We didn't leave our family and our friends just because we were escaping from the war," explains Shaza. "Our parents sacrificed everything so we could come here and complete our education, and that's what we want to do."
This week, Raghad and Shaza begin their first year at McMaster – Raghad in Medical Radiation Sciences and Shaza in the Integrated Biomedical Engineering & Health Sciences program. It marks a significant milestone in their long journey, and is the next step toward achieving their goals.
They arrived in Hamilton just 15 months ago, and began adapting to life in Canada, but the path wasn't an easy one. "It was very hard at first, very hard," says Raghad.
"The biggest challenge for us was learning the language," adds Shaza. "We started from zero – I couldn't say anything in English for the first three or four months."
They enrolled in ESL classes and progressed quickly. They also looked for jobs that would help them improve their language skills; Shaza worked at a local public library and Raghad found a job at Shoppers Drug Mart.
Shaza also focussed on completing Grade 12, attending Hamilton's St. Mary's Catholic Secondary School. She worked hard and excelled academically, particularly in math and science, but the war in Syria was often in her thoughts.
"I would hear other students speaking about fun stuff, what they're going to do on the weekend and all I could think of was what is happening in my country," she says.
"One day, I opened my mobile and I saw on Instagram and Facebook that my teacher in Syria was dead, someone put a bomb in his car," she continues. "It's hard – other people don't understand, they don't know what you're thinking."
Meanwhile, Raghad, who always dreamed of becoming a dentist, and had even begun volunteering at a local dental practise, learned that the courses she had completed in Syria would not be recognized in Canada.
"This was the hardest part for me," she says. "In my home country, I was in my third year of university out of five. I was almost done, I would have been a dentist. But here, I have to start again."
Though deeply disappointed, she began to re-think her plans. Both she and Shaza had always known they wanted to pursue careers in health care. They learned about McMaster through their cousin who had recently graduated, and they decided to explore their options. Both were thrilled when they learned they had been accepted into their respective programs.
"The courses look so exciting," says Shaza. "I feel like something good is going to happen from this program."
"I'm very excited," echoes Raghad. "I really want to be in school – I've spent one year and three months without school. I just want to be a student again and complete my goals."
Raghad eventually plans to apply to either dental school, or medical school. And both she and Shaza hope, one day, to be able to use what they learn at McMaster to help people in need.
"So many people need treatments, not just in Syria, but Iraq, Pakistan, so many countries are suffering," says Shaza. "We know the feeling of needing help, so we want to help people wherever they are."
As they look back on the many challenges they've faced and overcome, Raghad and Shaza say their message to others is simple:
"Don't give up," says Shaza. "When we came here everything was new for us," adds Raghad. "Maybe you could cry at the beginning and say 'I can't do it,' but when you have a goal, you have to try, and you will do it eventually."