A summer of international mentorship for B. Tech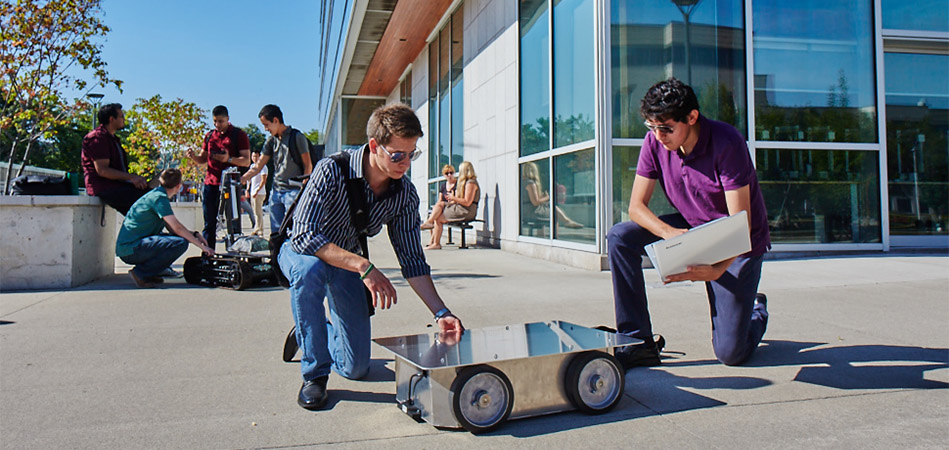 ---
Inspiration came to engineering student Israel Hernadez Quinto while riding a bus and helping someone with a visual impairment.
He wondered how to make buses more accessible. McMaster's Bachelor of Technology program is helping him find the answer this summer. Quinto is one of three students from Mexico's Instituto Tecnologico y de Estudios Superiores de Monterrey who visited campus and learned under the mentorship of B.Tech. faculty members, Dan Centea and Ishwar Singh through the university's Undergraduate Research Opportunities Program (UROP).
Quinto spent his summer creating a GPS integrated with vehicle WiFi radios solution to allow for Vehicle-to-Vehicle (V2V) and Vehicle-to-Infrastructure (V2I) communication. He then designed a way for these technologies to make public transportation more accessible by alerting someone with a visual impairment as to the location and timing of the bus that they wish to ride.
For Quinto, these technologies mean a more inclusive world, a topic that he is excited to continue exploring after working with the newest technologies at McMaster University: "I learned how to work with Linux and how to install a virtual machine [but] the most important thing is that I now know how to operate the MK5 radios from Cohda Wireless which are the latest technology for V2V and V2I development."
Fellow students, Luis Caballero and Jesus Rodrigo Leo worked together to assemble an Automated Guided Vehicle (AGV), which has been designed to deliver logistics in a factory setting, streamlining material transportation and increasing the cost efficiency of the industry that employs it. 
"The level of automation implemented today in various industries is constantly increasing. […] Students involved in the design, manufacturing, and testing of AGV's will have a leading edge for employment purposes," Centea said.
The students' work was made possible by both B.Tech. faculty and funding from the Faculty of Engineering's Strategic Alignment Fund that has supported the summer work program with Mexico for the past two years. The intention of the program is to internationalize the B.Tech. program and facilitate a global community in which students and faculty work together to solve world issues.
About what he will miss most upon his return to Mexico, Israel notes: "I will miss so many things […] [I've] never been able to work like this before. I have access to equipment that not even graduate students would have access to at home […] The most important thing [I will take away from this experience] is the assistance I [have received]  from my supervisor, Ishwar Singh, and from other professors and students who work in the same laboratory."
Weekly seminars from top faculty members, participation in McMaster's social and professional events, community engagement activities within the local area, and a poster day symposium are just some of the ways in which this global community is being fostered by faculty and students.
Luis, Israel, and Jesus Rodrigo were sad to leave at the end of their international summer program, but look forward to the knowledge and skills they took back to Mexico as a result of their mentorship with Centea and Singh.