A new model for global engagement at McMaster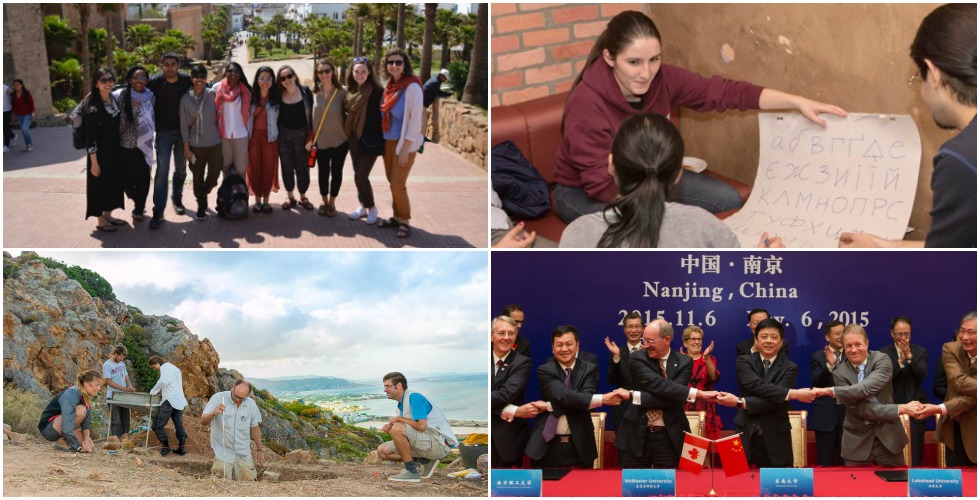 These images represent just a few of the many international academic, research, experiential learning and partnership activities and that McMaster students, faculty and researchers engage in each year.
---
McMaster has developed a new framework to guide the university's approach to global engagement.
Peter Mascher, Associate Vice-President, International, recently released The McMaster Model for Global Engagement: A Strategy Document which outlines several key principles and strategic elements intended to inform the development of international activities at McMaster.
"McMaster aspires to make global engagement an integral part of our identity and to embed international activities and perspectives into the teaching and research mission of the university," says Mascher "My hope is that this document will serve as both a guide and a source of inspiration to those seeking to develop the international initiatives, partnerships and educational activities that are so critical to fostering a sense of global awareness within the McMaster community."
The strategy document is consistent with the principles outlined in Forward with Integrity and is based on the recommendations made by the Internationalization Task Force including the adoption of the "Transformational Model."
Under this model, McMaster will develop international research and education activities that foster cooperation for peaceful coexistence and mutual benefit, recognize the obligation to share the University's expertise in research and education, and promote the civic mission of the University to engage in education and knowledge generation for the benefit of society.
"Forward with Integrity highlighted the critical importance of educating our students to become global citizens," says McMaster President Patrick Deane. "This strategic document provides the philosophical framework needed to infuse global perspectives into our curriculum and programs and to nurture a culture of global awareness on our campus, enabling our students, faculty and staff to adopt an active orientation toward the challenges facing the world."
The McMaster Model for Global Engagement: A Strategy Document is the first step in the development of McMaster's international strategy. It will be followed by an implementation document after consultation with academic leaders, faculty, staff and students.