A marriage of true minds: Irene and Brooke Townsend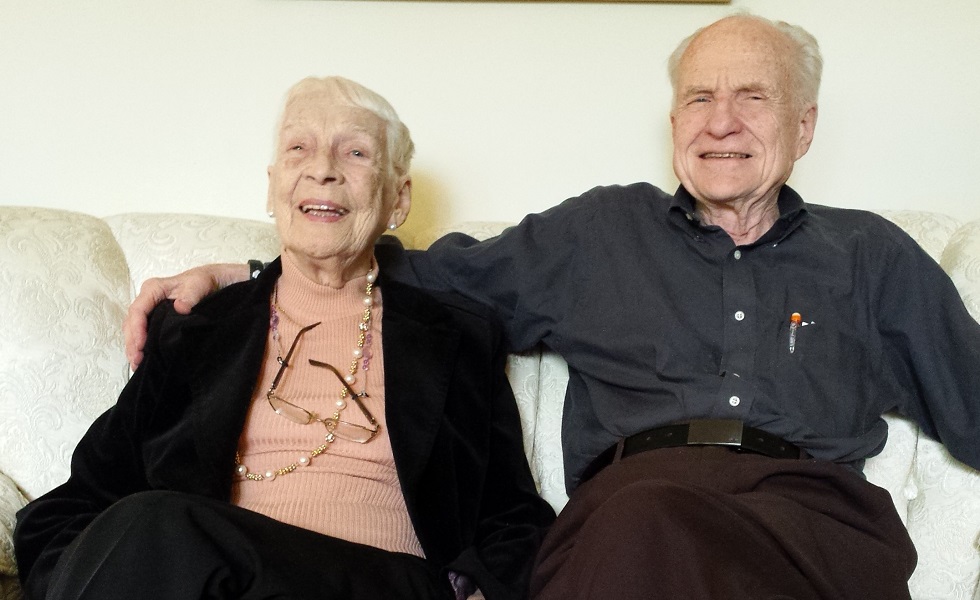 They grew up in the Great Depression, met at Mac in 1954 — and married 56 years later. Irene and Brooke Townsend have each created a bursary to help students in financial need. They're also including a gift in their wills to ensure that support lasts for generations to come. Photo by Allyson Rowley.
---
They met in English class. "That was when English was a mandatory class for everyone," Irene explains. They both worked at The Silhouette, she on the writing team and he as sports editor and later as advertising manager. "We played bridge together in the Buttery," Brooke recalls. He points out that the student population at the time came to about 1,000 or so. "We knew everyone on campus," says Irene.
She majored in English and history, while Brooke was in the first class at Mac to enrol in a Bachelor of Commerce degree. They both graduated in 1957.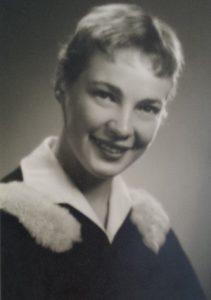 They went their separate ways. Irene pursued a rewarding career for some 35 years as a high school teacher, specializing in literacy, gifted students, and teaching other teachers at university summer schools. Along the way, she completed three master's degrees.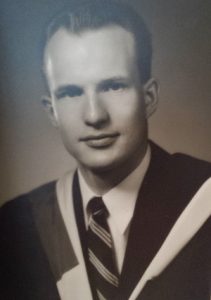 Brooke's career took him around the world as a C.P.A. and management consulting partner with Clarkson Gordon/Woods Gordon, later Ernst & Young, also for 35 years. In 1992, he branched out as chair of a printing business and president of a real estate rental company.
"I had worked with some awfully smart people in my consulting career," says Brooke. "So, it was an opportunity to put into play what I had learned."
Their mutual interests brought them back in touch again. An active volunteer with a number of organizations, Brooke was a longstanding director and chair of the Canadian Institute of International Affairs. It was there that their paths crossed again. "I think we also met at a McMaster alumni reunion," says Irene.
They were married in February 2010.
Both are generous supporters of McMaster students. In 1996, Brooke established the Brooke P. Townsend Bursary, which supports students in the Faculty of Science, with a preference for female students. "When the bursary was set up, very few women went into science," says Brooke.
And in 2010 Irene created the Vieno Maria Kauhanen Memorial Bursary in memory of her mother to support female students in the Faculties of Humanities or Social Sciences.
"We were Depression Kids," says Irene. "We knew the value of money." She recalls the ritual of the handkerchief: As a child, she would portion out her allowance onto the four corners of a hanky — one-fourth for church, another for savings, one portion for the movies. "And one to splurge!"
Irene's mother had immigrated to Canada from Finland as a young woman. A single parent, she encouraged her daughter to take business courses. So, Irene learned shorthand, typing, bookkeeping and other useful skills. "I was very fortunate," says Irene. "I had really good jobs in the evenings and summers. That's how I made it through university."
Brooke also remembers growing up in the Great Depression of the 1930s and the lessons learned. "We were lucky, because we had a good home, a couple of acres and a big garden." Every morning, his grandfather would make a huge pot of porridge to feed the unemployed men gathered on their back stoop.
The commitment to giving back is deeply ingrained in both. Along with their generous donations, Brooke and Irene have also included a gift in their wills for McMaster to significantly add to the value of their bursaries.
"We were always taught that you support your community," says Brooke. "Especially if you're lucky enough to be successful, it's expected that you will give back."
To learn more about creating your legacy at McMaster, contact Tanya Hannah Rumble '08, CFRE, at rumbleth@mcmaster.ca or 905-525-9140, ext. 21990.