A friendly voice to keep isolation at bay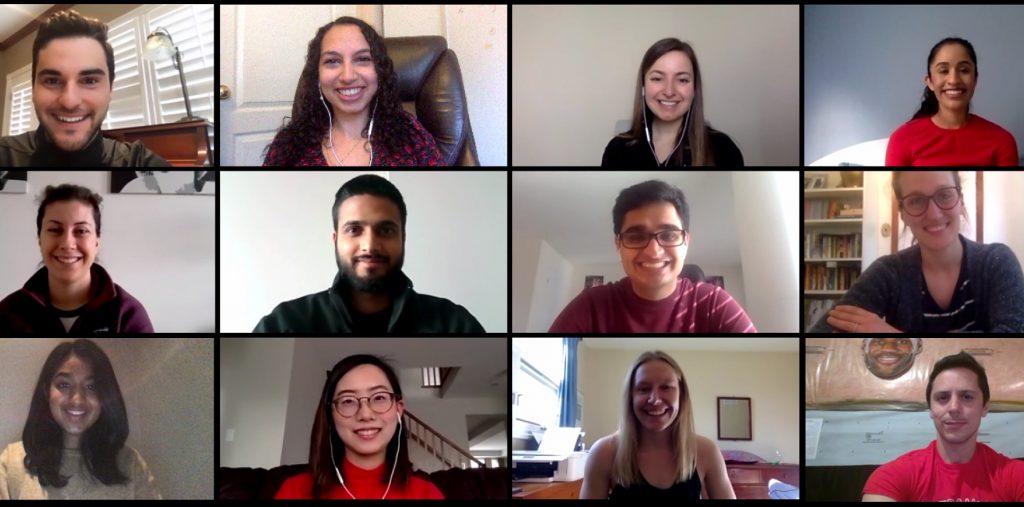 McMaster SSIPP organizers use a video conference to discuss their project, which helps older adults cope with isolation during the pandemic: From left to right, top row: Andrew Lagrotteria, Mary Boulos, Laura Fallico, Shauna Jose; Middle row: Jordana Compagnone, Gavan Klair, Manan Ahuja, Kaitlin Lewis; Bottom row: Clarelle Gonsalves, Shannon Gui and advisors Chelsea MacKinnon and Brad Haalboom.
---
In a time of distancing and heightened social isolation, a team of McMaster students is offering some of the most vulnerable members of the community the chance to hear a friendly voice.
The Mac-Waterloo-Niagara Student-Senior Isolation Prevention Partnership (SSIPP) has already signed up more than 100 student volunteers who will be paired with older adults in the community. They will schedule regular phone check-ins, offering support, encouragement and very importantly, friendship.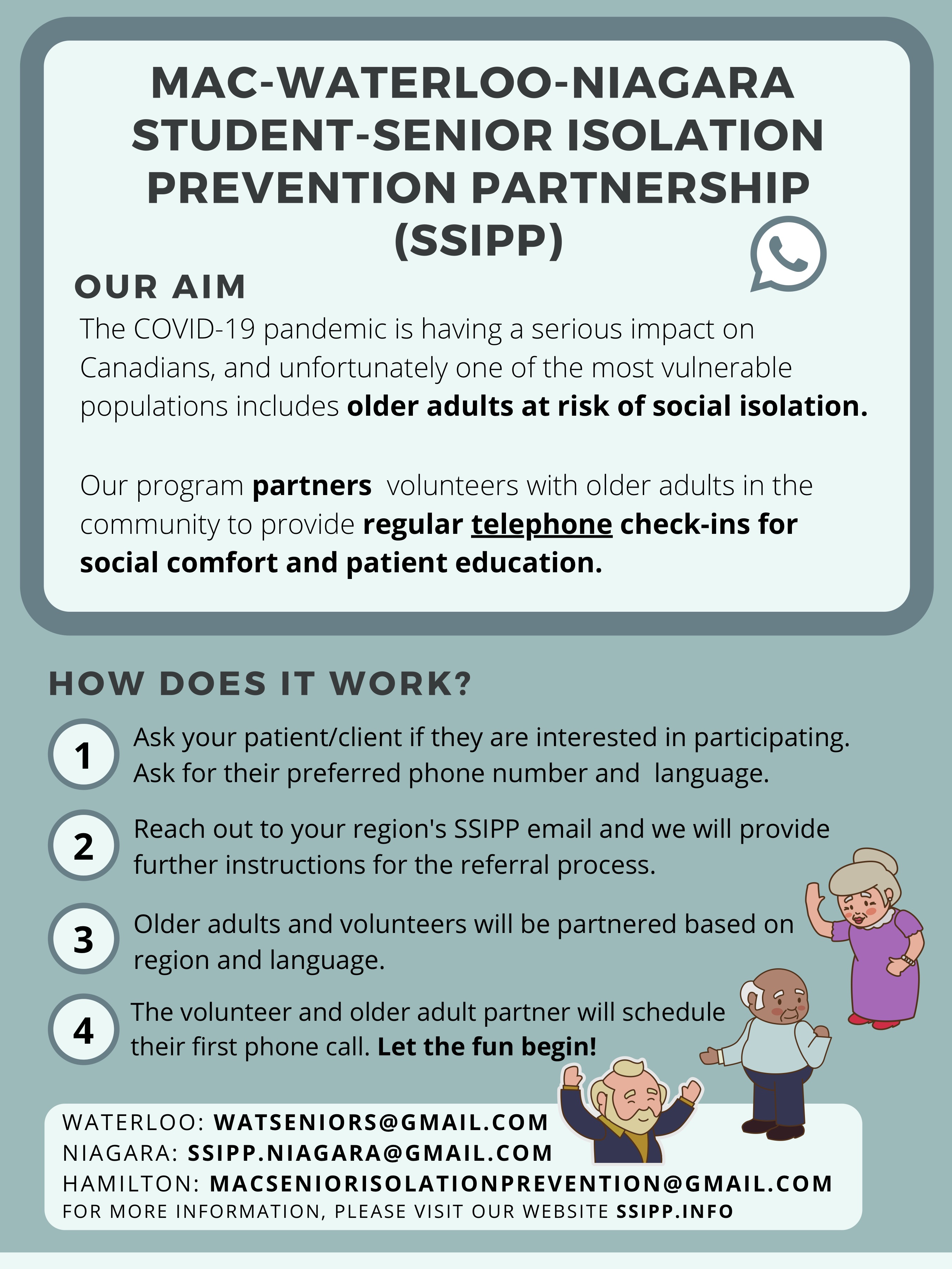 "Our No. 1 priority is to provide social engagement for older adults," says first-year McMaster medical student Mary Boulos, one of the 13 or so students from McMaster — and one from U of T — who got together to create SSIPP.
"But our volunteers can also help older adults find resources and navigate systems, especially if they're not comfortable using the internet or a computer."
The grassroots student project has put out a call for referrals on social media and with health-care providers in Hamilton, Niagara and Waterloo. They hope to start pairing up volunteers with community members next week.
The group is being advised by Health Sciences instructors Chelsea MacKinnon, who spearheaded a program that uses music to help alleviate older adults' isolation, and Brad Haalboom, who co-founded intergenerational musical project IMHope with MacKinnon.
The McMaster project is based on a University of Toronto initiative in which medical students would visit older adults in their community. (With COVID-19 constraints limiting in-person interaction, that program has primarily shifted to the phone.)
"We know with social distancing guidelines, so many older adults are experiencing social isolation." — SSIPP co-organizer Kaitlin Lewis
"We wanted to find a way to help out in the pandemic. We saw the U of T program and figured this would be the way to do it," says SSIPP co-organizer Kaitlin Lewis, a first-year medical student at McMaster's Niagara campus and a former occupational therapist. "For us, it was serendipitous."
Around the middle of March, as social distancing measures began to take effect, the group of like-minded students got together and put out a call for volunteers with health-care backgrounds — students in medicine, nursing, rehabilitation, physiotherapy and pharmacy programs, to name a few.
"These are students who have insight into working with vulnerable populations, and knowledge of community resources," Boulos says. "We wanted to get it off the ground quickly."
The response was immediate.
"We had maybe 60 people sign up the first night," Boulos says. By April 9, SSIPP had 101 volunteers, who speak a total of 16 languages.
"We have students who speak Korean, Cantonese, Hindi, French, Mandarin, Bulgarian, Ukrainian, Arabic …" Boulos says. "We're really grateful that our class is so diverse."
---
Read more: McMaster students babysit, run errands, help health-care providers during COVID-19 
---
Fighting isolation
Social isolation is known to be correlated with negative health outcomes for older adults. It affects not only their health but their quality of life, mental health, risk of suffering falls and the incidence of chronic disease.
"As future clinicians it's important for us to prevent that," Boulos says. "But we also just want to provide comfort and hope and friendship at a time when people need it the most."
Lewis, who practised in Hamilton as an occupational therapist, says she learned a great deal from her connections with older adults.
"We're offering students the opportunity to learn from them, and to work with people who resemble the populations they'll work with some day as health-care professionals."
"They're excited to do it."
Forging a meaningful connection is also very important to students in a time of social distancing and change, Boulos points out.
"A lot of students have gone away from Hamilton or Waterloo or Niagara, now that they don't have in-person classes," she notes. "This is a great way to stay engaged with the community."