A $2 million gift for Firestone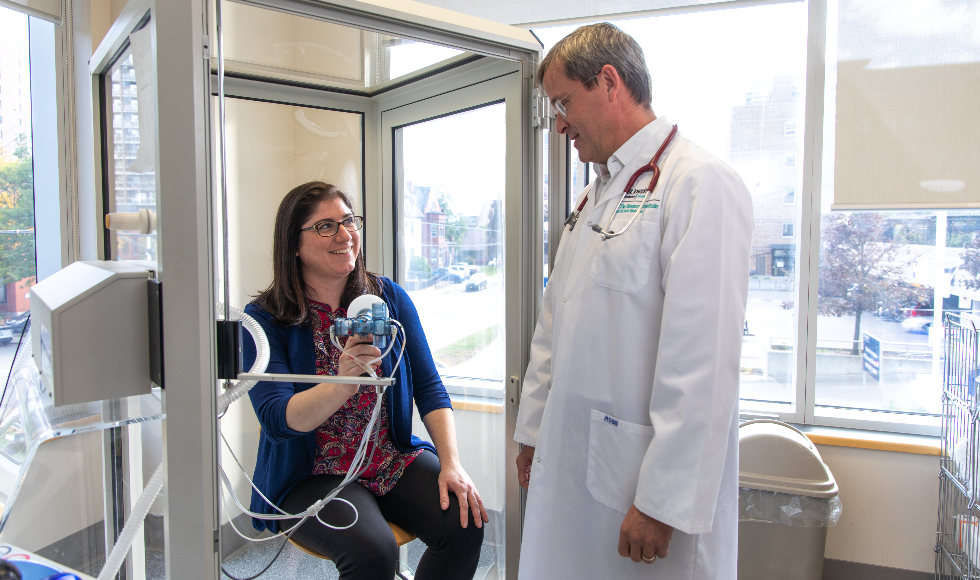 Patient Melissa Sulpher and Martin Kolb, respirologist, at the Firestone Institute for Respiratory Health.
---
At 27 years-old, Melissa Sulpher found herself short of breath just trying to get up a flight of stairs.
The mother of four has since learned she is one of 30,000 Canadians suffering from pulmonary fibrosis, a chronic respiratory disease where lung tissue becomes scarred, and over time, results in shortness of breath and vital organs being deprived of necessary oxygen.
A Kitchener resident, Sulpher was diagnosed there at St. Mary's Hospital. During pregnancy, she was referred to the Firestone Institute for Respiratory Health, a partnership of McMaster University and St. Joseph's Healthcare Hamilton.
"My lungs aren't strong enough to get me through daily activities anymore," said Sulpher. "Two years ago I could walk up the stairs and sort of keep going, and now I can't. I have to pause. Running around with my kids is harder. They know there are things Mom just can't do. There is no known cure for pulmonary fibrosis, but if I can keep my lungs even as they are right now, that's better."
Melissa was part of an international study at the Firestone Institute for Respiratory Health that trialed a pharmaceutical treatment for patients with pulmonary fibrosis. The study found the medication worked to slow down the progression of the disease. The results were recently published in the New England Journal of Medicine.
"This study addressed a huge medical need for patients with pulmonary fibrosis who didn't have many treatment options," said Martin Kolb, one of the study's lead researchers, a respirologist at St. Joseph's and a professor of medicine at McMaster. "This is an impactful trial with unequivocal results. For the first time, patients like Melissa have hope that their pulmonary fibrosis can be slowed down."
"I'm not over exaggerating when I say the opportunity to participate in research like this has changed my life," said Sulpher. "It's not a miracle cure, but it still feels a bit like a miracle if this can stop the progression, so being in the trial really is a big difference for me and my family."
This is the kind of ground-breaking research that has made the Firestone Institute for Respiratory Health a world leader in the understanding and treatment of life-threatening lung diseases. For 40 years, this collaboration between McMaster University and St. Joe's Hamilton has led to research discoveries that have translated into new treatments for patients around the world.
The Boris Family, founders of Mountain Cablevision and philanthropists who are well-known for placing their support behind leading-edge healthcare programs and projects in Hamilton, has made a $2 million investment to the Firestone Institute for Respiratory Health.
The gift will help the hospital and university recruit a new leader for the Institute who will ensure this four-decade legacy of improving patient care through respiratory research continues. The new leader will focus on maintaining the Institute's world-class status and increasing its reach into chronic respiratory diseases that are among the leading causes of death around the world.
"Here in Hamilton, there's a high prevalence of respiratory disease, but we also have an edge: We have access to the world renowned researchers and physicians at St. Joseph's Healthcare Hamilton, McMaster University and the Firestone Institute for Respiratory Health," said Les Boris and Jackie Work. "These health-care professionals are quite literally writing the guidelines for clinical care and changing the way lung diseases are diagnosed and treated. Our family is pleased to be making a $2 million investment that will help the Firestone Institute recruit a leader so that they can continue pursuing meaningful research that will help people around the world living with respiratory disease to breathe a little easier."