8 orientation programs to help you prep for life at Mac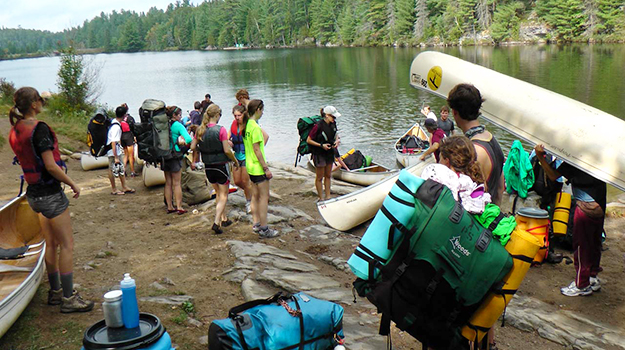 Students on the MOOSE orientation trip get to know one another while camping and canoeing through Algonquin Park. The program is one of only a few at Canadian post-secondary institutions.
---
Thousands of students will begin their post-secondary education at McMaster in September. For many, it will be their first time living away from home.
Luckily for those students, McMaster has all kinds of opportunities to get involved on campus and learn about university life.
In fact, orientation programs run from July 7 all the way to the middle of October.
Below are eight orientation programs designed to help students transition to post-secondary life:
1.    Summer Orientation for Academic Readiness
Incoming students who want to brush up on their academic skills can take advantage of McMaster's SOAR program, which runs until the end of August. The program uses videos, blogs and live chats to provide tips on academics, health and wellness, campus and community engagement and goal-setting and career planning.
2.    Welcome Day
Welcome Day features tours of residences and athletics facilities as well as lectures on everything from finances to how to take study notes. It's also a good time to get to know McMaster's hometown of Hamilton. This year's Welcome Day, which is open to parents, is scheduled for July 25.
3.    MOOSE
Students entering McMaster's Arts & Science Program and Integrated Science Program piloted an outdoor orientation program that took them to Algonquin Park in 2012. The McMaster Outdoor Orientation Student Experience (MOOSE), which includes a canoe and camping trip at Littledoe and Burnt Island lakes, is now open to students from all faculties.
4.    IRIS
Inspiration, Reflection, Integrity and Success are the four pillars of IRIS – a theatrical production for first-year students, performed during Welcome Week. Over its 10 years, the play has dealt with issues as diverse as stress, social skills and sexual orientation.
5.    Common Reading Program
It's a huge book club, an academic training program and a social connector all in one. McMaster's Common Reading Program gives incoming students the opportunity to read a work of Canadian non-fiction and discuss the book online and in person. This year's selection is Indian Horse by Richard Wagamese.
6.    Welcome Week
Concerts, parades, competitions, a football game – Welcome Week has it all. The week-long affair includes orientation and social activities designed to help students transition to university life and meet their peers. This year's Welcome Week runs from August 30 to September 7.
7.    Fall Learning and Orientation Weeks
Orientation doesn't have to stop at Welcome Week. McMaster's Student Success Centre, in partnership with departments across campus, offers six weeks of extended programming to help students ease into life at McMaster. Areas of focus include career management, financial literacy and how to deal with essays and exams.
8.    Horizons
The Horizons Leadership Conference is a three-day, two-night leadership-oriented campus experience run exclusively for first-year students starting at McMaster in September. Delegates leave Horizons feeling comfortable with the McMaster campus, and, along with 150 new friends, feel prepared to follow their unique university path. Incoming first-year students can learn more about the conference online. Horizons runs August 1- 3 on campus.