$3.7M to fund research partnerships and leading-edge facilities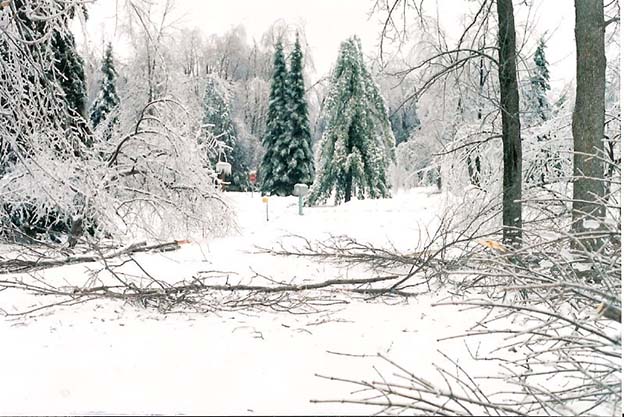 Damage from the massive 1998 ice storm that affected Ontario and Quebec. McMaster's Altaf Arain is leading a project titled Quantifying the response of Canadian forests to climate change, extreme weather events and management activities.
---
McMaster is starting off 2014 with good news from both the Canada Foundation for Innovation (CFI) and the Natural Sciences and Engineering Research Council (NSERC).
Nineteen researchers from five faculties are leading projects and research programs awarded funding boosts from the CFI's John R. Evans Leaders Fund and NSERC's Strategic Project Grants (SPG).
One of the NSERC-funded grants – led by Altaf Arain, director of the McMaster Centre for Climate Change – is particularly timely, given the latest wallop of weather and the resulting severe damage to tree canopies across the country.
Arain is leading a project with collaborators from local, provincial and federal conservation services, the University of Toronto and McMaster colleagues Joe Boyce and Paulin Coulibaly on a project titled Quantifying the response of Canadian forests to climate change, extreme weather events and management activities.
"Forest ecosystems cover about 40 per cent of Canada's surface area and represent an important sector of our economy," says Arain, a professor in the School of Geography and Earth Sciences, "It's more than just wood and lumber – forests have a big impact on our water resources and our environment. This research will improve our understanding of forest carbon and water cycles, sensitivity to climate change, and extreme weather events that can range from drought, to freezing and thaw in one year alone."
Arain will use the $535,457 grant to add more graduate and undergraduate students to the research team that operates the Turkey Point Flux Station, which he describes as "our backyard lab", located in the Long Point region.
Four conifer and deciduous forest stands, ranging in age from 11, 39, 74 and 80 years, provide the continuous data for the models that will ultimately provide better prediction for future climate changes. By testing and developing these next-generation climate models, Arain's research team can help private sector and conservation authorities better manage Canada's forests, and assist government agencies with climate change mitigation and adaptation policies.
The goal of NSERC's Strategic Project Grants is to increase research and training in targeted areas that could strongly enhance Canada's economy, society and/or environment within the next 10 years. Todd Hoare associate professor, chemical engineering, and Igor Zhitomirsky, professor, materials science and engineering, were also awarded grants from the program.
Sixteen researchers also received $2.72M in infrastructure funding January 8 from the CFI for state-of-the-art equipment to either upgrade or augment their current facilities, or to create new labs on campus.
The John R. Evans Leaders Fund (JELF) – formerly the Leaders Opportunity Fund – offers universities the opportunity to acquire infrastructure for their leading research faculty to undertake cutting-edge research.
John R. Evans was the founding dean of McMaster's Faculty of Health Sciences (1965-1972) and  the CFI's first Board Chair.
Mo Elbestawi, vice-president, research and international affairs, welcomed this latest investment from CFI and NSERC.
"The 19 investigators awarded funding reflect the depth and breadth of McMaster's strength in developing novel technologies, mining big data and ensuring our country's health and welfare," said Elbestawi. "Whether it's new lab equipment that will help develop the next knowledge breakthrough,  students trained in the latest research techniques or key technologies that will be transferred to industry to strengthen our economy, this federal investment in our University helps us retain today's best research talent and train tomorrow's researchers and highly qualified personnel."
Researchers awarded infrastructure funding from the CFI's JELF program:
Kjetil Ask Assistant Professor, Division of Respirology, Department of Medicine, has been awarded $199,204 for Immunohistochemical profiling of the unfolded protein response in chronic respiratory diseases.
Emily Cranston, assistant professor, department of chemical engineering will be receiving $140,000 for Atomic Force Microscopy for Force Measurements, Adhesion Studies, Nanotribology and Mechanical Testing of Cellulose Nanomaterials
Marie Elliot, Canada Research Chair in Microbial Genomics and assistant professor, biology, will receive $60,000 for her project Control of chromosome dynamics and genome integrity
Elkafi Hassini, associate professor, operations management, $173,563 for Infrastructure for Advanced Business Analytics: Creating and Analysing Big Data for Canadian Distribution Channels
Rafael Kleiman, professor, engineering physics, has been awarded $399,940 for Time and Frequency Domain Hyperspectral Imaging for Photovoltaic Applications
Dimitrios Konstantinidis, assistant professor, civil engineering, $100,000 for Multi-Axis Dynamic Simulator for Testing Operational and Functional Components and Advanced Seismic Isolation Devices
Mark Larché, Canada Research Chair in Allergy & Immune Tolerance and professor in the department of medicine has been awarded $80,000 for Infrastructure to Support the Development of Peptide Vaccines for Peanut Allergy, Rheumatoid Arthritis and Transplant Rejection
Grant McClelland, associate professor, biology, $270,001 for A Facility for Multi-stressor Biology on Aquatic Organisms
Joe McDermid, professor, mechanical engineering, has been awarded $110,000 for a Galvanizing Simulator Upgrade for NSERC-USSC IRC
Cheryl Quenneville, assistant professor in the department of mechanical engineering, has been awarded $80,000 for Infrastructure to establish an injury biomechanics laboratory for experimental and numerical investigations
Eduard Reinhardt, professor, school of geography and earth sciences, will receive $326,053 for an ITRAX core scanner for geoarchaeological and paleoenvironmental studies
Petra Rethman, professor, anthropology, has been awarded $108,735 for a Sensory Ethnography Research Laboratory
Gregory Steinberg, Canada Research Chair in Metabolism, Obesity and Type 2 Diabetes, associate professor, medicine, and co-director of the Metabolism And Childhood (MAC) Obesity Research Program has been awarded $60,000 for Infrastructure to support obesity and metabolism research
Eva Szabo, Canada Research Chair in Metabolism in Human Stem Cells and Cancer Development, and a scientist in the Stem Cell and Cancer Research Institute, $240,000 for Infrastructure for modeling human adipose tissue development in the context of metabolic disorders
Ray Truant, professor, biochemistry and biomedical sciences, has been awarded $300,000 for a High Content Analysis Nanoscope to Study Neurodegeneration and Discover New Compounds for Neurodegenerative Disease
Rong Zheng, associate professor, computing and software, will be receiving $79,918 for her project Software-Defined Radio Enabled Wireless Surveillance and Security
Total funding award from the CFI's John Evans Leadership Fund is $2,727,414
The three NSERC Strategic Project Grants are:
Altaf Arain, $535,457 for Quantifying the response of Canadian forests to climate change, extreme weather events and management activities. Contributing partners: Natural Resources Canada – Canadian Forest Services; Environment Canada – Climate Research Branch; Ontario Ministry of Natural Resources; Ingegneria Dei Sistemi, North America Ltd.; Long Point Region Conservation Authority and St. Williams Conservation Reserve Community Council
Todd Hoare , $310,000 for Accelerated development of smart biomaterials for stem cell therapy and production. Contributing partner: Prosensus Inc.
Igor Zhitomirsky, $208,500 for Advanced flame retardant materials and fabrication methods. Contributing partner: Advanced Ceramics Corporation.