101-year-old opens new GERAS Centre for the aging sciences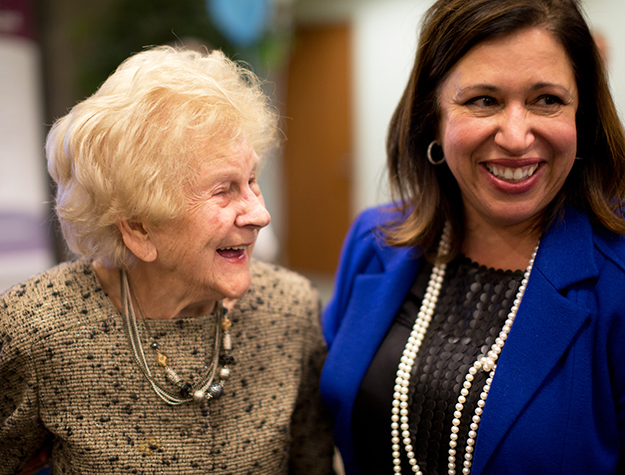 Vera Tomlinson (left) shares a smile and a laugh with her physician, Dr. Alexandra Papaioannou, professor and scientific director of the new GERAS Centre.
---
The ribbon for the new McMaster and St. Peter's Hospital research facility on aging, the GERAS Centre, was cut last week by 101-year-old Vera Tomlinson, who shared her secret of longevity as having a love of life.
"I have a lust for life, for adventure, for the arts and travel," she said. "Honestly, I don't feel old, it's just sometimes my body doesn't co-operate."
At the opening ceremony, she joined her physician, Dr. Alexandra Papaioannou, professor of medicine and scientific director of the new St. Peter's Geriatric Education and Research in Aging Sciences (GERAS) Centre.
The Centre looks to improve the quality of living for seniors with chronic diseases through research; the education of health professionals who care for seniors and the development of educational health promotion strategies that enhance quality of life, function and independence for seniors and their families.
The Centre's acronym, GERAS, is a Greek word which means "old age," but also "honour," which characterizes the spirit of this research initiative.
"The GERAS Centre represents the respect our team of experts has for older adults and the commitment we have to providing exemplary care in geriatrics," said Papaioannou.
"This work acknowledges the link between research, practice and education and the importance of quickly implementing evidence-based strategies that will make a difference to patients."
The GERAS Centre is coming at an opportune time, considering that Statistics Canada's most recent population projections estimate that Ontario's population of older adults will double in the next two decades.
Improving healthy aging is a key focus for the university, said Dr. John Kelton, dean and vice-president of McMaster's Faculty of Health Sciences.
He thanked Papaioannou and Dr. Sharon Marr, associate professor of medicine, for their leadership in the creation of the centre.
"St. Peter's is an excellent location for an interprofessional team to look for care improvements for seniors through discovery, learning and care," he said. "We have two of our top geriatric clinical researchers in leadership roles at the GERAS Centre, so I know they will be successful."
Murray Martin, president and CEO of Hamilton Health Sciences: "Research and education will be critical to improving quality of life for aging Canadians. This will help us to best conserve our healthcare system for individuals in most need of treatment.
"St. Peter's in partnership with McMaster University is uniquely positioned to build upon this important research for the benefit of patients locally and nationally."
Watch a video about the GERAS Centre below:
GERAS Centre from Hamilton Health Sciences on Vimeo.