10 ways to get the most out of your outdoor yoga session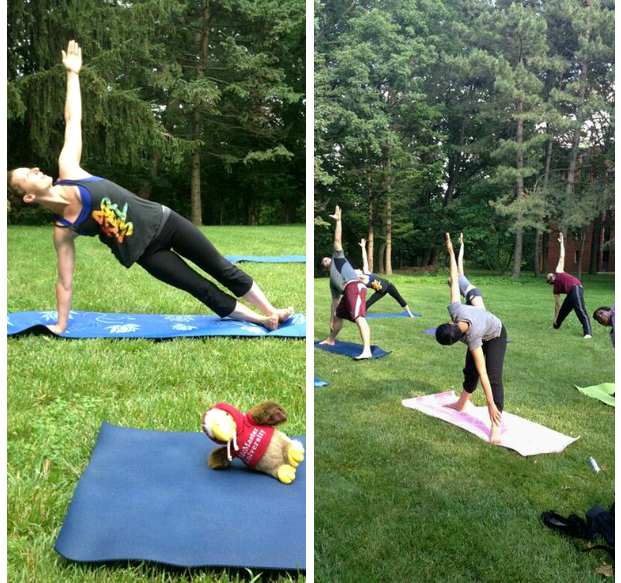 Yoga provides a better mental health, reduces stress, lowers blood pressure and more.
---
Looking for a break from your busy day? The McMaster Alumni Association has something for you.
The MAA, in partnership with In Fine Feather Yoga (founded by alumna Helena McKinney) is offering an on-campus yoga series.
Why do a yoga session? Yoga provides lots of benefits, says McKinney, including:
Better mental health and finding a balance of relaxing as well as restoring
Less stressed
Less anxious
Overall a better immune system, circulatory system, nervous system
Better digestion
Lowering blood pressure
"It gives each individual the opportunity to assess their own health and make decisions about their life based on that," says McKinney. "It's an alternative to make your life healthier without having to do it in a more traditional Western way with medicine."
McKinney's DOs and DON'Ts for yoga:
DO wear comfortable clothing that is moveable but not too baggy. Yoga pants or shorts are recommended.
DON'T wear track pants that are too baggy and will get in the way.
DON'T wear jeans.
DO remove your shoes and socks; bare feet are best to grip the mat.
DON'T eat a large meal before class because yoga involves a lot of core work and movements. DO eat a light snack. If you're thinking of participating during the lunch session, eat your lunch after as your digestive system will be at its peak.
DON'T over-caffeinate before a session. You don't want your arms to feel jittery; you want your poses to feel strong. The caffeine will also dehydrate you.
DO bring your own mat to class, unless you prefer the grass.
DO bring water and a hand towel if it's a hot day.
DON'T bring your cell phone, not only will it disrupt the class, it will make you lose focus if you have to think about who is calling.
DO work within your limits. Listen to what your body is telling you.
Tuesday evenings
5 to 6 p.m.
Thursday lunch hours
12:30 to 1 p.m.
No class
June 24 (cancelled)
No class
July 8
July 15
July 22
July 29
August 5
August 12
August 19
August 26
June 19
June 26
July 3
No class
July 17
July 24
July 31
August 7
August 14
August 21
No class
All sessions are pay-what-you-can drop-ins. You have the option of 30 minutes at lunch (Thursdays) or 60 minutes after work (Tuesdays). The sessions will be held in front of Alumni House (map attachment).
Sign up here to receive reminders and cancellation notices.
TW: @HelenasFineYoga
FB: www.facebook.com/InFineFeatherYoga.com
IG: in_finefeather