McMaster's employment equity census will reveal the composition of our workforce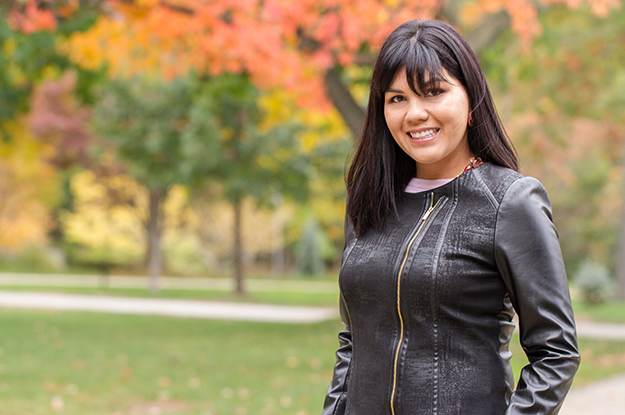 Six questions. Two minutes. One inclusive community. On Wednesday, Jan. 27, the University will officially launch its new employment equity census.
---
Six questions. Two minutes. One inclusive community.
On Wednesday, Jan. 27, the University will officially launch its new employment equity census.
The goal of employment equity is to create an inclusive workplace environment for all staff and faculty by identifying and removing barriers in employment practices.
"Conducting a census is a key component of employment equity in Canada," says Shylo Elmayan, McMaster's new Employment Equity Specialist and an expert in community relations. Elmayan recently came to McMaster from Hydro One Networks, where she served as senior manager in First Nations and Métis Relations.
"I imagine that a majority of staff and faculty would agree that diversity in the workplace is a good thing. Having data on the diversity of our staff and faculty provides a common starting point for discussion and planning," Elmayan adds.
The hiring of an Employment Equity Specialist was the result of recommendation from the President's Advisory Committee on Building an Inclusive Community (PACBIC), received in 2014.
The University's last employment equity census took place in 2008. The Government of Canada requires that organizations with 100 or more employees – and who receive $1 million or more in federal contracts — commit to implementing employment equity for designated groups.
The six-question census will be conducted through Employee Self-Service in Mosaic. An optional paper census will also be available. All participants will be asked to "self-identify" as members of designated groups identified in the Employment Equity Act. These groups include:
First Nations, Métis and Inuit Peoples (Aboriginal Peoples); Members of Racialized Communities (Members of Visible Minorities); Persons With Disabilities; and Women. Participants will also be asked if they self-identify as a member of the LGBTQ+ (Lesbian, Gay, Bisexual/Pansexual, Transgender Persons, Two-Spirit, Queer) community.
MORE: View the full list of eligible employees for the employment equity census
"Understanding the composition of our workforce is essential," says Roger Couldrey, McMaster's vice-president (Administration).
"It allows us to gain a true sense of who we are, and where we might make refinements in our processes. I would encourage all employees to take part in the employment equity census when it opens in January. It only takes two minutes to make a big impact."
The employment equity census also aligns with Forward with Integrity: The Next Phase, the latest document from McMaster President Patrick Deane.
Published in October 2015, The Next Phase shines a light on the University's ongoing mission to build an inclusive community, promote equity and fairness and celebrate our rich diversity.
"It is imperative that the University review current hiring practices for both faculty and staff, collect and make available diversity-related data, review policies and processes (including Tenure and Promotion and CP/M assessments) and work to promote an increased awareness of the importance of diversity on our campus and the inherent barriers that impede certain groups," Deane writes in The Next Phase. 
Personal information in the employment equity census will be collected in compliance with McMaster's Statement on the Collection of Personal Information and Protection of Privacy, the Freedom of Information and Protection of Privacy Act of Ontario (FIPPA) under the authority of the McMaster University Act, 1976 and the Employment Equity Act, 1995.
Information gathered in the census will be kept in a confidential database and separate from employee records. Those completing a paper census will have their information inputted into the same confidential database and the paper record will be destroyed.
Data will be shared in an aggregate format so that no individual can be identified — reports will not be provided where an individual might be identified based on the response, or the number of individuals.
While completion of the census is voluntary, all faculty and staff are encouraged to participate. The University is aiming to achieve a participation rate of 80 per cent in order to have reliable information to develop programming.
After launching Jan. 27, the census will remain open. New McMaster employees will be asked to complete the census as part of their on-boarding procedure.