Vanier Scholars tackle everything from Arab Spring to earthquakes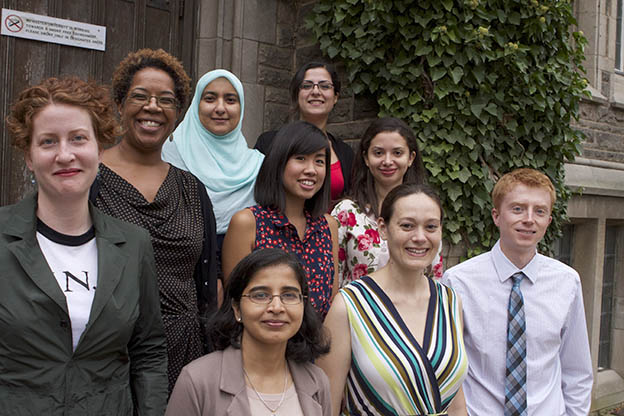 Some of McMaster's 2013 Vanier Scholars and Banting Fellows gather near Edwards Arch. This year's group of 12 Vanier Scholars is the largest in the University's history.
---
Deena Abul Fottouh is studying the role of social networking in the run-up to the 2011 Egyptian uprising.
Today, her work got a $150,000 boost thanks to a Vanier Canada Graduate Scholarship.
Greg Rickford, Minister of State for Science and Technology, named 12 McMaster students Vanier Scholars among those announced today at an event in Quebec City.
Three McMaster postdoctoral fellows were also named Banting Fellows at the event. Banting Postdoctoral Fellows receive $70,000 per year for two years.
The Vanier Scholarship came as a pleasant surprise to PhD candidate Abul Fottouh, who says she'll use the award to help cover travel to and from Egypt.
"But it's not just about the research," she says. "It will also help immensely when I enter the job market. I'll be able to say 'I'm a Vanier Scholar!'"
This year's is the largest group of Vanier Scholars in McMaster's history. The scholars come from 10 departments across five different faculties.
"Research at McMaster crosses so many boundaries, which is what makes it such an exciting place to be a graduate student or postdoctoral fellow," says Allison Sekuler, associate vice-president and Dean of Graduate Studies. "I couldn't be happier for all of our recipients. It's great to see them recognized for their outstanding research and leadership."
Before arriving at McMaster, Abul Fottouh worked as a teacher, a news editor for Saudi TV and with the United Nations on a research project on the status of knowledge in the Arab world.
That work saw her spend three-and-a-half months making daily visits to a Cairo shantytown, where she studied the residents' perceptions of the country's leaders.
The experience, and the contacts she made there, were the inspiration for the work she is doing today.
Vanier Scholars receive $50,000 annually for up to three years. The awards were created by the federal government in 2009 to help the country attract and retain the most promising doctoral students. Besides Abul Fottouh, McMaster's scholars are:
Canadian Institutes of Health Research:
Amanda Lee: Characterizing the early immune response against genital herpes infection.
Elizabeth Alvarez: Creating and testing a health systems workbook to help countries implement global health guidance.
Lauren Wallace: An investigation of the factors affecting contraceptive use and participant satisfaction with community-based family planning programs in northern Ghana.
Lori Chambers: Exploring the meaning of work for HIV-positive black women in Ontario.
Shawn Winsor: Ethical frameworks to assess health technology.
Social Sciences and Humanities Research Council:
Tina Wilson: Exploring the impacts of socio-economic shifts on homeless youth in Canada.
Danielle Wong: Asian North American identities in social media.
Natural Sciences and Engineering Research Council:
Scott Campbell: Engineered devices for remote-controlled drug release using "smart" membrane materials.
Farnaz Heidar Zadeh: A computational approach for designing molecules with desirable properies without trial and error.
Niel Van Engelen: A novel base isolation system for economically protecting structures from earthquakes.
Mary Sourial: The role defective genes play in the abnormal functioning of neural precursor cells.
McMaster's Banting Postdoctoral Fellows are:
Ayelet Lahat: Examining the role of reward and punishment in brain development of shy and sociable individuals.
Ritu Mathur: Studying the links between arms control efforts and conceptions of civilized and uncivilized cultures.
Nancy Worth: Understanding how young women assign meaning to and negotiate adulthood.