MacPherson Institute celebrating upcoming 50th anniversary by collecting 50 years of teaching stories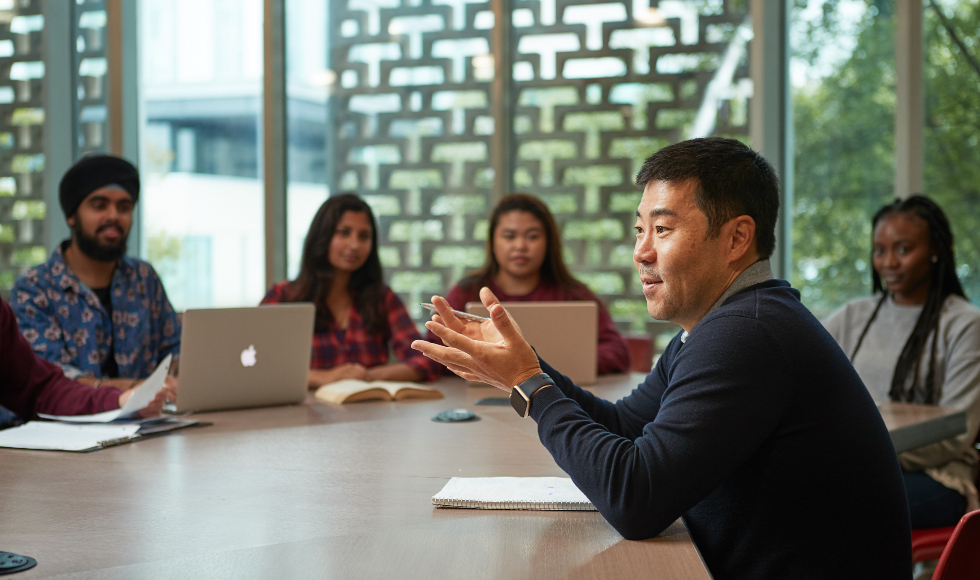 Joe Kim is a professor in the Faculty of Science. Photo taken before COVID-19 pandemic restrictions were in place.
---
McMaster's Paul R. MacPherson Institute for Leadership, Innovation and Excellence in Teaching will mark its 50th anniversary in 2022 — one of the first teaching centres in Canada to reach that milestone.
To celebrate, the Institute is inviting submissions from current or former McMaster students, staff, faculty and other colleagues for a new edited collection: Reflections on Teaching and Learning at McMaster: 50 Years of Stories. The book will highlight McMaster's 50-plus years of teaching innovation, and imagine the future of teaching and learning on campus.
The collection is inspired by similar editions from other institutions, including McGill University and York University, as well as a book highlighting 3M teaching fellows.
According to the MacPherson Institute's website, the book will:
Collect, preserve, and share accounts of teaching and learning history at McMaster;

 

Identify important milestones, trends, developments, and achievements in teaching and learning at McMaster;

 

Celebrate teaching excellence, innovation, and scholarship

 and 

student, staff, and faculty efforts to support and enhance teaching and learning; and

 

Grapple with historical and ongoing challenges and opportunities in teaching and learning. 



50 Years of Stories will be edited by Alise de Bie, Sue Baptiste, Cathy Grisé and Sheila Sammon. Abstracts for submissions are due February 1, 2021.

For complete details, go to the MacPherson Institute's website.