iPadsforPatients connects people in hospital with their loved ones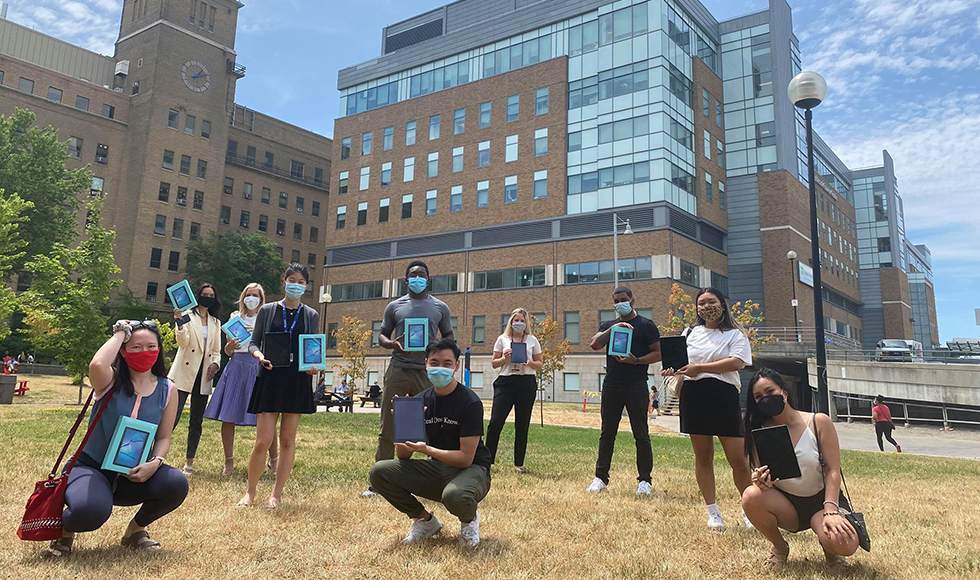 iPadsforPatients team device drop-off at Sunnybrook Hospital
---
When Aaron Hou's undergraduate summer volunteer position at Hamilton General Hospital fell through because of COVID-19, he still wanted to do something to help.
"My role was supposed to be working with seniors in the hospital to help them stay mentally alert and physically active," says Hou.
"I thought about ways I could still be involved remotely."
The biochemistry student knew he wasn't the only one feeling disappointed with not being able to interact with patients – due to pandemic regulations and a lack of hospital resources, patients were unable to interact face-to-face with their families as well.
Inspired by a similar campaign in New York City, he decided to collect refurbished iPads and other devices to donate to local hospitals and connect isolated patients with their loved ones.
Hou reached out to his friends, including McMaster students Andrew Osamudiamen and Shaun Fernandes, to be part of his team.
"When we heard from Aaron you could hear the passion in his voice," says Fernandes, a mathematics and statistics student. "We were also at home wanting to help or contribute in a meaningful way, so we jumped at the chance to take part in this project."
The team knew that even one iPad could make a tremendous difference.
"A person shared a story with us about how they would not have been able to say goodbye to their family member in a nursing home if it hadn't been for the generosity of a nurse on staff who used her own device so the family members could see each other," says Hou.
"That story was very motivating and made us realize how much a campaign like this was needed."
After one week their GoFundMe campaign, named iPads for Patients, raised $6,500 out of their $8,000 goal. Together the team created a website, developed a social media and marketing strategy and sourced used devices.
To date they have exceeded their campaign goal and delivered a total of 40 devices to Sunnybrook Hospital, Michael Garron Hospital, Mount Sinai and Hamilton Health Sciences Foundation.
"The support from family and friends alone has been overwhelming," says Osamudiamen, a chemical biology student.
"This is an incredible initiative and fundraiser," says Sunnybrook Coordinator Sandhi Gambi. "The team has done an amazing job and this will help so many people during a difficult time in their life, not only health wise but also being distanced from family."