Indigenous Students Health Sciences team celebrates a decade of success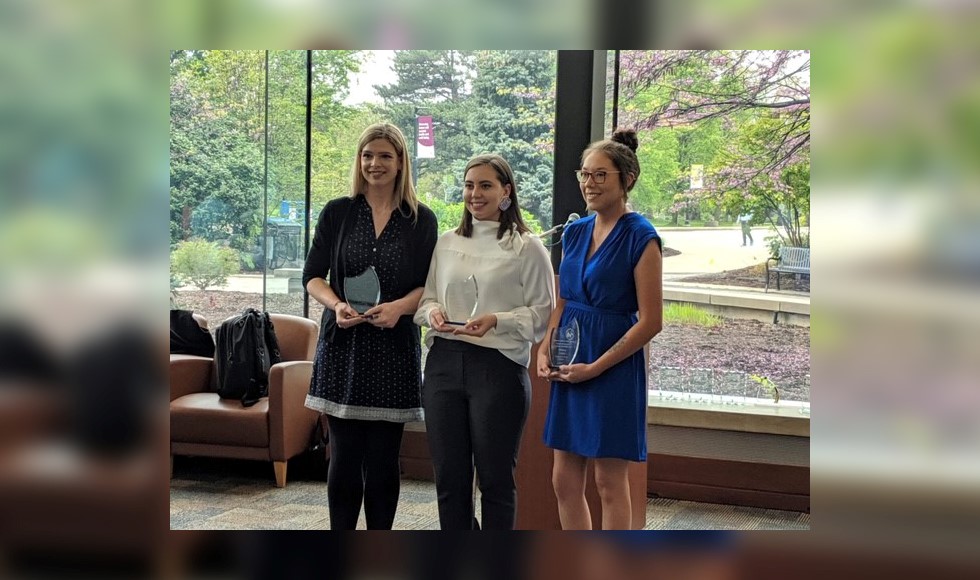 From left to right: Jillian Roberge, Danielle Bourque and Brittany Lickers at the 2019 Faculty of Health Sciences Research Plenary Awards.
---
For the second year in a row, three Indigenous students took prizes at the 2019 Faculty of Health Sciences Research Plenary Awards. Jillian Roberge, an emergency medicine resident; Danielle Bourque, a nursing master's student, and Brittany Lickers, a master's student in occupational therapy, were recognized with the ISHS Graduate Performance and Community Leadership Award.
These recent accomplishments are the latest in more than a decade of successes for the Indigenous Students Health Sciences office.
For about 18 years, the ISHS office has been a part of the Faculty of Health Sciences, working towards systemic change that better reflects the priorities of Indigenous learners and communities in health sciences.
ISHS builds on the work of former ISHS leaders, McMaster alumni and physicians Cornelia Wieman, first director of ISHS and a faculty advisor, and Karen Hill, who developed the first Interprofessional Day in Education: Indigenous Health, a highly successful event which has been held annually for the past 12 years.
ISHS accomplishments have included the development of the Elders and Knowledge Keepers program, publication in the LIME Good Practice Case studies of the international Leaders in Indigenous Medical Education (LIME) network, and the development of initiatives including programs in graduate and professional development, developing leaders, and mentorship.
The annual Indigenous Health Speakers Series brings in leading Indigenous scholars, practitioners, and leaders from both local and national communities.
The ISHS also delivers, in collaboration with the MD program, the Medical School Entrance Interview (MSEI) Workshop for Indigenous applicants which has demonstrated success in the preparation of participants for the multi-mini interview which is part of the selection process for medical students.
The new Facilitated Indigenous Admissions Policy has led all FHS programs to develop their own facilitated process towards the dismantling of barriers common to admissions, and speaking to elements of the calls to action of the Truth and Reconciliation Commission of Canada.
Indigenous students within the faculty continue to make  strides as future leaders towards inclusive and safe environments for Indigenous learners, as they have taken active roles in programs such as the MSEI, curriculum reform and innovation such as the "Come Explore Health Careers" (CEHC) recruitment program which introduces students from primary to mature learners to health professions with hands-on experiential learning.
The CEHC was created by alumna and physician Melissa Shigwadja, and is a cornerstone of ISHS engagement with communities.
The ISHS functions with guidance from faculty advisor and physician Ashley Johnson, the Indigenous Health Task Force, and their Indigenous peers among faculty members, staff, students and neighbouring communities.