A story of nursing and community: Pat Mandy '78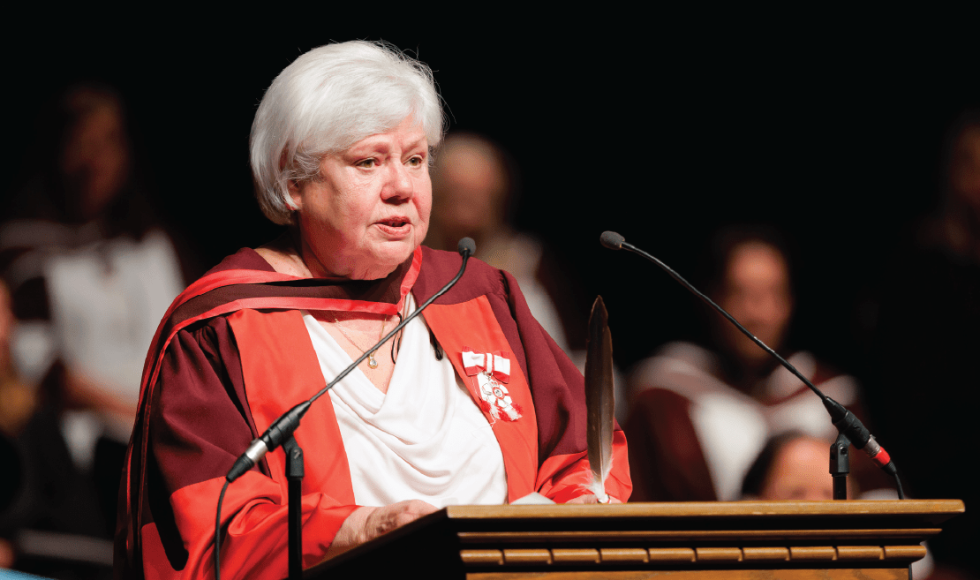 Pat Mandy '78 speaks at a June 2023 convocation ceremony after receiving an honorary Doctor of Laws degree
---
In June, Pat Mandy, a 1978 McMaster alumna in sociology, received an honorary Doctor of Laws degree from her alma mater in recognition of an influential nursing and volunteer career that has spanned more than half a century.
It's a career that began with a simple instruction from her mother.
Mandy attended the Hamilton Civic Hospitals School of Nursing because, she recalls, "My mother told me that's where I was going."
The economic advantages of training to be a nurse inspired the maternal advice.
"At the time, you were in nursing, a secretary or a teacher," Mandy says of the most common career choices for women six decades ago.
Nursing offered training that concluded with a year's paid internship along with the ability to draw advances of up to $15 a month against that income in the first two years of the nursing program.
After graduating, Mandy began a career that saw her spend three decades on the frontlines of health care, and then in supervisory positions at Hamilton General Hospital, Henderson General Hospital and Chedoke Hospitals.
Early on, the opportunity to become an assistant supervisor inspired Mandy to take a distance learning program to enhance her skills as a first-time manager.
She enjoyed going back to school so much, she soon enrolled as a part-time student at McMaster where she took psychology and sociology courses with the plan to eventually convert to a nursing degree. Instead, Mandy graduated with a BA in sociology. Later, she would earn a Master of Public Administration degree from Queen's University.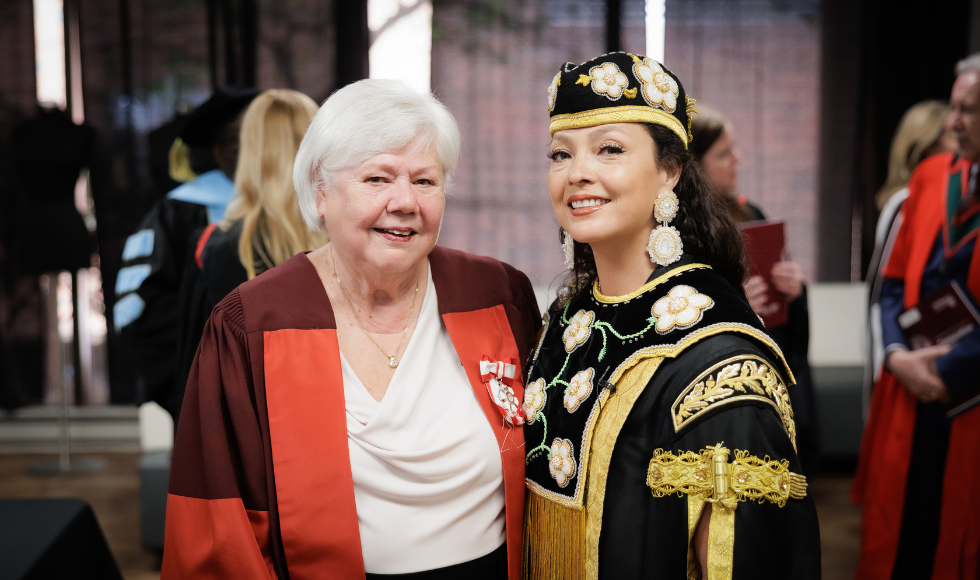 One of the defining characteristics of Mandy's career was seizing upon chances to do something new.
"One the reasons that I think nursing is such a great career is because there are so many opportunities," she says. "If you want to try a new challenge, there's another clinical spot or you can work in public health. You can get involved in research. You can work in administration. There are so many opportunities."
Those kinds of options motivated Mandy to develop a personal motto that she has often shared with students and younger professionals: "Take the risk."
One of the risks Mandy took was running for election to the College of Nurses of Ontario. Early in her career, she had been involved in establishing the Hamilton Civic Hospitals Nurses Association, where she would eventually serve as president. She describes becoming involved in the leadership of professional organizations like these as "one of the best things I ever did."
As Mandy became more engaged with her community of fellow nurses, she was also progressing in her career.
In 1995, she was selected to be the first vice-president of patient care for community hospital service for Hamilton Civic Hospitals.
Then, with the newly renamed Hamilton Health Sciences, she served as vice-president of community health and later, vice-president of patient services and site administrator for Henderson General Hospital (now Juravinski Hospital).
Her career at Hamilton Health Sciences culminated in the role of vice-president of patient services and site administrator for McMaster University Medical Centre.
Retiring in name only, Mandy then became the first chief executive officer of the Hamilton Niagara Haldimand Brant Local Health Integration Network.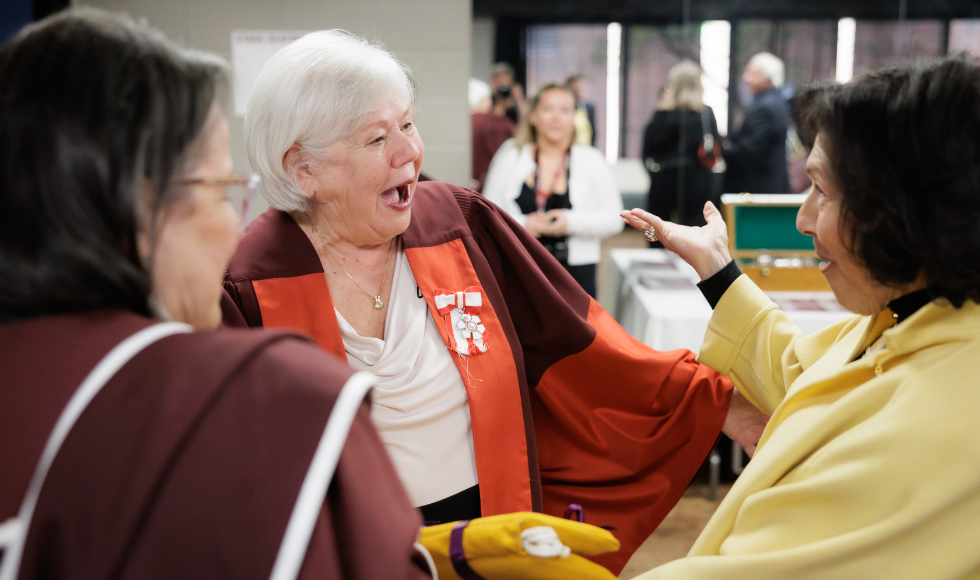 One of the defining aspects of Mandy's professional and volunteer efforts – particularly in recent decades – has been uniting her interests in health and Indigenous issues.
In the 1980s, Mandy, whose clan is Eagle and nation is Mississauga, was director of nursing at what was then Henderson General Hospital when a patient from Six Nations died while in the hospital's care. An inquest later revealed that poor communication may have resulted in the patient receiving medication which was listed on her chart as an allergy.
Mandy played a pivotal role in shaping the hospital's response. The foundation of her efforts was engagement, including connecting with health and community leaders at Six Nations.
Mandy subsequently guided the creation of a Health Advocacy Committee, worked to improve professional development, supported the development  a new reference manual and invited advocates into the hospital to support Indigenous patients.
A lifelong volunteer, Mandy has been a board member with Hamilton/Burlington YMCA, the Victorian Order of Nurses Hamilton-Wentworth and Action 2020. She also chaired the Hamilton-Wentworth District Health Council, co-chaired the Hamilton Emergency Services Network and has been chair of the Hamilton Police Services Board since 2021.
Mandy's Indigenous identity has also become an increasingly central aspect of her volunteer efforts. She was a founding member of the Aboriginal Nurses Association of Canada and served on the board of Urban Native Homes Incorporated Hamilton.
As a volunteer, she was also chair of the De dwa da dehs nye>s Aboriginal Health Centre, the only organization in the Greater Hamilton area providing a blend of Western and Indigenous Traditional medicines. She is currently working with De dwa da dehs nye>s to establish the Biindigen Well-Being Centre, an innovative, Indigenous-led hub for health and social supports in Hamilton's McQuesten neighbourhood.
---
Read more: Pat Mandy honoured at McMaster event for impact on Indigenous health care and education
---
A member of the Order of Canada since 2017, Mandy has received the Indspire Award for Health, McMaster's Sibley Award for dedication to teaching healthcare professionals, the Paul Harris Fellow Community Service Award, the Cornerstone Award of Excellence from Hamilton Health Sciences and she has been named a life member of the Hamilton Health Sciences Volunteer Association.
Her latest accolade – the honorary degree from McMaster – recognizes someone who is fully committed to enhancing the health of her communities in all their aspects.
As Mandy says, "Nursing is not just a profession. It becomes part of who we are as a person."