Watch your step: Campus' toughest art critic could be under your feet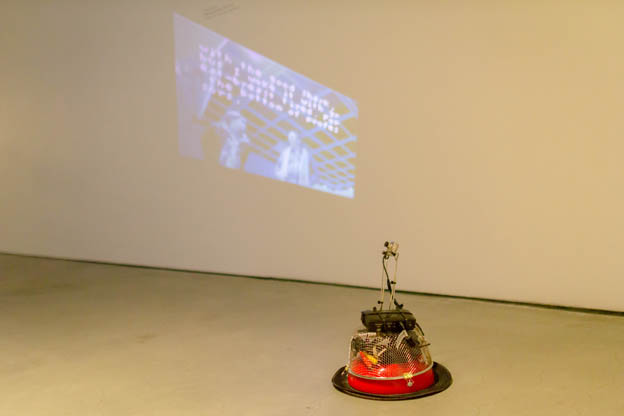 Photo Credit: Sarah Janes
kulturBOT is currently roaming the McMaster Museum of Art's floors, and the robot has a lot to say about a new exhibition.
---
You'll want to watch where you walk if you visit one of the Museum of Art's latest exhibitions.
That's because kulturBOT will be roaming the museum's floors.
The small robot – a modified floor sweeper with a wire-filled casing made out of a strainer – is mounted with a mini camera and projector, which it uses to "review" exhibition works.
Its designers, McMaster's David Harris Smith and University College London's Frauke Zeller, programmed kulturBOT with text, which it superimposes over whatever it sees and projects onto the museum's walls.
The robot is currently rolling through "About the Mind", an exhibition which explores the concept of mind through the work of four internationally-acclaimed visual artists, between noon and 2 p.m. The exhibition runs until March 30.