Waller family gift supports music initiatives, student awards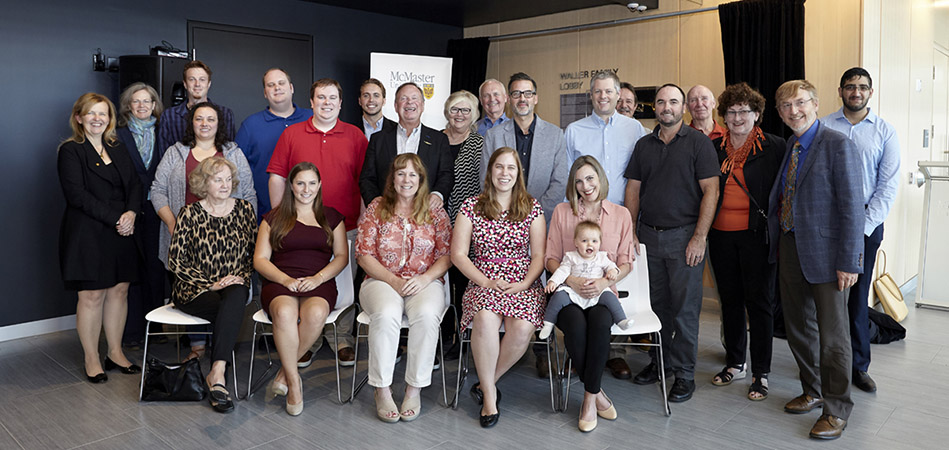 The Waller Family Trust is inspiring a new generation of students by way of a gift of $700,000 in support of music-related initiatives, and student awards benefitting the areas of biology, music and music cognition.
---
As Thomas Waller '51 was growing up on Ferrie Street in Hamilton's North End, the Great Depression unfolded and then the world became embroiled in a Second World War.
His father's advice on how to achieve success, drawn from his own experiences of the First World War, was clear-cut: learn to play a musical instrument and get a college education.
Tom took this direction to heart and began playing the trumpet in marching and concert bands throughout high school and while attending McMaster to study chemistry. A member of the Orchestra I and II clubs while in school, working as a musician on the side enabled him to pay his way through university.
The power of music was so important to him, he chose the poet Browning's quote for his Marmor yearbook citation: "There is no truer truth obtainable/By Man, than comes of music."
Waller and his brother, Harry, were integral to the local music scene during the Big Band era. As it unfolded, Waller became a professional trumpet player and worked in dance bands for two decades. He and his brother were in great demand, playing with some of the musical giants of the 20th century, including the legendary Ella Fitzgerald, Liberace and balladeer Andy Williams as part of the Gav Morton Band at Burlington's Brant Inn.
Waller parlayed his chemistry degree into an opportunity with Beckman Instruments, where he spent more than 30 years building a successful career in the science sector.
Waller, who died in 2011, was proud of his accomplishments and forever grateful especially for the opportunities his education provided.
Now, more than 66 years after graduation, Waller and his beloved wife Norma, who died in 2014, and the Waller Family Trust are inspiring a new generation of students with deep interests and talents in music and science.
The Waller Family Trust has made a gift of $700,000 in support of music-related initiatives, and student awards benefitting students studying in the areas of biology, music and music cognition.
As part of a family reunion, almost 30 Waller family members from across the U.S. and Canada visited McMaster Friday as the Waller Family Lobby in L. R. Wilson Hall was officially unveiled in recognition of the family's generosity. Family heirlooms, a trumpet and a clarinet, are permanently on display in the lobby as a tribute to the Waller family's interests and talents.
"It's an honour as a family to donate this money for the Waller Family Lobby but more importantly for educational purposes because education played a very important role in my father's life," said David Waller, Tom and Norma's son. "We're big fans of education in our family."
Over the years, Tom and Norma Waller were strong supporters of McMaster with gifts devoted to the expansion of health sciences with the Michael G. DeGroote Centre for Learning and Discovery, the creation of the McMaster University Student Centre and the athletics centre and stadium.
Humanities Dean Ken Cruikshank thanked the family for this newest support.
"These investments will help inspire excellence and promote financial security among our students and they will help make this magnificent new building a dynamic and vibrant part of the scholarly, social and artistic McMaster community for generations," Cruikshank said.
"And they will enrich our interdisciplinary focus – a focus that unites a range of interests and abilities to address complex problems and build richer lives. I can think of no greater tribute to the Wallers."
Biology student Manreet Dhaliwal, who received the Waller Family Academic Grant, also thanked the family for making an impact.
"To all of you who are part of the Waller family, thank you so much for your generosity that you have shown McMaster and for the help you have provided me in my student experience. It has been a real pleasure to learn of your connections to McMaster."