Unbeaten Marauders even better off the field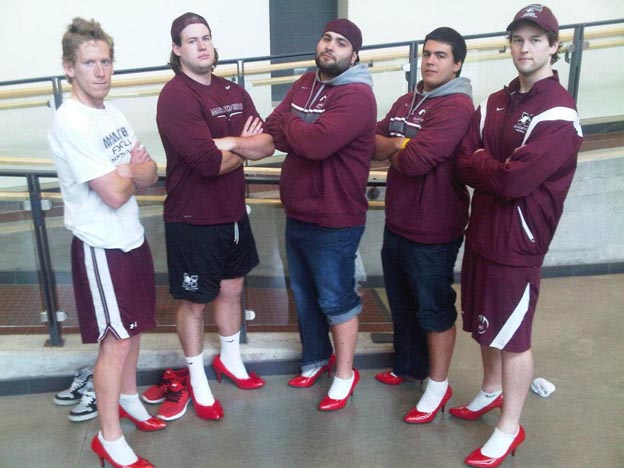 As good as the Marauders are as athletes on the gridiron, they're even better people off it.
---
The McMaster Marauders are one tough football team.
Composed of skilled, athletic and – for the most part – very large young men, the team is hard to beat. In fact, no one has beaten the team in a record 20 games, dating back to September of last year.
But as good as they are as athletes on the gridiron, they're even better people off it.
They might not like their soft sides exposed, but those burly student-athletes spend nearly as much time volunteering in the community as they do running drills on the turf at Ron Joyce Stadium.
From travelling to local schools with some of the team's championship hardware and visiting patients and families at Ronald McDonald House, to weekly trips to North Hamilton's Eva Rothwell resource centre, the Marauders aren't shy about lending a hand.
"The most important thing about being a person is being well-rounded," says history student and offensive lineman Chris Pickard. "You can't be just an athlete, and you can't be just a student. It's nice to have the opportunity to be both, and to help out in the community when we can."
While nearly all Marauders – football players and otherwise – take part in the McMaster Athletes Care community volunteering program, Pickard is one of several described as "going above and beyond."
"The program gives athletes the venue to help out youth in the community," says Pickard. "The community has been so supportive of us, it's nice to give something back."
Earlier this year social sciences student and linebacker Aram Eisho spent time with students at Adelaide Hoodless school. He shared his story of fleeing war-torn Iraq and immigrating to Canada.
"Work hard for everything you want, give it everything you've got, and if you have a goal or a dream, go for it – don't let anyone tell you that you can't do it," he told the students.
Current and former players also took part in the Climb for Cancer for the fifth straight year. The climb sees participants scale the 289 steps of the Chedoke stairs, which climb the escarpment near Hamilton's Chedoke Golf Course, in support of the Juravinski Cancer Centre.
Closer to campus, Marauders athletes and youth from the Boys and Girls Club recently came together to clean up part of Cootes Paradise adjacent to the University.
Saturday's Mitchell Bowl game at Ron Joyce Stadium will see the McMaster Athletes Care program partnering with City Kidz, a local youth organization, for the annual Gift of Christmas toy drive.
Toys will be collected between 1:30 and 4:30 p.m. in the marketplace area of the stadium as well as at the north entrance. In exchange for a donation, fans will receive a voucher for free popcorn, courtesy SpecKids Unlimited.