The next generation: DeGroote welcoming four new faculty members in 2017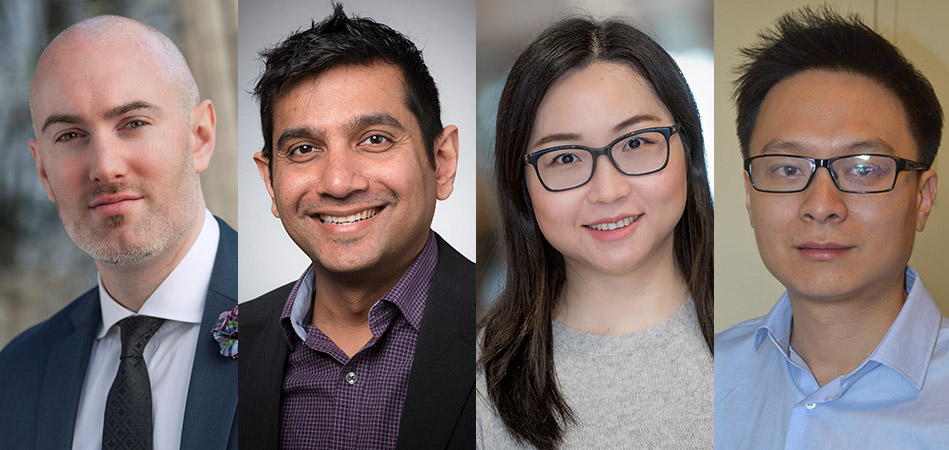 Aadil Merali Juma, François Neville, Yan Wang, and Yun Zhou will officially join the School of Business July 1. In addition to teaching and mentoring, they will also work to bolster DeGroote's research efforts and enhance the School's reputation on the global stage.
---
Four world-class faculty members have been hired by the DeGroote School of Business, each with a keen desire to help transform business and society.
Aadil Merali Juma, François Neville, Yan Wang, and Yun Zhou will officially join the School July 1. In addition to teaching and mentoring the leaders of tomorrow, they will also work to bolster DeGroote's research efforts and enhance the School's reputation on the global stage.
Their expertise covers a wide range of interdisciplinary and progressive areas, including: entrepreneurship and innovation; strategic leadership and corporate governance; financial institutions and empirical corporate finance; and healthcare operations management.
"We're offering some of the most innovative business programs in the country, and our new faculty members certainly are innovative in their research and teaching," says Len Waverman, Dean, DeGroote School of Business. "Aadil, François, Yan, and Yun are working in exciting new fields. I'm eager to see what they can produce here at DeGroote, and I know the student body will benefit greatly from their presence at the School."
Aadil Merali Juma (Accounting and Financial Management Services)
Born and raised in Mombasa, Kenya, Aadil Merali Juma thrives where business and experiential learning intersect. He has spent the past three years as a lecturer in the McMaster-Mohawk Bachelor of Technology Program, leading classes in everything from financial systems to entrepreneurship and innovation. He joins DeGroote as a member of the School's teaching faculty – a role he takes a great deal of pride in. "I connect with students by actively participating in many social and volunteer activities, and have always taken an interest in student networking events and case competitions," he says. "My open-door policy with students further strengthens a bond that extends well beyond the classroom." A familiar face around McMaster, Merali holds a B.Eng. in Electrical Engineering and a DeGroote MBA, as well as CPA and CMA designations. He's eager to join DeGroote due to its "commitment to purposeful education," including the School's unique blend of academia and experiential learning. Merali is proficient in several languages, including: Katchi, Gujarati, Hindi, and Swahili. He has been a member of the Dean's Teaching Excellence Honour Roll since the Winter 2015 term, and was awarded the McMaster Student Union (MSU) Excellence in Teaching Certificate in 2014.
François Neville (Strategic Management)
An expert in strategic leadership and corporate governance, François Neville comes to DeGroote from Georgia State University, where he finished his PhD in Managerial Sciences in 2016. "The strategic priorities at DeGroote very much mirror my own, and I'm very excited to join the faculty," says Neville. He cites the School's dual focus on teaching and research as a big selling point for any budding professor, as well as the overall collegial atmosphere on campus. "The culture at DeGroote, with its dynamic and impressive colleagues and students, is an attractive feature that really distinguishes it from other business schools," he offers. As a researcher, Neville examines how strategic leaders, such as CEOs and board members, influence a given firm's strategies and performance. Even in a traditional lecture hall, he prefers to take the attention off the instructor and place it onto the students. "A student-centered classroom reflects a learning environment conducive to student engagement," Neville explains. A two-time graduate from the University of Ottawa, he earned a B.Com in Marketing in 2008 and a M.Sc. in Management in 2011 before pursuing his doctorate at Georgia State. In 2015, he was named a finalist for the prestigious INFORMS/Organization Science Best Dissertation Proposal Competition.
Yan Wang (Finance and Business Economics)
Yan Wang will join DeGroote from Erasmus University's Rotterdam School of Management, where she has served as an Assistant Professor of Finance since 2015. Her interests include studying financial institutions and empirical corporate finance, with expertise in the areas of institutional trading and short selling, product markets, and cross-listings. "DeGroote values innovative research," Wang says, when asked of her interest in joining the faculty. "The School provides a large amount of resources and support to young researchers like myself. I also like the people and the environment at McMaster." As a teacher, Wang continually strives to improve the learning experiences of her students, both inside and outside the classroom, while also preparing them to launch successful careers after graduation. "I believe in a student-centered learning approach, and I highly value the importance of in-class active learning and discussion," she explains. In 2006, Wang graduated from Beijing University of Chemical Technology with a B.Sc. in Economics. She earned a M.A. in Economics and PhD in Finance from McGill University, completing the latter in 2014. No stranger to major awards, she received the SAC Capital PhD Candidate Award for Outstanding Research in 2013, among many other international honours.
Yun Zhou (Operations Management)
Fresh from the University of Toronto's Rotman School of Management, Yun Zhou recently completed his PhD thesis, entitled: Pricing and Matching in the Sharing Economy. An expert in revenue management, supply chain management, and healthcare operations management, he's looking forward to exploring those topics even more in the months and years ahead. "The DeGroote School of Business has great research strength, and it's part of a globally-renowned university," Zhou offers. "I'm very excited to work with the top-notch and super-friendly faculty members and staff at the School." When it comes to teaching, Zhou is a firm believer in the student-centered philosophy. He also finds the prospect of enhancing student learning outside the classroom to be very important, especially for business students. "Being able to solve practical problems using knowledge learned from the classroom is as crucial as acquiring the knowledge itself," Zhou continues. He previously earned a B.Sc. in Information & Computing Science, as well as a doctorate in Industrial Engineering, from Tsinghua University in Beijing. An award-winning researcher, Zhou most recently took home the 2016-17 NSERC Alexander Graham Bell Canada Graduate Scholarship (Doctoral).
Want to learn more about DeGroote's teaching and research activities? Take a look at the School's newly-redesigned Faculty Areas webpage.